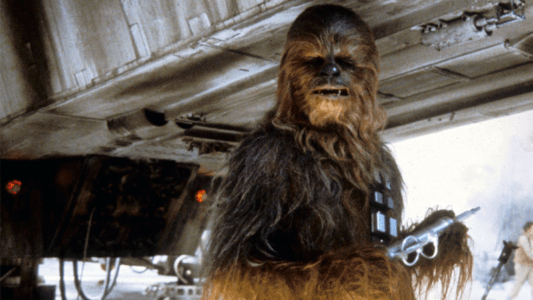 Nothing is certain just yet, but the rumor that Wookies might actually be making their way onto the set of The Mandalorian in the next seasons could be one reason to keep watching and a nice addition to the show since it's already depicted a few species and characters that have made Star Wars fans giddy. After all, The Mandalorian gave people their first view of a krayt dragon in live-action, and other species have been seen that were relegated to the novels and comic books, and the games, up until now. Plus, the show has spinoffs coming in the form of The Book of Boba Fett and Ahsoka, so there's a lot to be thankful for when thinking of The Mandalorian and what it's done to help the Star Wars universe expand in a big way. There's no way to tell just yet if any Wookies are going to be main or supporting characters in the coming season, but there are at least a couple of Wookies that a lot of people would love to see since Chewbacca is the one big hairball that a lot of people get to thinking about whenever the Wookie species is mentioned. But there are a few others that have been given a mention in the novels, graphic novels, and games over the years that might be worth bringing in since the Wookies have had a big part in taking down the Empire and it stands to reason that they wouldn't care much for the First Order either. But one thing that Wookies also don't tend to like are bounty hunters since while there have been Wookies that have taken to bounty hunting, their species has often been a target for slave labor, meaning the most intrepid bounty hunters took on contracts to capture them for the Empire.
On top of that Bossk, the most well-known member of his species, the Trandoshans, has long been a kind of a thorn in the side of the Wookies since the two species are known to be sworn enemies and tend to fight one another on sight if there's good enough reason. But this is all a lot of conjecture at the moment since there's no way to tell if it's going to happen or not. Bringing Wookies into the show would be a huge advantage as far as the story goes since the species has been a part of Star Wars in one way or another for quite some time, and it's fair to say that people are bound to expect them simply by hearing that they were mentioned at one point or another. The idea of putting Chewbacca into the mix with Din or anyone within the story would be kind of presumptuous since the fact is that Chewie was never too far from Han unless Disney is going to risk rewriting the story a bit in order to make it happen that Chewie and Han would split for a while. That's still bound to be a problem because of Chewie's life debt to Han, which was established once in the novels and once again in the Solo movie, which people might not really remember. But the fact is that this keeps Chewie at Han's side pretty regularly and doesn't allow for the big Wookie to go on his own that often, meaning that if he does show up that one would almost be inclined to expect to see Han Solo as well. We've already seen Luke, so maybe seeing Han wouldn't be such a bad idea, if only for an episode.
It could happen that Wookies will be part of the backdrop though, and not be used as actual characters. That might be a little disappointing since they've proven to be pretty useful and actually helpful to the story in a big way. Plus, there was a Wookie Jedi named Lowbacca that might be intriguing to see if the directors thought of it. Whatever is going to happen it's pretty early to start guessing just what we could see in the show since it's likely that the third season won't drop until November or early December as it's done for the past couple of years. The worst-case scenario is that it won't release until early 2022, but at the moment there's been nothing that has happened that might indicate that such a thing will happen. Those that dole out the information have been pretty good about keeping people informed as to what's happening and what won't be happening, and as of now the tease that there might be Wookies on the set of the next season is one of the best bits of news that a lot of people could have received since it indicates that The Mandalorian is remaining inclusive as ever and is being given ways to stay just as popular.