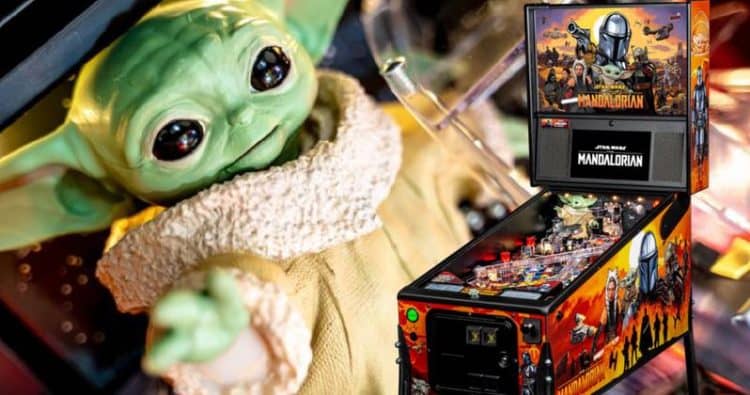 Sometimes it's a wonder that pinball games are still a thing, but their day hasn't ended just yet since every now and then one gets to see one or a few of them in a movie, or someone feels nostalgic and just has to create a new one. The Mandalorian pinball game has a few notable features, not the least of which is Baby Yoda hovering over the board as though ready and willing to direct the balls where they need to go. Apart from that however the game does look as though it can get a bit hectic since like every pinball game the flashing lights, different pathways the ball can travel, and bonus traps that are located within the game are designed to pull one's attention in a number of different directions while the player still needs to focus on keeping the ball in play. The cost for this thing is, as you might expect, a bit nuts since it starts around $6K and keeps going up. There are plenty of collectors out there that would no doubt love to have this in their home, their office, man-cave, whatever, but that price is a bit steep for quite a few people, but it would be a great conversation piece as well as a lot of fun to play. To see that The Mandalorian has inspired another item isn't surprising at all since the next season is still being anticipated by a lot of people and the adventures of Din Djarin are already being rumored to involve more Force-users, which is pretty exciting. Maybe another pinball machine will pop up after season 3, but don't hold your breath. Something like this obviously took a little time to craft, so if there's another one to come out it probably wouldn't happen until after season 4, if the show goes that long.
There are plans of course and it's been mentioned that the story could go on for a while, but it's kind of dependent on each season really since like it or not, a lot of people have noticed various plot holes in The Mandalorian seasons 1 and 2, but many fans kind of shrug this off. On the one hand, it's easy to look past any problem areas and just enjoy the story since obsessing too much on the fine details can not only ruin the feeling of the show but can make it fall apart at the seams if people keep picking at it. But there is the idea that by being nitpicky that a show could be improved upon. Everyone has their idea of what should be happening with the show and what should have happened, but so far quite a few people have been liking what they've seen and have made it known not only by watching the show but by purchasing the merchandise. Baby Yoda/Grogu merchandise experienced a huge surge of interest when the little green guy appeared at the end of episode 1, season 1. Ever since then, the show has been growing in leaps and bounds, and when Ahsoka Tano was rumored to be headed to the show for an episode, people went nuts and wanted to see more of her. It might happen in season 3, but Ahsoka also has her own show coming it would appear, as do several others such as Obi-Wan Kenobi and the Rangers of the Republic. Between Star Wars and the MCU, the Mouse House is plenty busy at the moment, but not so busy that it can't roll out new products now and again to wow the people just enough to keep them interested and keep them watching.
As great as it would be to have something like this and be able to show it off, the two biggest problems are cost and space since most pinball machines are big enough to be a nuisance unless they can be tucked into a corner or happen to fit into a room with other such devices. This would be a worthy addition to a game room to be fair, and if someone does have the kind of money to have a game room then the cost of the machine shouldn't be such a huge deterrent either. It looks as though there might be at least a couple of different designs, but the gist of it is that The Mandalorian has become the type of show that's going to keep the merchandise flowing for a while, at least as long as the show is producing and the people are watching. The story of Din Djarin is still likely to have plenty of juice in it, so one can only imagine what we're going to see next, especially given what happened in season 2 with the darksaber. The third season can't come soon enough for some folks. I should know, I'm one of them.