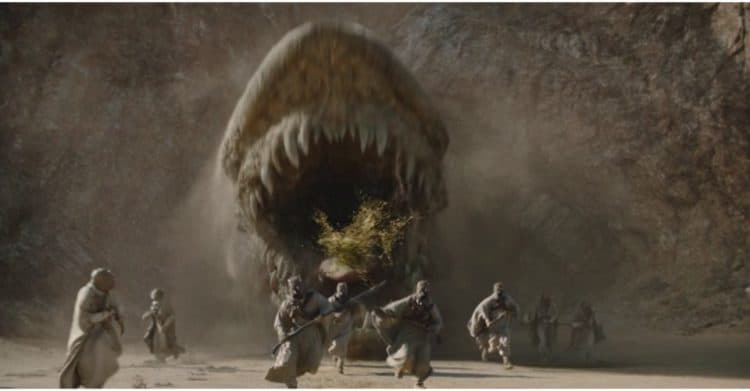 It might not look like big surprises to some folks that have been watching various videos that show how the magic happens and how their favorite scenes from The Mandalorian happen, but it is kind of amazing just how the technology has advanced over the years since at this point it can produce moments that look so realistic that some people can't really tell at times if what they're seeing is real or not. Given the content, it's a bit obvious that a lot of it is fake and computer-generated, but the point is that things have been done so well that it's easy to sit in awe of what's being shown unless one is a graphics artist that knows exactly what's going on and what methods are being used. Even then it could be pretty impressive since the creatures and characters introduced in two seasons of The Mandalorian have been insanely impressive. We were given a Krayt dragon of all things, a creature that's actually known to eat Sarlaacs, the tentacled creature that was seen in Return of the Jedi when Jabba attempted to get rid of Luke Skywalker, Han Solo, and Chewbacca. The beast had to take a bit of time to complete since it was supposed to be massive in comparison to the bantha's and Tusken Raiders that was seen to attack and devour. The creature looked a little different than has been seen in the species book that was put on the shelves years ago, as it looks more like a land shark than a dragon. But it was impressive all the same since the battle between those that allied against the dragon was quite impressive.
It was equally impressive to see how the effects were handled when it came to other episodes since the landscape, the skies, and various other surfaces that were made using different methods were created with such great attention to detail that one can't help be amazed, especially considering that various types of terrain are too easy to discern as fake now and then. With the advanced level of technology and the ability of those that are using it to create something that looks as though it could have been an actual landscape, people are getting what they want, and those that want to dissent and claim that they can tell what's CGI and what's real are kind of laughable since unless they're experts when it comes to CG it's easy to think that they just need something to say in order to sound intelligent. It's very possible if one has a trained eye that they can spot the difference between the CG and real-life settings, but it's also something that kind of ruins the effect if a person chooses to do so. The show is meant to be fun and engaging, so if there are any hiccups it's often best to just keep them to yourself and mention it as a part of trivia, not go off on a tangent about it.
Seriously, the chances are that a lot of people don't notice the mistakes, either because they do and don't care, or they're so into the show that it wouldn't matter unless a mistake that was made was godawful horrible that it can't be avoided. Usually such mistakes are edited out, reshot, or fixed in a way that will make it better and less than noticeable. But there are people that actively look for these mistakes and along the way learn what to look for when it comes to CG, and the sad part is some of those folks feel the need to call everything out and rate it in their own way. There's no need to let something like this dampen your joy for the show, since being impressed with everything else that's going on is usually preferable to listening to those that feel the need to offer dissent and claim that something is bad because, in their opinion, some aspect of it just isn't up to snuff. That kind of thinking isn't always bad since it can help point out mistakes and possibly improve matters for the next season. But a lot of times that kind of attitude is hard to get along with since it's so incredibly divisive that it almost demands that people take sides when talking about such things. The difference in the special effects from decades ago to now kind of needs to be recognized if only for the fact that the work that's been put in over the years has led to the current filming techniques and has paved the way for what we see now to exist.
That's something for any dissenters to think about since it's better to mention what could possibly happen to make things better, rather than tearing them down, especially since The Mandalorian was so impressive to start with.