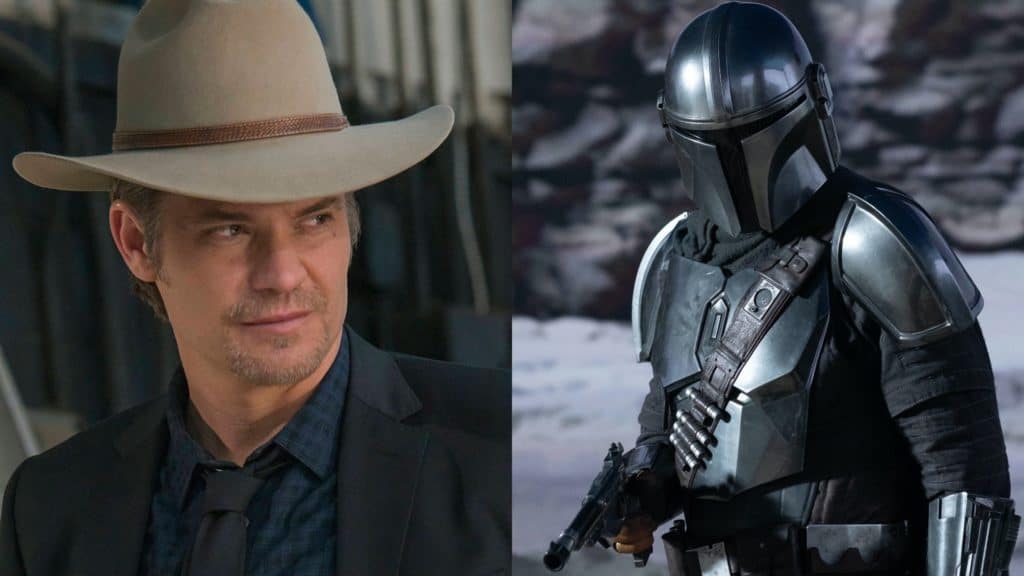 At this point the roster for The Mandalorian season 2 is still filling up with notable names as Timothy Olyphant has now been confirmed to have joined the cast. While a lot of people might know him from his time on Deadwood and Justified, there are other roles that he's excelled in during his time on screen, and no, I'm not talking about Santa Clarita Diet, though a lot of fans did happen to enjoy the show. It's fun to take a look back at some of his earlier contributions to the entertainment industry since to be fair, Timothy has been around for some time and he even managed to get in on a few noted cult classics that helped to establish the fact that he is a decent actor and someone with a lot of potential. While David Griffin of IGN and many others covering this story can't give the details of his character in The Mandalorian right now, since they're being kept secret, it's fair to state that he might show up as a bounty hunter or possibly just someone that Mando has had dealings with in the past and might need to rely on, or keep his eye on since Olyphant can play the good guy but he can also be incredibly devious. Many of his roles have shown that he can act like the biggest smack talker who becomes a blubbering mess when he's beaten down, as happened in A Man Apart with Vin Diesel, or he can be a serious badass that doesn't take any guff from anyone, as his character in Justified demanded of him.
He's a versatile actor that should fit right in with the crowd that he's been cast with, and given the company that he's acting with there's no doubt that Tim should easily find time to shine in the series. The hope is that he is going to show up in a kind of tough guy role if only because this is where he really excels. He can definitely pull off anything that's given to him, even the role of a computer hacker that wants to instill total anarchy in the US as he was in Live Free or Die Hard, but when he's playing the part of a tough guy he gets truly convincing since good or bad, he's positively scary given that he has a certain look and demeanor that give him that extra edge, which is definitely needed in a series such as this. When dealing with bounty hunters such a Mando and Boba Fett, and Force-users such as Ahsoka Tano or former Rebels such as Cara Dune, it's necessary to have your A game up and running and to be every bit as tough as your opponents or allies. That's the frustrating part right now though, not knowing just where he's going to show up, or what his character will be like. The hope of course is that he gets to be someone that is there for more than an episode, but likely as not he'll be someone that furthers the story a bit and then disappears since thus far this appears to be the way that the showrunners want it. That's fine really, but putting Tim in a position where he's bound to be remembered for his role in the series would be great.
So far it sounds as though the second season of The Mandalorian is going to be kept as scheduled and will be arriving in October, which would be great since a lot of people have been looking forward to it since the first season ended. There's a lot of material yet to be unloaded it sounds like and a good deal of story that people can look forward to since more Mandalorian's should be making their way to the screen and familiar faces from the first season will be returning. Even Bill Burr will be coming back, and it was kind of thought at first that his character was the type of one and done that might have been entertaining but was little more than a plot device to help with the particular episode that he showed up in. It is nice however to see the continuation of certain characters since it means that Jon Favreau and the directors are keeping a very real sense of continuity to the whole story. Where Mando and Baby Yoda go from here though is hard to say since Mando has been charged to find Baby Yoda's people and to return him, or to find a Jedi that can take the child and possibly teach him in the ways of the Force. With everything that's already expected for the second season it's sounding like an even wilder ride than the first, and people are ready for it to come.