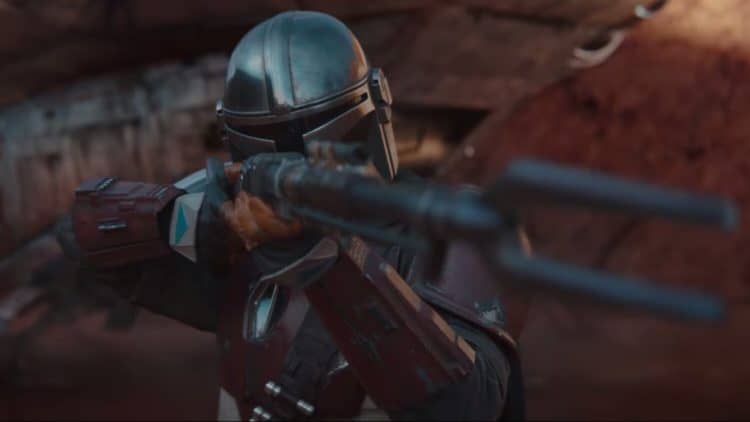 Anyone that can say that this wasn't awesome hasn't watched The Mandalorian yet and really needs to. So far we haven't seen everything that's been shown in the trailer, but with three episodes now in the books the show is giving us everything we've wanted to see and everything we've been expecting. The Lego version of it doesn't take anything away since at this point expecting anything more is kind of hard to do considering all that's been given thus far. If you're not ready for spoilers though you might not want to keep reading since after watching the third episode a lot of people are no doubt wondering just where we're going to go from here and whether or not things are going to change in a way that might get a little too heartfelt for the type of story that we've seen already. In a way it's great to see that Mando has a heart and does manage to care about what happens to the bounty he risked so much to bring back, but given that the Mandalorians are considered to be some of the toughest warriors in the galaxy it would seem that their reputation is at this moment on the line since not only did Mando break the rules of the guild he belonged to, but he ended up shooting Greef Karga, the one guy in the whole guild that didn't want to take a shot at him at first.
Of course Mando hasn't really been out to make friends, even in his own guild since he went toe to toe with one of them over seemingly nothing. Now that he's got a cuirass made of beskar and is fully suited up though he's looking pretty tough and ready to take on just about anyone. The whole idea of waltzing into a private area and taking a bounty back though after being paid, that's usually a no-no when it comes to bounty hunting since the hunter is typically supposed to move on and not care one way or another. But as we've seen during flashbacks while his armor is being crafted, Mando has a bit of a dark and troubled past that, according to episode 3 as of now, involves a Confederacy battle droid, perhaps meaning that his world was one of those that was savaged by the Separatists during the Clone Wars, considering this was when we really saw battle droids being used in such a heavy-handed way. JK Schmidt of Comic Book has more to say about this. By the time the original trilogy came around they'd been phased out obviously according to the story. But his disdain for the Empire, his need to remain aloof apart from his clan, there's a lot going on with Mando that we don't really know about yet, but there is one thing that's kind of obvious, he has a heart and he's not afraid to follow it.
But back to taking a bounty, especially one that the faded remnants of the Empire are so willing to pay so well for. One has to wonder if this has anything to do with the rise of the First Order since Force sensitives were hunted during the time of the Empire either to exterminate them or to turn them to the dark side and use them as tools. Being that the Empire was fairly xenophobic it does seem as though the tiny green Yoda-like alien would have been on the chopping block eventually if not for the doctor that spared him and the rescue by Mando. And there's no doubt that the little guy is bound to be a powerful Force-user since he managed to stop a marauding mudhorn despite the obvious strain it put on his little body. Still, when you think about it that seems to be the way that another Yoda-like Jedi might come about, though the sad thing is that something will have to happen to this little guy eventually in the story, either he'll go into seclusion or sacrifice himself or something, simply because the continuity would otherwise be ruined.
But so far The Mandalorian has been great, and it's a show that a lot of Star Wars fans have been waiting on since it doesn't focus solely on Jedi or Sith, in fact it really hasn't done anything for either side at this time, and it definitely shows a little more of the Mandalorian culture than we've seen throughout the movies. Boba and Jango Fett were great, but the Mandalorian ways were pretty absent in the movies since there likely wasn't time to focus on it. But given that this is all about that subject one can only expect that we're going to see just how awesome they can be, as we already have. One thing about Mandalorians that we can tell at this point though is that if there's more than one around it's never safe to assume that once you corner one that the others won't make their way into the fight. And unless you've got an army or are willing to die, the Mandalorian's will be likely to win every time. Erik Kain of Forbes had an interesting take on this.