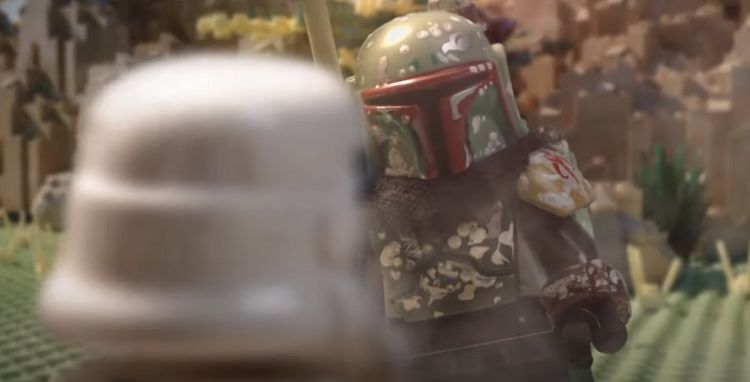 It doesn't matter if it's live-action, animated, CG, or Lego, Boba Fett is just pure awesome. That could be why it was tough to see him get manhandled a bit by Koska Reeves, but seeing as how she's a certified Mandalorian and Fett has aged quite a bit he did manage to hold his own and it's not certain just who would have won in the end since youth vs. experience is a tough one to call most times. But when it's Fett vs stormtroopers there's not much of a question who's going to come out on top unless he's trying to take on a whole army by himself. Seeing certain Star Wars scenes played out in Lego form is pretty cool since it's short and to the point and the effects are usually done up in a way that makes sense but isn't too flashy and definitely isn't understated as well. Plus, there's only so much that can be done with Legos, but there's a lot that goes into the making of these clips since one has to exhibit just how awesome some of the characters in Star Wars really are. The fighting scenes that have been created during and since the emergence of the sequels have been even better than those in the original movies, even if the story has gone downhill a bit. The downside of this is that we really don't have anything to compare to when it comes to Fett since in the original trilogy he didn't do much apart from show up and then get knocked into the Sarlacc pit in Return of the Jedi.
Throughout the years we've been made to understand that Boba Fett is one of the toughest individuals in the galaxy and has had to be since he had one of the roughest upbringings of any character in the Star Wars franchise. He was born an unaltered clone, his father taught him the way of the warrior from a young age, and more or less he had to be tough from the time he could understand the concept to the moment he became his own person. Boba didn't always have the kindest teachers either since as a kid when he was still getting into the swing of things, he lost his ship at least once or twice and had to get it back and had to deal with some of the worst scum in the galaxy as he fought to become one of the most renowned and feared bounty hunters in the known universe. This is, after all, a guy whose very name sends some people into hiding since they knew what he was all about and what he could and would, do to those that were either his target or in his way. There aren't a lot of characters in the Star Wars franchise like Fett that could create the kind of buzz that he has, and The Mandalorian only showed that in greater detail since the only ones that aren't really that impressed with Fett are those that can either mask their apprehension or are perhaps even tougher.
His fight with Koska Reeves was pretty intense, and people have definitely put in their two cents when it comes to thinking who might have won eventually, but against stormtroopers, there's really no contest since Fett isn't bound to fight in the way that they know and are taught continuously, which is kind of odd really. All the stories that are non-canon now have shown that a stormtrooper is taught how to fight and win at all costs, but in the movies and animated series they tend to be easily dispatched and they can't hit much unless their target stands absolutely still and doesn't move at all. More and more it feels as though Disney made a serious mistake not accepting a lot of the old canon, but it's still obvious that they're willing to cherry-pick what they feel is necessary while stating that no, they're not using the Legends canon at all. The hypocrisy is strong with the Mouse House, but that's all I'll say.
Boba Fett has at least been vindicated as one of the toughest individuals in the Star Wars universe, and he hasn't lost a step from what people expected since he's still one of the best fighters around and still knows how to do what it takes to accomplish his goal. What's going to be really interesting is to see if he'll end up being an ally to the Mandalorians when The Book of Boba Fett comes around, or if he'll distance himself from them in order to do his own thing. The fact that he's taken over Jabba the Hutt's former empire from his majordomo, Bib Fortuna, leaves a person to think that Fett has bitten off something he might have trouble chewing, but we'll see.