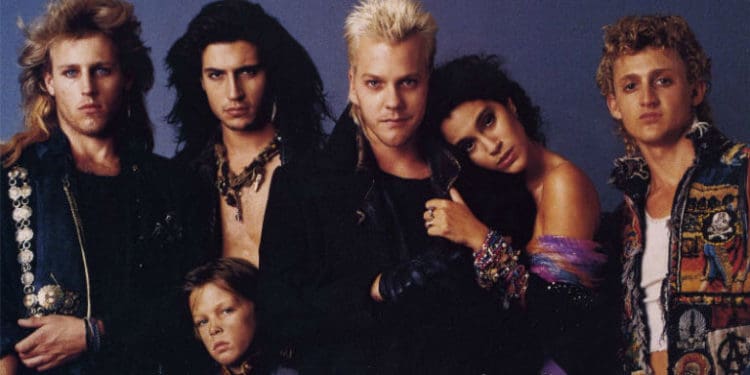 So someone is interested in making a TV show based on The Lost Boys, and apparently someone else has been making a musical that will detail the life of David and his friends before they became vampires, and it was being worked on by none other than the late Joel Schumacher. If not for Schumacher being mentioned it would almost sound like a joke, but apparently this is very real and the project will apparently be looking at being shown in 2021, hopefully, it would sound like. Needless to say, turning the Lost Boys into a musical sounds kind of awkward, but that appears to be the way that a lot of pop culture is being looked at these days since other ideas that one might have never thought possible have made their way to the stage as well, such as Back to the Future. A movie detailing David's early life would likely be a little easier to understand since there's bound to be a great deal of history there and, considering how long David and his buddies have been around by the time the movie is made, it's easy to think that even a TV show would be better since it would be able to trace the timeline of when David and the group encountered Max and how they ended up becoming who and what they were.
How a person feels about musicals and this movie, in general, will go a long way towards determining whether people feel that it will work or if it's bound to be a mistake. It's not the only horror movie that will have ever been given its time on stage after all, but something feels off about bringing this to the theater, as the big or small screen feels like the place it should stay. Obviously it's too late for that since the bell's been rung on this idea and it's already been put in motion, but how it's received will go a long way towards revealing if it was a good idea or a huge mistake. At this time it's too early to say much of anything, but given that we didn't know a lot about David in the movie it's fair to say that it could shine a light on the character, hopefully in a useful and informative, as well as entertaining manner. It might even go into detail about the others to a certain degree since they all had to come from somewhere, and it feels safe to state that they didn't start out in the 80s, considering the way they spoke and acted.
Maybe it's a desire to hold on to the original movie and enjoy it as it was, or maybe it's something else, but anything to do with the Lost Boys really appears to nettle at the senses of a lot of fans while many others are excited about a show such as this, and are at least open to seeing what it's all about. Admittedly, learning David's story would be kind of interesting since any back story on the characters would be great enough to at least express some sense of interest. For some, it might be the mere mention that Joel Schumacher had something to do with it that will get them ready for the show to commence. But for others, it could easily be the prospect that the show will shed a lot of light on the original movie in a big way, which is likely to happen since the Lost Boys was more or less a movie that was bound up from start to finish in a tale that hinted at a back story for certain characters but never really went into any serious depth with them. Instead, it was a horror story for those that happened to love vampire movies and wanted to see something different. It did accomplish that goal at least, and it did give us a cult classic to enjoy. But in all fairness, it did leave a lot of questions unanswered, and the two movies that came out after that, both of them being straight to video and both of them featuring Edgar Frog, were more about continuing the hunt for vampires and not so much about looking back unless one counts the post-credits scene between Corey Feldman and Corey Haim. There was some explanation about what had happened, but it was left fairly ambiguous until Corey Haim's unfortunate passing.
It could be a good show, it could be a flop, there's no way to tell until it's been seen by those willing to fill the seats and take a look. What I will say in closing about this is that Lost Boys is a favored movie among many of us that were growing up in the 80s and 90s, so hopefully the musical stays fairly true to the source.