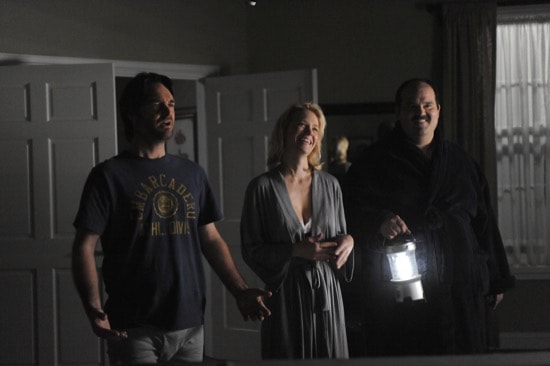 If The Last Man on Earth's main goal has been to make Phil the most unlikable character on television, then mission accomplished. Although the end of last week's back-to-back episodes showed some bit of promise, with Phil finally dropping the act he puts on for Melissa and her (hopefully) ending any sort of ideas of romance that Phil had with her, we find ourselves back in familiar territory in tonight's two episodes. Both "She Drives Me Crazy" and "Mooovin In'" fail to push The Last Man on Earth's story forward, and instead, they continue the same old, unfunny routine that the series has been doing for the past few weeks, as Phil continues to be a selfish, whiny creep before deciding to be a "good guy" for the episode's last two minutes.
But that small bit of improvement that Phil displays, particularly at the end of tonight's first episode, "She Drives Me Crazy," is nonexistent in the show's second installment of the night, and it's this wash, rinse, and repeat attitude that has trapped The Last Man on Earth in a rut for weeks. The actors are still solid (Kristen Schaal, in particular, has been consistently great, and she gets more fun stuff to do tonight with Carol shoving dryer sheets up her nose to deal with the stench from Phil's toilet pool, a visual gag that never failed to at least make me smile), but the show's writers seemed to have forgotten what made the series so appealing in its few episodes, taking the charm that Last Man once possessed, especially in its pilot episode, and replacing it with cringe-worthy schlock that not even the talented Will Forte can make work.
And really it's with Forte's character where most of Last Man on Earth's problems lies. While the show's decline in quality began after the introduction of January Jones' Melissa, it's been Phil's reaction to her that has turned the show into such a mess. Had Last Man on Earth dealt with Phil's attraction towards Melissa over the course of one or even two episodes and moved on to something more unique and interesting (and, you know, actually had Phil's character grow and develop) perhaps the series wouldn't feel so much like wasted potential, an idea that should have been a 90-minute-long indie film instead of a horribly unfunny network sitcom.
Ultimately, The Last Man on Earth can't start to reclaim its former glory until its main character regains what made him interesting and likable in the show's early episodes. While some comedies can get away with unlikable leads, that's only when those characters' faults are thoughtful and nuanced, and there's nothing deep or complicated about Phil Miller. He's just a jealous, bitter guy who is upset because he didn't get to sleep with the "pretty girl," and really, who wants to watch another slimy, selfish jerk who feels like he's entitled to a woman's body? There's already too many of those guys out there in the real world; we don't need any more of them on TV. Let's hope Last Man on Earth begins to realize that sooner rather than later.
Other thoughts:
– Todd continues to be the nicest human being on the planet, and it's great to see that he and Melissa have gotten together. And I don't mean just in the physical sense–the two of them really seem to be happy in their scenes with Phil and Carol.
– Todd being such an honest, selfless, and, most of all, humble guy makes Phil's jealousy towards him even more despicable. Todd isn't trying to flaunt anything in front of Phil. He only admits to sleeping with Melissa after Phil continuously probes him with questions, and everything he does is to help the rest of the group. He's not looking for any type of glory or notoriety. Todd's just a good person.
– There was something quite poetic about watching Phil literally fall into a pool of his own crap while he was cleaning out his toilet pool.
– Thanks to Randy for giving me the chance to share my thoughts on The Last Man on Earth this week. He'll be back to review the show when it returns in two weeks. Here's hoping they'll be better than what we got tonight.
What did everyone else think about tonight's episodes of The Last Man on Earth?
[Photo via FOX]