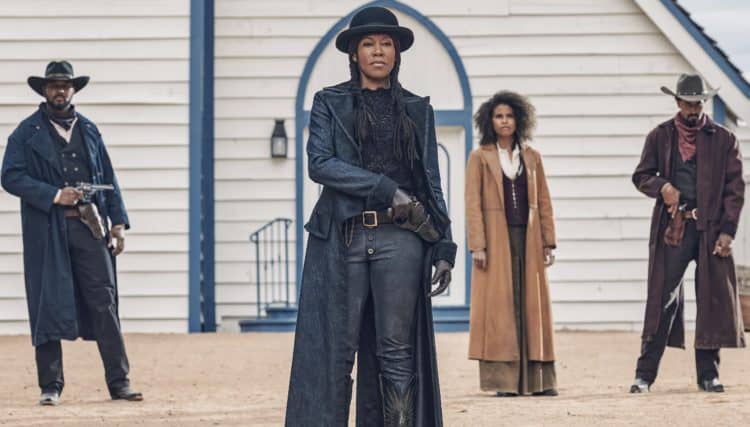 In the last decade, old-school western lovers have been blessed with classics like Django Unchained, The Revenant, and Hostiles. It's not every day that we get an intriguing big-budget western film featuring an all-black cast as we did in Netflix's The Harder They Fall. Co-written and directed by famous British hip-hop star Jeymes Samuel, what sets this film apart from others in its genre is that it does a great job at capturing several of the elements that we love in classical westerns of the forties but its story is told from the black perspective which has been severely underserved over the years. In this old-school western with modern flair, The Harder They Fall follows two rival gangs. Rufus Buck is the dangerous leader of one of the most brutal gangs in the area and he's broken out of prison by his loyal gang right-hand man King portrayed by Lakeith Stanfield. Rufus Buck rules his small town with an iron fist of fear. The protagonist, ex-cowboy Nat Love brings his gang back together to seek revenge on Buck for murdering his parents when he was just a little boy.
This action-packed thriller was an instant success on the streaming platform. Many people wondered if the film was based on a true story. Unfortunately, the story of Nat Love and Rufus Buck was entirely fictionalized. In fact, the movie starts with a statement that plainly says the events are fictional. However, did you know that the characters in this film were named after real historical figures? While the main characters in The Harder They Fall have traits similar to their historical namesakes in many ways they diverge dramatically but they have no actual relationship with each other. Nat Love ( Jonathan Majors) was a highly skilled Tennessee cowboy that was known for his bravery. Born in 1854 into slavery Love's family like thousands of other slaves was freed after the Civil War. Nat Love was only fifteen years old when he set out on his own and became a legend for cattle driving and winning a shooting contest.
Love became famous for chronicling his adventures in his autobiographies Life and Adventures of Nat Love, Better Known in the Cattle Country as "Deadwood Dick" by Himself. Nat Love retired in 1889. Rufus Buck portrayed as a sinister figure in the film by Idris Alba was just twenty-one years old when he was hung in 1896 after Issac Parker known as the "Hanging Judge" ordered his execution. While there are records of his arrest and press accounts that paint him as an outlaw due to the racial discrimination that was prevalent during that time. Rufus Buck was also a notorious gang known for the committing ruthless crimes all through out the Wild West during their era. Stagecoach Mark also known as Mary Fields wasn't an outlaw as portrayed by Zazie Beetz in the film. However, she was known as the toughest woman in the Wild West. Stagecoach Mary made history by becoming the first African American woman to work for the United States Post Office and she transport the mail on her stagecoach. Mary was known to carry a rifle and a revolver.
Trudy Smith played by Regina King was not associated with the Rufus Buck Gang. Also commonly referred to as Treacherous Trudy, she was a feared killer and well-known outlaw. In The Harder They Fall Bass Reeves was the deputy marshal that was allied with Nat Love. Bass Reeves was a well-respected lawman in Indian Territory for over thirty years where he arrested over 3,000 felons. Reeves was especially known for his dedication to Justin as unlike his peers he couldn't be bought. Bass Reeves didn't accept bribes and he wasn't a part of a criminal organization. Reeves was born a slave but he killed his master in a dispute and fled where he lived amongst Cherokees. Judge Issac Parker was desperate to bring order to a territory riddled with violence which led to Reeves being recruited. Bass Reeves was a good law enforcement agent because he was well-versed in other languages, a diligent detective and a highly skilled shooter. Like the film, Cherokee Bill was an actual person but he wasn't part of the Rufus Buck gang. Cherokee Bill was a murderer known for his affiliation with Cook Gang. Judge Issac Parker sentenced him to death by hanging before he was twenty-years old after committing several murders. For years, African-Americans contributions to old western society and it's representation in cinematic productions has been overlooked. In The Harder They Fall Samuels used these noteworthy historical figures in this film to show how black pioneers played a major part in shaping old western culture.
Tell us what's wrong with this post? How could we improve it? :)
Let us improve this post!