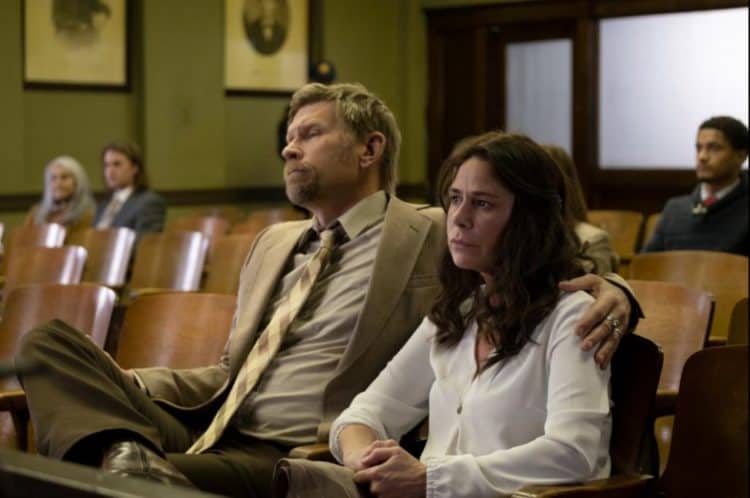 At the age of 56, actress Maura Tierney has a long resume that dates all the way back to the '80s. Born to a real estate broker and a Boston politician, Tierney studied dance and drama at New York University. Tierney's career began through plays, and in 1987, she made the decision to move where the magic happened: Los Angeles. Her bold move to Hollywood bore fruit almost immediately, as she was cast in Disney's television film, Student Exchange. In the film, Tierney played the role of Kathy Maltby, a part that eventually opened her up to the industry. In 1991, Tierney landed her first lead role in Dead Women in Lingerie, an independent film that had a limited budget. Fate had it that Tierney would gain popularity through works such as ER, in which she played the role of Abby Lockhart, and The Affair, for which her role as Helen Solloway landed her a Golden Globe Award.
When Tierney talks about her journey, she acknowledges that, as long as it has been, it has proved just as wholesome. She's met some awesome people along the way, too. For starters, It wasn't until Tierney landed the role of Naomi Chance in Primal Fear that she truly felt she'd 'arrived.' During a shoot, the cast was called to set, and Tierney found herself walking behind Richard Gere, a moment in which she thought, " Wow! This is Hollywood." Besides Gere, Tierney has worked with Courteney Cox, famed for playing the role of Monica on Friends, who she says was so kind to her on set. Jim Carrey, with whom she acted on Liar Liar, was so into his character, and pretty much focused on making the best film he could. Overall, Tierney has made magic, and more of that is seen in her latest role on American Rust.
Landing A Role On 'American Rust'
American Rust, the original title, is a book by writer Philipp Meyer. The story, whose timeline is set within the 2000s, was published in 2009. It's based on a fictitious town named Buell in Fayette County, Pennsylvania, and details the socio-economic aspects of the American middle class. None but Philipp Meyer was suited to bring this story to life since he's been on both sides of the economic spectrum; he left school at the age of 16, took a couple of odd jobs, and managed to pay his way through college. Later, he worked on Wall Street and gave it all up to become a writer. In the hierarchy of every writer's needs, getting a book adapted into film or a television series sits at a higher level than any other, and, for Phillip, that dream came to fruition nearly ten years after the publication of his novel.
In 2017, the book was set to be adopted by USA Network, but any attempts at production stalled since finding a character to play the lead proved to be quite the task. Finally, in July of 2019, Showtime took the series up, and, most recently, the series made its debut. The show features Jeff Daniels as Del Harris, Maura Tierney as Grace Poe, and David Alvarez as Isaac English. Other actors who are part of the main cast are Rob Yang, Bill Camp, Julia Mayorga, Alex Neustaedter, and Mark Pellegrino. According to The Hollywood Reporter's Angie Han, " American Rust's characters may be troubled, as they are constantly explaining to each other, but collectively they're right about one thing: This place is a dead end, and maybe the best thing to do is get the hell out."
Maura Tierney's Character, Grace Poe
Tierney's approach at how she handles acting as a craft was influenced largely by Sally Field. " Did I work with someone who changed me? I think it happened with Sally Field. Very dramatically." Tierney said. " First of all, she's an amazing actress. She taught me that it was okay to give myself permission to take myself seriously as an actor. I worked very very hard, but I didn't have a lot of confidence. She's a strong woman, and she took the time that she needed to be in the corner or listen to her music or do whatever she needed to do to prepare and she didn't care what anybody thought. She didn't need to be friends with everybody on set, even though she's lovely. And I thought 'Wow, It's okay to take this seriously and not mind if anybody sees that you do.' She's one of the women who have come before that have done a lot of work."
On American Rust, Tierney plays a character named Grace Poe. Grace Poe is mother to Billy Poe, the best friend of Isaac English, the show's main protagonist. Grace is a seamstress, who also has an affair with Del Harris. On what Tierney finds unique about the series and its making, Tierney mentions the directing and the writing. Not that The Hollywood Reporter's Angie Han would agree, since she firmly termed the show as 'boring.' Tierney says of the making of Grace Poe: " Driving around Pittsburg and the surrounding areas, there are so many towns that we shoot in. Being here and living here, was very informative to my character. Grace Poe is facing a lot of adversity. She's always tried to do the right thing and always believed, maybe she doesn't deserve as much as anybody else. At a certain point, I think she makes a choice to stop playing by the rules because she just has this realization that she does deserve a nice life. But the choice she makes in order to achieve that is complicated."
In order to blend with her co-star Jeff Daniels, Tierney said that both of them were 'naturally charismatic' and found that they liked to work the same way, thereby creating good on-screen chemistry. Prior to working together, Jeff had drafted an email, saying he was up for chatting (even though he didn't vouch for it), or jumping off a cliff, and jump off a cliff they did. With more episodes set to air, one can only hope it was worth the jump.
Tell us what's wrong with this post? How could we improve it? :)
Let us improve this post!