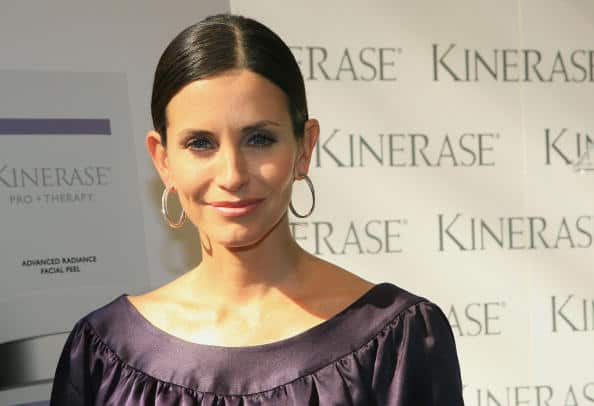 We at TVOvermind have been binge-watching Friends since it was released on Netflix back in January. Over the last couple of months, we have picked up on a lot of things. One of those is the core group of pals played by Lisa Kudrow, David Schwimmer, Jennifer Ansiton, Mattew Perry, Matt LeBlanc, and Courteney Cox dated a lot of lucky guys and gals over the ten seasons the show was on the air. We thought it would be a fun idea to rank each character's boyfriends and girlfriends to see who would really come out at top. Last week, we took a look at all the beautiful women Chandler dated over the years. You can check the article out by clicking here. This time we will be analyzing the men that came into Monica's life. The list, of course, includes Peter, Richard, and her future husband Chandler. Here is a ranking of Monica Geller's boyfriends on Friends from worst to best.
Julio (Season 3)
Julio worked at the same diner as Monica during season 3 of Friends. She begins to date him and learns that he is a poet. The gang reads one of the poems he wrote for Monica and assume that he thinks negatively of her. When she confronts him, he declares that the poem is about all women. Their relationship ends with Monica hiring a Barbershop Quartet to belittle him in public.
Boyfriend Grade: F
Stuart (Season 7)
The only thing we know about Stuart is that he married Monica's cousin Franny after their relationship ended.
Boyfriend Grade: F
Chip (Season 4)
Monica had a crush on Chip when she was in high school. She runs into him during season 4 of Friends and the two go out on a date. She quickly finds out that he has not done any growing up since high school and she breaks up with him.
Boyfriend Grade: F
Paul the Wine Guy (Season 1)
Monica was very excited to date Paul the Wine Guy on the first episode of Friends. He told a story about his wife leaving him in order to get her into bed. Monica finds out that he was telling other women this same story so she ends things with her.
Boyfriend Grade: D
Mischa (Season 4)
Mischa was the interpreter to the man that Phoebe was dating during the fourth season of Friends. Phoebe thought he was getting in the way of her date with Sergei so she sets Monica up with him. We never learn anything else about him after this episode.
Boyfriend Grade: D+
Alan (Season 1)
Monica was nervous introducing her friends to Alan because she was afraid they would not like him. It turns out that everyone loves Alan… except for Monica. When she breaks up with him, Alan tells her how much he did not like the gang.
Boyfriend Grade: C-
Fun Bobby (Seasons 1 and 2)
Monica would date Fun Bobby on and off during the first two seasons of Friends. The two would also date prior to the show starting as told by some of the character's stories. Monica figured out that the reason Fun Bobby was so fun was because he was always drinking. Once he decides to give that up, it is clear that alcohol helped to make him not a dull and boring person. He breaks up with Monica when he accuses her of having a drinking problem.
Boyfriend Grade: C-
Tim (Season 4)
If Tim Burke had not been Richard's son, he and Monica could have had a nice relationship. The two did spend Thanksgiving together, but after they share a kiss Monica realizes how gross it was to try to start dating him.
Boyfriend Grade: C+
Ethan (Season 1)
Ethan and Monica's relationship would not last very long during the first season of Friends. The two would both lie about their ages. Monica claimed she was 22 when in actuality she is 26. Ethan told her that he was a senior in college. However, after the two spend the night together he reveals he is a senior in high school. Since this lie makes Monica a "felon in 48 states" the two break up.
Boyfriend Grade: B
Pete (Season 3)
Monica had no idea that Pete was a millionaire when she met him at the diner she was working at during the third season of Friends. At first, Monica saw him as nothing more than a friend. However, that would quickly change and their relationship would begin towards the conclusion of season 3. Monica decides she must break up with Pete when he pursues a career as the Ultimate Fighting Champion. She refuses to witness him continually hurting himself in the ring.
Boyfriend Grade: B+
Richard (Seasons 2 and 3)
Richard was one of the first of Monica's long term relationships we saw on Friends. He was a man from Monica's past as he is close friends with her father and mother. An eye appointment make-out session turns into a very serious relationship. However, things would end up not working out for Monica and Richard, since she always wanted to have children and that was something Richard had already experienced in his life. The two would briefly date in season 3, but since they wanted different things in life they did not pursue the relationship further. Monica almost went back to him after she got into a fight about commitment with Chandler in season 6. Lucky for fans of Friends, Monica desired to be Mrs. Bing more than Mrs. Burke.
Boyfriend Grade: A-
Chandler (Seasons 4-10)
I would not be able to face myself every day if I did not rank Chandler the best of Monica's boyfriends from Friends. The two ended up getting married, which just goes to show that some one night stands are meant to last. Monica and Chandler tried to keep their love a secret, but they could not hide it from their meddling buddies for very long. Chandler almost lost Monica for good when he pretended he was not ready for a committed relationship. Lucky for him, Monica realized Chandler was the one she wanted to spend the rest of her life with and accepted his proposal during the touching season six finale. Next would come a wedding followed by Chandler moving to Tulsa and then eventually quitting his job. He stuck by Monica's side when the two found out the could not conceive. Their story does have a happy ending when they adopt twins on the final episode of Friends.
Boyfriend Grade: A
Which boyfriend of Monica's on Friends did you like the best? Let us know in the comments section below.
Photo by Katy Winn/Getty Images for IMG
Tell us what's wrong with this post? How could we improve it? :)
Let us improve this post!