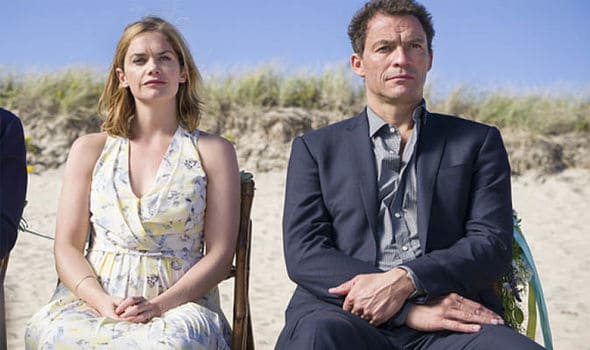 Since its premiere on October 12, 2014, Showtime's popular drama The Affair has attracted a huge amount of critical acclaim, scoring a Golden Globe Award for Best Television Series, and Best Actress and Best Supporting Actress Golden Globes for its stars, Ruth Wilson and Maura Tierney. It's also packed a punch with viewers, who, 5 seasons down the line, remain as gripped as ever by the show's creative storylines, complex characters, and emotional realism. Sadly, the fifth season will be it's last, with the final episode due to broadcast on October 27, 2019. Before you consign yourself to re-runs, you might want to consider a few alternatives. Here, we take a look at the 5 shows guaranteed to fill the void when The Affairs departs our screens for good.
The Slap
Like The Affair, The Slap is rich in complex, sometimes unsympathetic, characters, all of whom draw us into the rich tapestry of the story by offering different perspectives of the same event. The event in question happens at the birthday party of Hector Apostolou, a 40 something city employee in the depths of a midlife crisis. When Hector's cousin, Harry, slaps the child of two other guests, it shakes the foundations of the group to its core, exposing the dark underbelly of their relationships and the secret lives they'd previously managed to keep hidden. With superb performances from the likes of Uma Thurman, Thandie Newton, and Peter Sarsgaard, this is one show that's guaranteed to keep you hooked from start to finish. (On a side note, if you become engrossed enough in the story to want to see more, be sure to check out the earlier Australian version of the series, which broadcast in Australia in 2011. The series received ace reviews on its release, with Holly Byrnes of The Daily Telegraph calling it "arguably the best Australian drama produced this year" and Luke Buckmaster of Crikey feeling moved enough to comment "The dramas and interpersonal relationships are engrossing from the get-go, the story like a David Williamson script that actually has bite, tension and doesn't pander to racial or cultural stereotypes. The Slap presents a view of middle-class multicultural Australia rarely seen in film and television." Watch out for actress Melisa George, who plays the character of Rosie to such perfection she was invited to portray the character again in the US re-make).
Big Little Lies
Unless you've been living under a rock for the past two years, you've undoubtedly heard of Big Little Lies, HBO's spectacular reinterpretation of Liane Moriarty's novel of the same name. Featuring sensational performances from Reese Witherspoon, Nicole Kidman, and Shailene Woodley (and, as of series 2, the inimitable Meryl Streep), along with diverse, complicated characters and expertly rendered storytelling, Big Little Lies has, quite rightly, become one of the biggest hits of recent years, winning 8 Emmys (out of 16 nominations), Golden Globes for Kidman, Alexander Skarsgård, and Laura Dern, and Screen Actors Guild Awards for Kidman and Skarsgård. If you want to watch themes of murder, rape and betrayal seamlessly interwoven into storylines about relationships, family, love, and friendship, you'll not be disappointed.
Doctor Foster
Actress Suranne Jones may not be as widely known in the States as she is in the UK, but if her performance in Doctor Foster is anything to go by, she soon will be. The show revolves around Dr. Gemma Foster (Jones), a woman whose suspicions about her husband's infidelities drive her, and those around her, to the very edge of reason. Inspired by the myth of Medea (the wronged wife of Greek legend who wreaked vengeance on her unfaithful husband by killing his new bride and children), Dr. Foster has it all: grit, edge, violence, drama, and emotion by the bucket load. Described by The Guardian as a "gripping portrait of a marriage slowly being poisoned', fans of The Affair are guaranteed to find it a more than worthy replacement.
You Me Her
If you want a show that gives a modern take on relationships, check out You Me Her, an American-Canadian comedy-drama that centers on married thirty-somethings, Jack and Emma Trakarsky. After the couple's lack of sex drive hampers their ability to conceive, Jack hits on the idea of introducing a third party into the relationship: 25-year-old college student/ part-time escort, Izzy Silva. While Izzy is initially introduced into the marital bed purely as a means of spicing up the relationship between our two leads, things start to get complicated when both Jack and Emma start to fall in love with her. After deciding to make the arrangement official, the series follows the threesome as they navigate the tricky waters of polygamy. The show has already run for 4 seasons (the fifth and final season is scheduled to premiere in summer 2020), giving you hours of entertaining, diverting viewing to look forward to.
You're the Worst
It may have more in the way of laugh out loud moments than The Affair, but You're the Worst has enough similarities to the former to appeal to even its most die-hard fans. The show follows Jimmy, a self-absorbed, insensitive writer, and Gretchen, a Los Angeles PR Executive whose fancy job title disguises a messy, self-destructive lifestyle. As the pair struggle to find out exactly what the other means to them, they take us on a journey of self-discovery that manages to be both comedic and tragic. "You're the Worst uses clever writing — and its stars' palpable chemistry — to balance comedic elements against its realistically pessimistic tone,' says Rotten Tomatoes, perfectly summing up the show's huge appeal. If you want a series that mirrors The Affair's realistic depiction of adult relationships, but with a few laughs thrown in to lighten the mood, You're the Worst is well worth a few hours of your time.
Tell us what's wrong with this post? How could we improve it? :)
Let us improve this post!