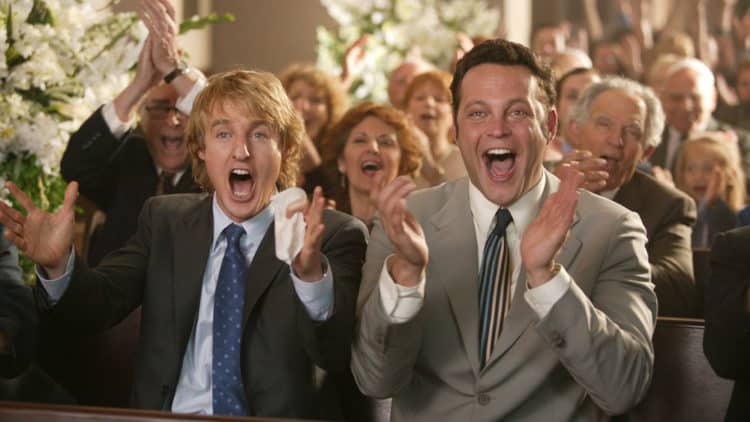 Since the mid-'90s, the Frat Pack, a tribe that includes Ben Stiller, Owen Wilson, Luke Wilson, Will Ferell, Steve Carell, Jack Black, Paul Rudd, and Vince Vaughn, has been acing the comedic film scene. One too many times, at least two members of the pack have appeared in a top-grossing comedy film. Their roles can be anything from the lead role, a smaller supporting role, to the screenplay. The name was coined by USA Today in June of 2004 and has stuck since. Within the pack's circle is a team of key behind-the-scenes figures, including directors Wes Anderson and the Farrelly brothers, and Judd Apatow, who has written and produced some of the Frat Pack's films. Collectively, the Frat Pack has grossed more than $4 billion at the box office. Here are their top-grossing films:
1. 'Kung Fu Panda 2' ($665 Million)
Released in 2011 as a sequel to Kung Fu Panda, Kung Fu Panda 2 featured the Frat Pack's Jack Black in the leading role, alongside fellow member Seth Rogen, who had a supporting role. Produced on a budget of $150 million, it grossed an estimated $665 million at the box office, proving to be the most successful film by the pack yet. In a past interview, Rogen said of Jack Black's role: " I think one would be crazy to ignore the vast physical similarities between him and Po. And I think, in a lot of ways that's one of the reasons it comes across as so funny. You really can picture him as the character."
2. 'Kung Fu Panda' ($631 Million)
Kung Fu Panda was released in 2008 as the first installation of the Kung Fu Panda franchise. Produced on a budget of $130 million, the film grossed $631.7 million at the box office, proving to be as successful as its sequels. In dissecting his character Po, Jack Black called his character a big kid, who was in awe and wonderment of his Kung Fu master heroes, despite growing to be a master himself. On the movie's message, Black said, " At the heart of Kung Fu Panda lies the message that anyone can do Kung Fu, even the most unlikely body type."
3. 'Night at the Museum' ( $573 Million)
The 2006 comedy film directed by Shawn Levy featured Ben Stiller in the leading role of Larry Daley, a security guard at the Museum of Natural History. It also featured fellow frat members Owen Wilson and Paul Rudd in the supporting roles of Jedediah and Don respectively. Asked why he thought the film and its subsequent sequels were successful, Stiller emphasized that they had their own tone. Right off the bat, he thought the film would be a success, based on the script.
4. 'Meet the Fockers' ($522 Million)
Featuring Ben Stiller alongside Robert De Niro, Dustin Hoffman, and Barbara Streisand, Meet the Fockers also featured frat pack member Owen Wilson, who portrayed the role of Kevin Rawley. It was released as a sequel to Meet the Parents, which also did well at the Box Office, grossing an estimated $330 million against a $50 million budget. Stiller said of his character, Greg: " He is the guy you can identify with. Everybody's been in that situation having to make things work with family members who don't necessarily get along, and trying not to cause waves but also trying to get through your life."
5. 'Kung Fu Panda 3' ( $521 Million)
Released in 2016, Kung Fu Panda 3 was the second-highest-grossing film during the month of January, placing second behind American Sniper. It featured the casts members of both its prequels, including two members of the frat pack. Film reviewer Glenn Kenny wrote of the film: " Kung Fu Panda 3, in spite of its abundant action—and for all the interspecies mashups, this is as much an action-adventure animated movie as it is a funny-animal animated movie—is a pretty relaxing experience for the adult viewer. The colors are beautiful, the design of the varied realms is ingenious and pleasing, the animation fluid and graceful."
6. 'Night at the Museum 2' ($ 413 Million)
Starring Ben Stiller, Night of the Museum 2 was released as a sequel to the first film. Although it made less than its prequel, it was equally a commercial success, grossing $413 million against a $150 million budget. Its setting was placed three years after the happenings of the first film, where Larry, portrayed by Stiller, took to running a television company built off of inventions inspired by his time at the museum. The film featured Owen Wilson as the second member of the Frat Pack and was without the presence of Paul Rudd, who had made an appearance in the first film.
7. 'Monsters vs. Aliens ($381 Million)
Released in 2000, Monsters vs. Aliens featured two members of the Frat Pack, Paul Rudd and Seth Rogen. It was a success at the box office, grossing an estimated $381 million against a $175 million budget. Rogen voiced B.O.B, a gelatinous mass made of tomato and dessert, whose scientific name Seth Rogen mastered, hard as it was. B.O.B was a misfit monster, alongside Susan Murphy, voiced by Reese Witherspoon, Dr. Cockroach, voiced by Hugh Laurie, Link, voiced by Will Arnett, and Insectosaurus, portrayed by Conrad Vernon. Paul Rudd, a member of the frat pack, voiced Derek, a local weatherman.
8. 'Meet the Parents ($ 330 Million)
Released in 2000, Meet the Parents featured Ben Stiller and Owen Wilson, and was a remake of the original 1992 film. For his performance, Stiller won two comedy awards. While promoting the film, Stiller said he felt close to the character he was playing. " For me it was kind of, like I said, taking the experience of what was going on, you know, and just kind of maybe feeling that was okay, cause it felt very similar." He revealed. Having not previously worked we his main co-star de Niro, he mentioned that they got to gel during the making of the film, enough to pull in a $330 million gross against a $55 million budget. Following its success, Meet the Parents inspired two sequels. It also inspired a reality show dubbed Meet my Folks, and a sitcom titled In-Laws, both of which were aired on NBC for two and single seasons respectively.
Tell us what's wrong with this post? How could we improve it? :)
Let us improve this post!