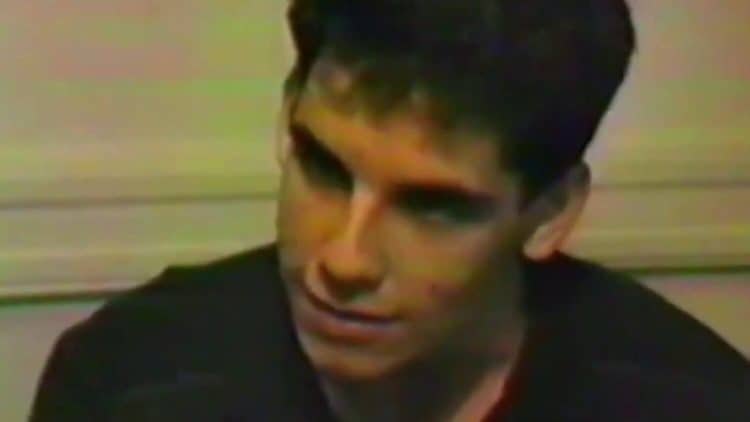 There's a reason why people should be glad that Michael J. Fox ended up taking the role of Marty McFly in Back to the Future instead of Eric Stoltz, but it's even more apparent after watching Ben Stiller audition for the role since one can only imagine just how this would have gone had he somehow landed the part. There's one big difference that Fox has over Stiller at that point in their lives, and it's pretty obvious from the way they acted out the part. Granted, this is just an audition, but Fox has always had at least some self-confidence if not a lot in his roles or has at the very least projected this kind of attitude. Stiller, on the other hand, acts like the self-conscious kid that doesn't really know if he's about to screw something up or if he's even sure he should be standing where he is. Plenty of people will likely want to argue this point since the truth is that Ben Stiller has played many roles where he's completely confident in himself, but he's also played several parts where it's obvious that his character isn't entirely certain that he's doing something right or if he even needs to be wherever he's at. That lack of self-confidence, how minuscule it is at times, has kind of followed Stiller around for a while and has permeated a lot of his roles.
Michael J. Fox on the other hand has played a number of roles that saw him acting like a rather nervous guy, but with the kind of confidence, that would eventually force him down one path or another since there was no other way for it to go. Even as Marty McFly he had a few moments that made him look a little indecisive, but usually for good reason since traveling back in time to meet your parents as teenagers might have a disorienting effect on a person. Safe money says that if Stiller had landed this role that it would have played out like a prelude to Something About Mary since it feels as though he would have been the shy, insecure kid that didn't know whether to wind his backside or wipe his watch…think about it, you'll get it.
While both men have made their careers as great actors, there is are a few very notable differences between them that helped to make the roles they did take on that much better. Michael J. Fox was a perfect Marty since he was a smaller guy, he had a definite attitude, and he didn't really back down to anyone. Ben Stiller was the kind of guy that just looked like he was a bit softer and might want to be everyone's friend instead of getting into it with a big bruiser named Biff. In fact, there aren't a lot of movies in which Stiller comes off as a genuine tough guy, even though there are a few movies where he does appear to try his hand at being a tough and decisive individual. More often than not though he definitely appears as the guy that seeks approval in some way and goes about it in a very hilarious and maniacal fashion, where Fox has almost always been the guy that is a little more capable of being tough but is also cunning since he knows how to strike and get away, if the Back to the Future movies have shown us anything. The one problem with Eric Stoltz is that, well, he's just not that exciting. Fox and Stiller both have the ability to use their talents to make a movie a little more enjoyable, while Stoltz is just kind of…there. He's a decent actor, but as far as action and drama go he kind of needs someone of a higher caliber to feed off of sometimes since he needs that extra stimulus to be at his best.
Pulp Fiction was a good movie for Eric Stoltz since he had the chance to play opposite Rosanna Arquette and John Travolta, and his scenes were fairly short. Ben Stiller has definitely matured into a good actor, possibly even great, but it's a blessing that he was never cast as Marty McFly since the movies would have been quite a bit different and likely not nearly as memorable. Michael J. Fox was, for all intents and purposes, the best selection for the role and he proved that a few times over in a very convincing way.
Tell us what's wrong with this post? How could we improve it? :)
Let us improve this post!