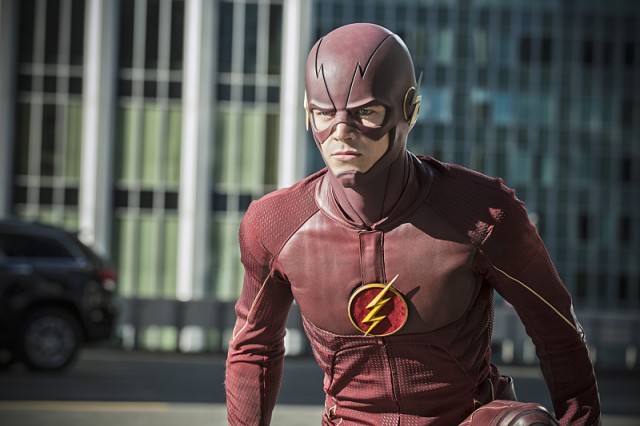 After a long hiatus, The Flash kicked off its second season with a big premiere that featuredseveral great aspects, even thought it had a lot of things packed in just one hour.
The episode picks up six months after the singularity incident in May, and the Barry we see is a more distanced one. The opening with him day dreaming having the whole team back together was just heartbreaking because of how sad Eddie's death was. It gets emotionally worse though as we learn that Ronnie was the man who saved Central City that day by shutting the wormhole, an act that apparently cost him his life. But let's remember that this is a comic book show, dead isn't always dead, and besides, we are dealing with time travel and alternative universes. I bet that Ronnie isn't dead, and that he is on Earth-2 or somewhere else.
It was the emotional impact that Ronnie's sacrifice had on Caitlin that really hit me as a viewer, because not only did she lose him again for a second time, but on their wedding day. While his "death" wasn't too surprising, just seeing Caitlin's devastation made it tough to watch because we know that this is most likely what is going to take her down that path of becoming Killer Frost. The one thing I was hoping to see more of was the emotional aftermath for everyone in some capacity, but it felt very limited. I can understand the challenges of getting in all those emotional beats and focusing on so many characters in just one hour, but there were things tha The Flash could have skipped over in order to give us a fuller, better look-in at the lives of other characters. I'm sure we will see that over the course of the coming weeks, but it still would have felt good to have been provided with a solid understanding of each character's emotional state.
Adam Copeland as Atom-Smasher was fun, but sadly, he was just around for this one episode, as he was killed off near the end of the hour. Since Atom-Smasher is the first external meta-human (as he comes from Earth-2), it would have been nice if he had been tougher to take down since we are now getting introduced to the concept of Earth-2 with a different types of meta-humans. But at least Atom-Smasher reveals why he was going after Barry as the new big bad Zoom had put a bounty on the Scarlet Speedster.
The moment that we had all been waiting for took place in this episode, as Henry Allen was released from jail thanks to Eobard having pre-recorded a confession for mysterious reasons. However, there was a heartbreaking twist as Henry decided to leave Central City because he didn't want to be in Barry's way (but I believe there's also something else at play here we have yet to figure out). Even though I am okay with getting new mysteries set up, it felt somewhat of a big cheat that we spent a whole season seeing Henry in jail only for him to leave Barry after all his hard work.
Overall, The Flash began its second season with a strong premiere, but it was episode that definitely suffered because of how much material the writers tried to pack into one hour, which is never an easy task. Still, though, it was a great start to a new season that I'm looking forward to following every week.
The Flash airs on Tuesday nights at 8/7c on The CW.
[Photo via The CW]