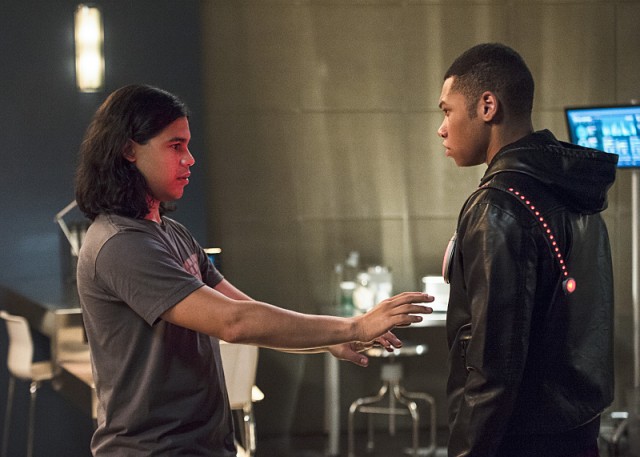 [Due to the major reveals in this week's The Flash and things that have been confirmed in interviews, beware of some major spoilers. You have been warned.]
This week's episode of The Flash dedicated more time to setting up DC's Legends of Tomorrow, as it introduced us to the next Firestorm, while also continuing to reveal more about Francine West's past.
"The Fury of Firestorm" reflected a lot of emotional perspectives this week as opposed to being just an action-filled episode with the new Firestorm. First of all, as much as I loved Robbie Amell as Ronnie Raymond, I think Franz Drameh's Jax Jackson won me over more as the new half of Firestorm. He had a neat backstory, and from everything that I know about Firestorm in the comics, it's symbolic in many ways that Jax, who in the books is one of Ronnie's friends, becomes the new half of this hero.
However, the thing that really won me over is the fact that the reason he decided to agree on merging with Martin wasn't mainly because he wanted to be a superhero, but because he wanted to save a man who needed another half in order to survive, by sacrificing, basically, his normal day life. Tat is a major plus in my book, although I'm not saying that Ronnie wasn't as noble and heroic. The introduction of the Tokamak character, another Firestorm character, was also fun and made us remember once again that The Flash does act a little bit as a Firestorm TV show too, which is totally fine.
Also, in this week's The Flash, Iris and her mom finally get to meet each other, but it goes into a completely different direction than I imagined. We learn that Francine is dying, and I like that even though she is her mother, Iris keeps digging into her history, as the great investigate reporter she is, just to make sure she is telling the truth. She discovers that Francine has been keeping another big secret: she has a son, and as I have been speculating, it's Wally West, who will be coming to The Flash this winter. In addition, it has been confirmed that Joe is indeed the father, making Wally 100% Iris's little brother instead of being her nephew like he is in the comics. While I was very happy with the reveal, I'm curious about how Iris is going to deal with this as she is now the one that will be keeping a major secret from Joe and Barry. Although, knowing Iris's big heart, she will tell them sooner than some might expect, because I honestly don't see this character making the same mistake as Joe and Barry in Season 1.
This show has a tendency to make my jaw drop more than once per episode. However, the ending with the big cameo of one Mr. King Shark was perhaps the best thing I have ever seen as a ending of an episode. Yes there was the whole "Taddaa" moment of Earth-2 Harrison Wells, but honestly, there is nothing that can beat the appearance of a giant walking, talking shark.
The Flash airs on Tuesday nights, 8/7c on The CW.
[Photo credit: Cate Cameron/The CW]