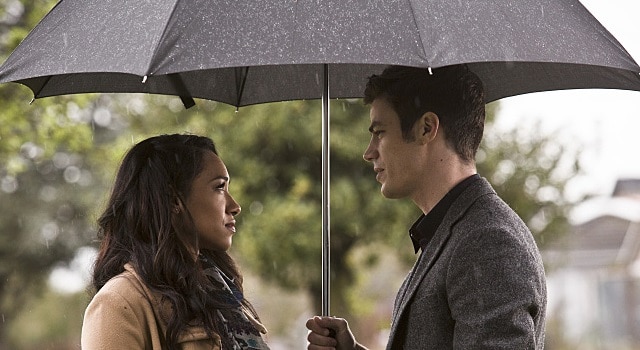 The Flash this week has been one of the most anticipated episodes this whole season as tonight's episode was directed by filmmaker and huge fan of the show, Kevin Smith, where Barry gets trapped within the Speed Force, causing him having to face on his toughest challenges of all time.
Ever since it was announced during the TCA Winter Press Tour that Smith would be directing an episode of the series, I have been dying for May to arrive. Not only is he a great director, but he is a true fan of the show (look up "Kevin Smith The Flash Season Finale" and you will see why) so knowing that someone that we were getting a director that comes from both worlds, made me just that more excited. The Flash is always great at having a cinematic tone to itself in most of the episodes, with all the visuals, special effects and action that take place as well within the acting. This episode took it to a whole new level as it did step outside of its normal format and do something differently where you felt that this was a very different type of The Flash episode while it also had familiarity to it, tone wise.
"The Runaway Dinosaur" was focusing mostly on Barry's time inside the Speed Force that has a mind of its own which I loved that we got to see. This story reminded me a little bit about Clark Kent's journey in the 200th episode of Smallville where he got help with seeing his own past, present and future. While the methods were different as well as the results (which were both good for respective hero), it reminded me of that and that's only a huge plus as the 200th episode of that show is one of the best episodes in the whole series. This wasn't just about getting back his speed and returning home to his friends and family: this was also the time for Barry to start letting go of what he has lost and the pain that it causes him. Smith as well as the writer of this episode Zack Stentz (X-Men: First Class, Thor) did this journey so well where it felt incredibly real while also keeping that comic book tone that makes this show so great.
The scenes he got to have with Nora Allen broke me (and most likely the whole Internet) as Gustin and Michelle Harrison killed it again together like in the season one finale. Someone from the Emmy Awards or Golden Globes board better be following what Gustin is doing, especially in this episode, because man, that boy better be getting a nomination or two. Even though Barry had already gotten to say goodbye in a way to Nora last year, I think this was even better because this time he had more time where he didn't have to witness her dying, but instead stand by his side and assure him how proud she is of him. While I'm certain that this won't be the last time we see Nora Allen on the show, this will forever be one of the show's most memorable moments.
While all of that was happening in the Speed Force, the gang was being kept busy as Girder came back to life thanks to the explosion. At first I felt that bringing him back was unnecessary as it felt like a classic monster-of-the-week case. But then I thought of the episode when Buffy's mother had died on Buffy the Vampire Slayer where Joss Whedon made a clear point in including a villain of the week. It was to remind us that even during difficult times like mourning someone who has died, life really does go on and doesn't stop, including whatever bad guys that are out there. It also gave us the chance to see the team having to be in a situation where they had to continue without Barry as much as possible and to a big degree they showed that they were pretty capable to deal with the issue on their own, at least for a bit.
As the huge Iris/Barry fan that I'm, this episode had one of the greatest moments of all time as Iris gets to shine big time as she, along with Cisco, helped Barry come back to our world as he was ready. The moment when they are both standing inside the Speed Force and holding each other's hands, felt like watching a beautiful splash page in a comic book. Flash Fact: Iris West has and always will be Barry's lightning rod and this episode reminded us of that fact really well. The scene at the end where they embrace each other and admit that there is a bigger love between the two had me applauding for both Gustin and Candice Patton. You have to give this show its credit for how they have been developing this iconic relationship and I'm glad that they took another huge step this week. It will be intriguing to see how much their relationship develops in these two last episodes, unless we are saving that for Season 3 which I would totally understand.
The ending scene with Zoom as he makes his offer to Caitlin before revealing that he has assembled an army of Meta-Humans from Earth-2 (whose leader will be someone you recognize, if you haven't seen the trailer yet). It was a chilling ending to an powerful episode as we get ready for the last two episodes of the season. The bigger question though is whether or not Barry is going to be the only Speedster that Zoom goes up against as we know that Wally and Jesse got hit by the lightning as well. Overall, "The Runaway Dinosaur" was one of the best episodes of the season and The Flash as a whole. I'm glad that Smith is coming back for a second episode in Season 3 and hopefully Stentz will as well because I loved this team-up, both written-wise and from a directing stand-point. That episode better have more Jason Mewes whose cameo was all sorts of fun!
The Flash airs on Tuesday nights at 8/7c on The CW.
[Photo: Katie Yu/The CW]
Summary
Barry Allen faces an even tougher opponent than Zoom: the Speed Force in this week's powerful episode of The Flash, directed by Kevin Smith.