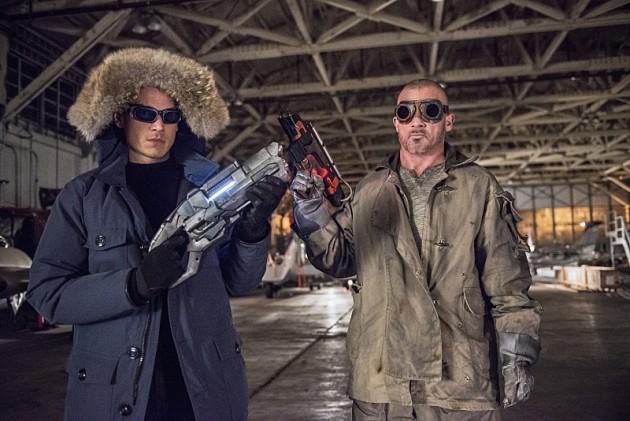 After more than a month-long hiatus, one of The CW's new hit series The Flash finally returned with a strong winter premiere, as Barry Allen faced a villainous team-up of Prison Break stars Wentworth Miller and Dominic Purcell as Rogue members Captain Cold and Heat Wave.
Something that The Flash continues to run with (no pun intended) that has allowed it to become so successful so quickly is how much fun each episode is. Even though it may have come off as a tiny bit over the top, seeing Miller and Purcell going full out in their roles was spectacular. Heat's relationship with Cold pretty much resembles what they have in the comic books, and the fact that these two actors have worked closely with each other before only boosted their scenes.
I enjoyed that every character was put to use in this episode, which can be tricky when it comes to big casts like this one and Arrow. They moved a lot of storylines forward, from Eddie and Iris moving in together to Barry moving back home with Joe to Caitlin getting into this F.I.R.E.S.T.O.R.M. mystery, which sadly led to her being kidnapped by the Rogues. It was especially thrilling to see Eddie getting into more of the action and even getting to save The Flash in the battle against Cold and Heat. As for the action scene itself, the whole thing was one of the most outstanding fights that we've seen from the show so far, with Barry having to dodge and run from fire and ice beams all over the place.
An aspect that was a key part of "Revenge of the Rogues" was Central City truly learning about The Flash, which we find out was mainly Cold's plan from the beginning. At first it was confusing what Cold would earn by having The Flash out there in the public, but knowing this character as well as I do from the comics, he sees this as a way to weaken Flash. Just like in the comics, Heat is very much "the muscles," which isn't necessarily a bad thing because he was very entertaining. The great thing about the Rogues is that as cheesy as their villain names or costumes can be, they still remain actual real, serious threats to Barry and the others; it's just that they also may make us laugh once or twice as well.
Aside from all the Rogues action in the episode, I really liked seeing Barry's earlier struggles, as he trained to become faster and better so that he is ready for the Reverse-Flash (a name that Harrison not-so-shockingly liked). Harrison played a very mysterious role (not that that is anything new exactly) where you weren't really sure what they were doing with him. The scene where he talks about Barry pushing him to be better is giving me all sorts of Reverse-Flash vibes, and it's essentially hinting more and more that Harrison is the Hunter Zolomon incarnation.
Last but not the least, I appreciated that the Iris and Barry situation got a fairly quick conclusion as they are now buddies again. Even though there is bound to be some triangle drama at some point, I was just happy to see them get to this position so that we could stop having those awkward moments.
Overall, "Revenge of the Rogues" is easily one of my favorite episodes of the season, as it continued the show's great streak of giving us a full on superhero show with great super-villains like Heat Wave and Captain Cold. Speaking of them, we got a pretty cool post-credit scene that, while not showing her face, introduced Lisa Snart (who will be played by Peyton List in Episode 16), as she came to save her brother Leonard as well as Heat.
The Flash airs on Tuesday nights, 8/7c on The CW.
[Photo via The CW]