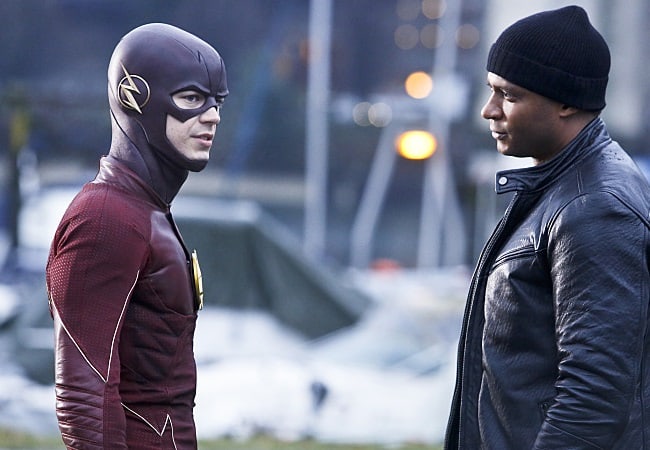 After the phenomenal two-parter with the Earth-2 crossover, this week's The Flash was another strong follow-up as Barry, along with Arrow's Diggle and Lyla, deal with King Shark who is back for new trouble and we finally learn Zoom's identity, while also getting more confused.
A part of me was concerned that Shark would be more talked about than shown because let's remember, that's a lot of effects that is being used which isn't cheap. But fortunately, as always, the show managed to give us the best of both worlds as we got to enjoy more of everyone's favorite giant-walking-talking shark and yes, I'm still amazed that we are getting this glory on television. Their big fight in the water at the end was without doubt one of the show's best battle that has been put together featuring Flash putting his speed to really, really good use. My favorite part with Diggle in the episode was without his encouraging speech to Barry about not blaming himself for Jay. Now, if only they had showed us Cisco's upgrade to that helmet — maybe tomorrow on Arrow?
I enjoyed the powerful scenes that Caitlin got to have in this episode after Jay's death and you couldn't blame her one bit because she really can't catch a break. It was also slightly fun at the points where she would get really frustrated with Cisco who was constantly concerned that this was her beginning to become the Killer Frost of Earth-1. The scene when she had Cisco believe that she had gone all Frost was both so obvious, but also so appreciative and funny. Even though she promised that she will never become Frost, something tells me that Caitlin's time as the friendly doctor of Star Labs is running out. But Panabaker wasn't the only one to get to play with some emotionally powerful stuff as Gustin also brought out the feels again.
Despite Harry's warning, Barry told Joe and Iris about their Earth-2 counter-parts which were heartbreaking. I love that he brought up the one thing that Harry didn't realize. Even if it wasn't his Joe that he saw die and even if it wasn't his Iris that he was married to, seeing any version of Joe die and knowing that a version of Iris is now fatherless, was still a loss to him personally. Because of everything last week, there wasn't any time for Barry to process his trip there so I'm glad that they brought it in here instead. The pain that this show puts our hero through is what made me fall in love with comic books and superheroes to begin with. The big team scene at the end where he gives one of his best speeches on the show, was powerful and it starts to show how much Barry is becoming a leader for his team.
We also got some focus on Wally as he and Barry start to develop a relationship and it definitely started out rough. It was hard to pick a side between the two of them because I got that Barry was just trying to be helpful with what Wally was approaching him with. But at the same time, Wally feeling that he has a lot to live up to because of what Joe and Iris always says about Barry, it completely understandable. However at the end, when Joe has his heart-to-heart with Wally, we start to see that the new West member is warming up to Barry which made me glad. I'm just so happy to see Wally West and Barry Allen being in scenes together in live-action and it's just the beginning.
But as if this episode wasn't big already, we finally learn the identity of Zoom and it's none other than….Jay Garrick, who arrives back at Earth-2 with our Jay's dead body along with the man in the iron mask revealed also as another Jay. Holy comic book plot twist, Batman is all I got to say for now because the only thing that I can be the case here right now is that each Jay is from a separate Earth. At least with the Zoom-Jay and Iron-Masked-Jay, but with the dead Jay, I'm not so sure. Overall, this was a pretty flawless episode where every storyline that we got was well written and used. The second half of Season 2 has so far been off to a very good start and while the mini-hiatus already feels like forever: these nine 8 upcoming episodes feel very promising.
The Flash returns with all new episodes on Tuesday, March 22 at 8/7c on The CW.
[Photo: Bettina Strauss/The CW]