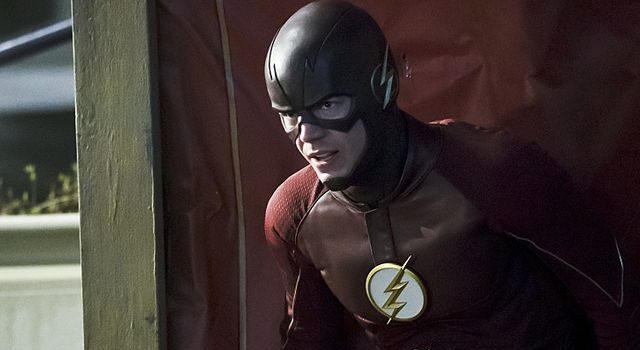 The Flash ended its second season with a game-changing twist. After defeating Zoom, Barry remained heartbroken over the loss of his father, and with grief as his main motivator, he traveled back in time and stopped Reverse-Flash from killing his mother, thus altering the timeline moving forward as the CW series heads into its third season this fall. For comics fans, Barry's decision to go back and save his mom signaled that the show might be tackling one of the most famous Flash storylines from the comic books, Flashpoint, and by revealing the tile of the Season 3 premiere on Twitter Monday, Grant Gustin, who plays Barry Allen, has officially confirmed that theory.
Earlier during the day on Twitter, Gustin tweeted out that he had just finished reading The Flash's Season 3 premiere script, but that he could not share the title of the episode with fans just yet. However, not long after Gustin's initial tweet, Flash co-creator and executive producer, Greg Berlanti, told the actor that he was allowed to tell fans the title, and surprise, surprise, the first episode of The Flash Season 3 will in fact be titled "Flashpoint."
"FLASHPOINT," Gustin wrote in all caps on Twitter. "This is not [a] drill."
Just finished reading episode 3-01 titled JK NOT GONNA TELL YOU YET! I'm SO excited to get back to work in 2 weeks. #TheFlashSeason3

– Grant Gustin (@grantgust) June 20, 2016
@grantgust I'm cool with you telling them the title :)

– Greg Berlanti (@GBerlanti) June 20, 2016
FLASHPOINT. This is not drill. https://t.co/nzq2NJh9pl

– Grant Gustin (@grantgust) June 20, 2016
Additionally, Gustin's The Flash co-star, Candice Patton, also got in on the Twitter fun. She retweeted Gustin's original tweet with the title and added "Yasssssssssss finally. We doing the damn thing, kids."
Yasssssssssss finally 😝

We doing the damn thing, kids. https://t.co/8hqSVlE9xj

– Candice Patton (@candicekp) June 20, 2016
The Flash Season 3 premieres on Tuesday, Oct. 4, at 8 p.m. on The CW. Comment below with what you want to see in the "Flashpoint" episode and share your best theories as to what will be different now that Barry has changed the timeline.
[Photo via The CW]