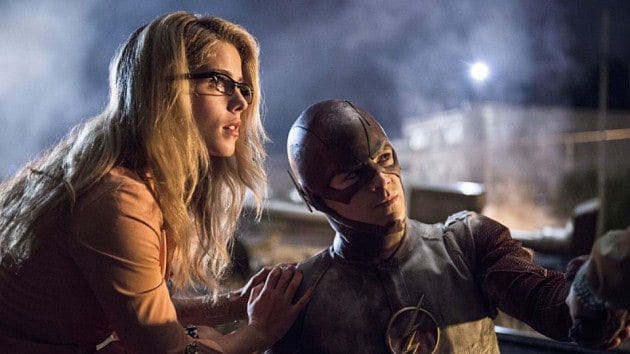 One of the most anticipated episodes of CW's The Flash has been the arrival of Prison Break's Wentworth Miller as Leonard Snart a.k.a. Captain Cold, one of the most popular Rogues in the comic books. I have been a huge fan of Miller ever since his portrayal of Michael Scofield that wasn't just one of the most brilliant written characters on Prison Break, but on television period, so it was splendid news when they announced that he had been cast as Captain Cold. His arrival to the show lived up to my expectations and then some as his interpretation of Snart was flawless. His screentime was perfect, it wasn't too long or too short and every scene he had progressed the story forward. We get some backstory on him, including a mention of a certain sister that could be a future Rogue on the show as well (at least in the comic books) and his motives in Central City which was getting a diamond.
The way that his Snart was done felt very close to the comic books as he had that smoothness that the character has in the comic books and he is without a doubt a force to be reckoned with. There is however a small change when it comes to the origin of the cold gun as Cisco was the one who created it which lead to some heat in Team Flash this week when the gun got stolen by a janitor who was working for Snart. The thing I was surprised by was that Snart has some Scofield in him, which I didn't mind because Captain Cold is a very smart character and having someone like Miller taking on the role, makes absolute sense. His interaction with Barry/Flash felt like it came right off the comic book pages as it felt classic, but in a fresh way, especially since this was their first time meeting each other. The cold effects were remarkable and once again, it all feels like watching a movie.
"Going Rogue" also featured the guest appearance of Arrow's sweet-heart Felicity Smoak (Emily Bett Richards) as she decided to pay Barry a visit after learning that he woke up from his coma. There is no way we can get Richards to be on both shows every week, right? I wish there was a way, but on a more serious note, I really enjoyed her presence on this show for this episode. She played two very important roles, one of them was being a mentor to Team Flash, especially when things got heated when Cisco's cold gun went missing. As Cisco reveals that he created the gun in case they would need to stop Barry (at a time when he didn't know what kind of person Barry was) and while Caitlin was supportive of it, Harrison and Barry were pissed off, to say the least.
It was completely understandable why Barry was upset about it, but Harrison's reasons for being crossed with Cisco is a big question as we still don't know if he is good or bad. The most important thing to take away from this was the fact that Carlos Valdes got to go deeper into Cisco this week as he has been the comic relief character since day one. As a character, he got to learn from his mistake and it improved the team at the end. It was definitely cool to see him show up during Flash's fight with Cold with a fake weapon that looked like a bigger version of the cold gun which made Snart walk away. Also, did you notice that Snart seemed to like the name "Captain Cold"?
Felicity's other role in the episode was continuing the brief romance she and Barry had in his two Arrow episodes last year and it lead to them going on a sort of double date with Iris and Eddie. Even though it was adorable of Iris to keep pushing Barry to get it with Felicity, it was also so heartbreaking because we know that Barry has such strong feelings for him, but what is he supposed to do in a situation like this? But focusing on Felicity and Barry for a second, I really love the chemistry between Gustin and Richards so much and I'm for some reason more OK with Barry/Felicity than Oliver/Felicity.
I was actually thinking that they were going to wrap up their romance in this episode since it has been hinted so much over at Arrow that Ray is Felicity's new love interest. Boy was I wrong as Barry ends up giving Felicity a kiss before leaving the train so I guess it's not over quite yet. I'm not sure how this is going to work though, if both shows are planning to do a triangle between Oliver/Ray, Felicity and Barry or something else. It remains to be seen what they are planning. I was genuinely happy with the capacity that we got of Felicity as she got to teach Team Flash something about how to be a team while at the same time, continuing to flesh out her relationship with Barry.
Let's talk about that final scene with Snart, shall we? As the show continues with doing post-credits scenes (which is perfect), we see Snart visiting an old alley as he is trying to get a new crew together now that The Flash is protecting Central City. He brought the fire gun that was shown earlier in the episode and asks the partner if he is in. Now who was this partner supposed to be? It was none other than Mick Rory a.k.a. Heat Wave, another famous member of The Rogues and you will be seeing him in the 10th episode and he will be played by Dominic Purcell, Miller's co-star on Prison Break where they were brothers. This was a nice setup for what will most likely be the mid-season premiere where they will be teaming up together against The Flash. Needless to say, I'm dying to see Miller and Purcell together again.
Overall, "Going Rogue" is one of my favorite episodes of season 1 so far as Gustin's Flash continues to run towards all the right directions and the show gave us the perfect introduction to Captain Cold. We saw further development with Team Flash with a helping hand from Felicity and at this point, CW should just go ahead and renew the show for a second season already.
The Flash will return with new episodes on Tuesday, November 11, 8/7c on The CW.
Photo via CW