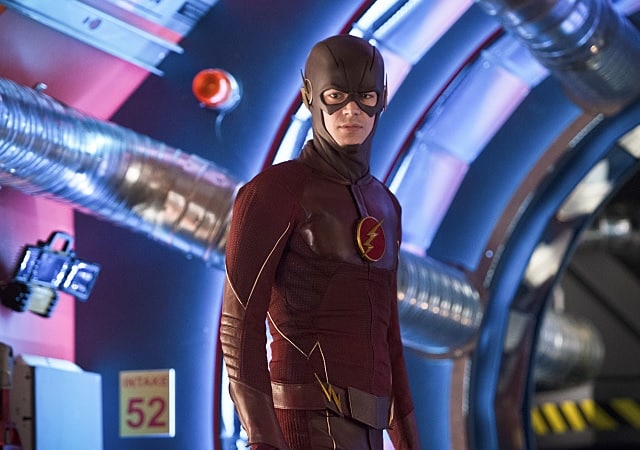 This week's The Flash brought back one of the show's favorite aspects as Barry goes back in time to find out how to get faster and defeat Zoom, but just like in any time travel stories, you don't go back in time without messing a few things up.
Because of the complexity that comes with it, I'm always grateful for whenever we can get a time travel focused episode, especially one where Barry is consciously making the trip instead of doing it accidentally like last year or in the latest Arrow crossover. The opening of the episode where Barry is doing a voice over and talking about having done the same mistake again, was a very nice touch because it made his journey back in time that stronger.
The thing that was quite flawed with the time travel was that despite how much Barry had prepared himself and gotten advice on what to avoid, it still felt like he didn't plan this out completely. I know that as much as he has learned already that Barry's story is still an origin story, I can't demand that he figures it all out this quick. Besides, the things that went wrong was out of his control with the Time Wraith coming for him as well as Eobard Thawne figuring out that our present Barry was posing as the 2015 Barry. So in an odd way, while I got slightly annoyed that it didn't go as smoothly as he had hoped, I was OK with it in the end.
With time travel, come familiar faces as we saw Pied Piper, Eddie Thawne and Eobard Thawne (in disguise as Harrison Wells). I don't know whose return was more powerful, Eddie or Eobard but seeing Rick Cosnett on the show again definitely brought out some tears. It definitely didn't get easier when Barry got him to record a video for Iris as a way to help her be able to start moving on from him back in the present. As many heroic and deep things that Barry has done on the show, this was one of the sweetest things he has ever done for some.
Eobard Thawne may be one of the very few characters on TV whose creepiness I find appealing because seeing Cavanagh back in that twisted role was delicious. I don't know what it is, but whenever he goes into his deeper and somewhat whispering voice: it gets attractive. While I wish that Barry had been a little bit more careful with how he would approach Eobard without getting busted, I liked that he did manage to stop Eobard from killing him. I'm glad that he didn't turn out to be the baddie for this particular mission and that it was the Time Wraith instead, which gave me all sorts of Harry Potter Dementor vibes.
From what I understand, the Time Wraith is something from the comic books, but I just haven't come in touch with that character so it was neat to get introduced to that concept here. It really puts true consequences for time traveling which is good because otherwise, Barry could just time travel to whatever time period he wants without getting any problems. Although he did definitely step on some butterflies as Harley is now a good guy in the present which makes me hope that we will see more of him in the future because I really dig Andy Mientus in the role. While we will have to wait a few weeks to find out how he will get faster, thank lord that the drive he got from Eobard actually had the information he needed.
The final scene of the episode as Barry gives Iris the video from Eddie was something that was really needed in order for Iris to get the conclusion she needed to Eddie. While I wish that they had dealt with it a bit earlier in the season, I am glad that they did address her feeling and gave her that moment instead of skipping it all together. While I'm 100% tired of hiatuses, I'm really looking forward to how these remaining episodes will be executed as Barry goes up against Zoom once and for all.
The Flash returns with all new episodes on Tuesday, April 12 at 8/7c on The CW.
[Photo: The CW]
Summary
Barry decides to go back in time to learn how to get faster in order to stop Zoom in this week's The Flash.