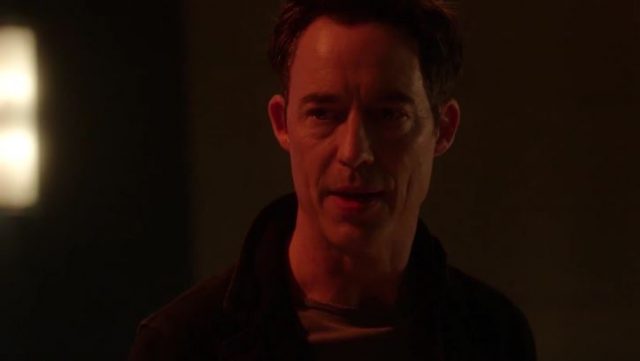 If you thought that particle accelerator plan that Wells had at the end of last week's episode of The Flash was just a crazy idea, think again. In the sneak peek below from tonight's all-new hour, titled "Rupture," Wells is still trying to convince Barry, Cisco, and Iris that his dangerous strategy is the only one that will allow them to save Caitlin and stop Zoom. Could he be right?
In the clip below, Wells continues to make the case for his plan, despite the protests of Barry, Cisco, and Iris. Not only are they are afraid of what could happen to Barry, but they're even more concerned about what could happen to all of Central City, since the last particle accelerator explosion turned countless people into dangerous meta-humans. Right now, they're happy with their own idea: using a high-tech hologram of The Flash to ensure that everyone in the city still feels safe.
"Your subterfuge, it's not gonna last," Wells tells them. "But more importantly, it's not going to save Snow."
The Flash airs Tuesdays at 8 p.m. on The CW. Check out the sneak peek from "Rupture" below:
DC COMICS' CHARACTER RUPTURE COMES TO CENTRAL CITY WITH ZOOM — Zoom (guest star Teddy Sears) arrives back on Earth-1 intent on taking over Central City. Barry (Grant Gustin) and Wells (Tom Cavanagh) come up with a plan to stop Zoom once and for all but it's extremely dangerous. Unsure if he should take the risk, Barry reaches out to both fathers for advice. Henry (guest star John Wesley Shipps) is adamantly opposed to Barry risking his life again but Joe (Jesse L. Martin) thinks he can handle it which puts the two men at odds with each other. Meanwhile, Cisco (Carlos Valdes) is shocked when he vibes the Earth-2 villain Rupture, who happens to be his brother Dante's (guest star Nicholas Gonzalez) doppelganger. Rupture came to this Earth seeking justice for Reverb's death. Iris (Candice Patton) decides she's finally ready to open up to Barry about her feelings for him. Armen V. Kevorkian directed the episode written by Kai Yu Wu & Lauren Certo.
[Photo via YouTube]