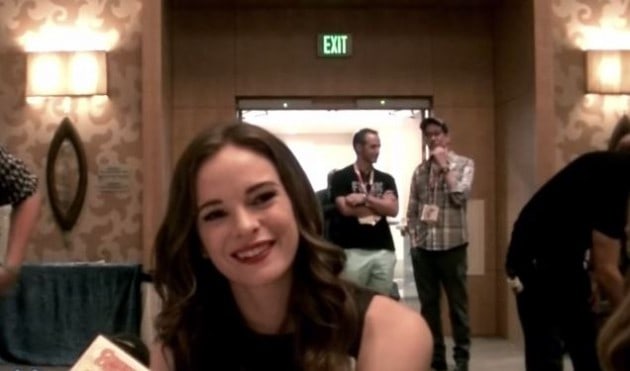 One of the biggest new shows from the past TV season is The CW's latest superhero hit The Flash, the story of Barry Allen (played by Grant Gustin) who becomes the fastest man alive. In Season 1, Barry established himself as a true hero, the guardian angel of Central City, which is filled with meta-humans and continues to offer new threats for him and his team to deal with in the upcoming season.
One of the new friends Barry made when he woke up from his coma was Dr. Caitlin Snow (played by Danielle Panabaker), whose life was also affected greatly by the particle accelerator incident, which took her fiancé Ronnie Raymond (played by Robbie Amell) away from her, only for him to return months later as one part of a fire-y superhero. To comic book fans, Caitlin is known as the famous ice villain Killer Frost, which was hinted at in the Season 1 finale, meaning that one of Barry's most loyal allies might one day turn towards the dark side.
TVOvermind was fortunate enough to participate in The Flash Press Room at San Diego Comic-Con with other news outlets at roundtables, where stars and producers from the show discussed what is coming up in Season 2. Panabaker was one of the people we got to talk to, and you can watch her entire roundtable interview below. Here are some of the highlights:
When asked about how the relationships are like in Season 2 after the events of the season finale: "There is going to be a lot of changes. Part of what makes our show great is that we have these challenges, and you get to see the evolutions, so stay tuned for Season 2!"
When asked about developing the Killer Frost look in Barry's time travel glimpses: "In particular with Killer Frost, that was my first real interaction, because obviously, I was pulling as many images as possible because we were still developing that look, trying to make our best version of it."
Whether we will possibly see Caitlin's early days in her scientific career in flashbacks: "I would love that! I would also love to see more of Caitlin's family, like her mom for example." When asked if she had any dream castings, Panabaker added, "No I don't! It's so crazy on the show. How the heck did we get Victor Garber?! That is just crazy! But I'm taking suggestions!" [Laughs]
The Flash Season 2 begins on Tuesday, Oct.6, at 8 p.m. on The CW. Stay tuned for more roundtable videos of the cast and producers in the next few days right here at TVOvermind.
[Photo via YouTube]