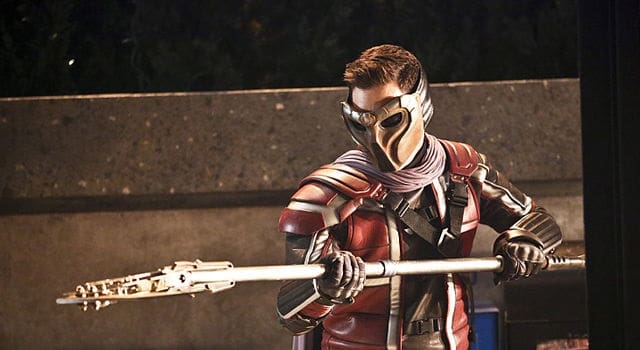 The Flash is getting crazier (in the best ways possible) as we get closer to the end of Season 2 and this week's episode was no exception as Barry Allen goes through with Harry's plan to recreate the particular accelerator incident to gain his powers back while we also get introduced to another doppelgänger that is none other than Dante Ramon who on Earth-2, is the villainous Rupture.
As someone who is a huge fan of the Vibe character as well as the Justice League of America's Vibe series, it was really exciting to see the character of Rupture, who is a huge player in that mythology, come to life on the show. It was clever to have Dante Ramon of Earth-2 be the one to take on that mantle as in the books, there was a third brother, Armando, who was presumed dead until his faith was revealed. The Flash does a lot of costume adaptations really well, but Rupture's costume was like seeing the comic character literally jump out of the pages, as well as his weapon. The only thing that was a letdown was the fact that Zoom had to end up killing him and this is where I'm starting to get major problems with the big bad. I get that it lies within his character to pull something like that because, well, he is evil.
But it also closes the door way too quickly on some of these dopplegängers coming back for future stories. I would have LOVED to have seen Cisco, once he is truly Vibe, go up against someone like Rupture, but now we can't. Unless the show decides to introduce other versions of these characters from other Earths, this may have been it and that is a letdown. Don't get me wrong, it's just as upsetting to see him kill a group of cops in a second, but when it comes to alternative versions of recurring characters, it's a different story. But something good came out of Rupture's dead as Cisco and Dante (of Earth-1) starting to heal their brotherhood. I genuinely love seeing Carlos Valdes and Nicholas Gonzalez share the screen together, whether they are arguing or embracing how they love each other. As someone that enjoys the Cisco/Dante dynamic in the books, I'm always game when the show has them interact.
Iris and Barry take huge step forwards in this week's episode as Iris opens up to him how she feels and if you have read my past reviews, I'm 100% behind Barry/Iris as it's one of the best relationships in the DC TV Universe. Their scene in Star Labs was another sweet reminder how strong the chemistry is between Patton and Gustin, especially when his eyes just light up. You know Barry has been waiting for this for a long time and while it was a huge step for Iris, I'm glad that it didn't go anywhere else from there. I still want a build-up to the day when they fully become together so this week was just the perfect sized step for the character to take. Which is why the ending was even more heartbreaking because of Iris's reaction, but we will get there later.
Did Henry Allen drop a major hint to who the man in the iron mask is because I believe he did! His mom's maiden name is Garrick?! I think many of us all speculate that the real Jay Garrick is the man under that mask, but could it be that Jay is Barry's grandfather that could conveniently enough be played by John Wesley Shipp? With this show, so much is possible and I wouldn't be surprised if that is actually what they have in mind. Speaking of Henry, how dope was it to see all three of Barry's father figures in the same room and having a major scene with one another, arguing about what is best for him? It was a huge highlight, at least for me personally.
Barry decides to go through with Harry's plan after all and it pretty much goes as expected, at least for what I had speculated about Wally and Jesse as they both get hit by the energy, thus setting up their comic book destines. However, Barry is not as lucky as he vanishes in front of the team, leaving them all heartbroken as they think he is dead. It's obvious that he is somewhat trapped within the Speed Force, which is a very comic book-y thing to do as this has happened to The Flash before in the comics lore. The thing I'm most looking forward to see is how he gets out, but it was definitely a moment where it felt like that he could have died, even with the comic knowledge that I have. Thank lord that Caitlin didn't see that happen it as it would have been devastating to have to watch her having to go through that for the third time this season. Speaking of Caitlin: is Hunter trying to make our Caitlin into Earth-1's Killer Frost after all? It definitely feels like that way, but only time will tell.
Overall, "Rupture" was a phenomenal episode and huge cudos to Armen Kevorkian (the special effects supervisor) who made his directorial debut with this episode and hopefully this is just the beginning of many The Flash directed episodes to come for him. Three episodes remain till the end of the season and while the second half of this season has had a few bumps: it's only getting stronger for each week.
The Flash airs on Tuesday nights, 8/7c on The CW.
[Photo: Bettina Strauss/The CW]
Summary
Dante Ramon of Earth-2, a.k.a. Rupture, comes to Earth-1 seeking justice for his brother's death on this week's The Flash.