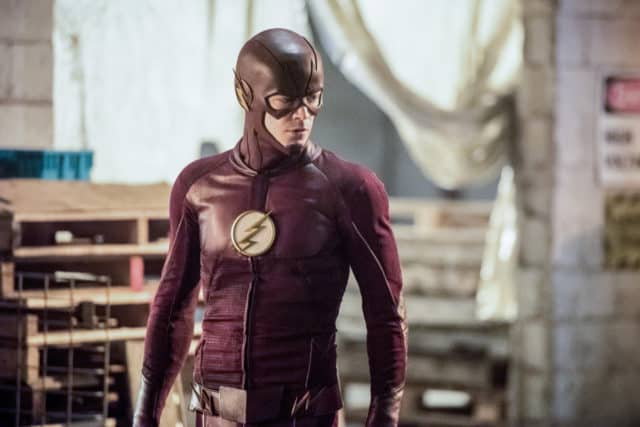 Well, if you didn't hear, tonight The Flash revealed Savitar's identity. The show has built another villain reveal over what has felt like forever but at least took a new approach at doing so. This season has been about a lot of things at different points, which has definitely pushed The Flash into some places with episodes that have felt like they possess a different tone. It's been unusual; yet, it seems like the show is finally bringing things full circle from it's starting point.
A lot of the ebb and flow in The Flash this season has revolved around the love and hate between the team members and Barry. The character started all of this because he selfishly put his longing for his parents over the love that has done more than fill the void. The decision has essentially caused all of the antagonism in season three but has only been briefly touched on by Barry. He has never apologized fully for his actions, only when they immediately get in the way; with Cisco, Iris and everyone else that was impacted. That's been Barry's problem though, that he has been unable to learn from his selfish ways and grow out of them, he just consistently tries to fix things that will directly make his life perfect without fully thinking about other people's input. Now, with Caitlin at risk of fully becoming Killer Frost and the reveal that Savitar is a future version of Barry, there's a chance the Flash has to truly work with everyone to save the day.
The Flash definitely has done a nice job of rounding out the season by choosing to have Barry be Savitar though. While it was one of the most predictable reveals the show has had so far, it makes sense with everything else the writers have put viewers through to get here. Whether Barry turns out to be the Flashpoint version who would exist when Barry returned to his regular timeline or just a further future Barry whose selfish nature caused him to lose or push everyone he cares about away after Iris' death, it always comes back to being Barry's fault. While it's a good and important lesson for the titular character to learn, The Flash just always takes forever in getting to the point. The show stumbles back and forth between different themes that it wants to express and gets caught up in trying to cram story into one half of the season so they can build up a reveal in the second half.
This is the third season in a row now where The Flash has relied on a speedster villain reveal to revitalize the show's second half and hold fan's interest. Not only have two prior reveals killed the excitement behind who these new villains are, but they begin to put The Flash's focus onto the wrong things. Clever reveals aren't what make the show so enjoyable and fun, the characters and their relationship growth with one another are. The Flash is more about Team Flash than Barry himself, yet the show has put the back half of season 3's focus onto Iris' death and how Barry can constantly contradict himself to fix it rather than utilizing his team from the beginning.
The Flash always likes to think it's creative in the stories that it develops, and while one can appreciate the long-term plot they were going for this season, it has felt wildly unbalanced. The writing team should have taken a page out of Arrow's book and done the reveal a lot earlier, even as early as the mid-season finale. The idea behind Savitar and what point he is trying to get across would have had more time to be explained and could have built the character up to appear much smarter than he has, manipulating Barry before he could fully realize the extent of it. Doing that would have put Barry through so much more chaos combining that with the other events that have already happened and Iris' potential death right around the corner. Season 3 of The Flash seems to be a massive changing point for Barry as a character and a hero, but it isn't the reveal of Savitar that has done that, it has come from the culmination of Barry's selfish ways, and it doesn't feel like the character truly understands that.
Other Thoughts:
– Caitlin's ice gliding looked really cool tonight. Glad to see her powers displayed.
– I'm curious if the show will borrow any elements from DC's New 52 run that had similar aspects to this plot.
– Nice to see you Wally, we had to use the VFX budget on Caitlin, but glad we could squeeze you in!
– Honestly I think I would have rather seen the reveal be Ronnie… it would have been juicier and how Barry lacks care for "his friend's" lives.
The Flash Season 3 Episode 20 Review: "I know Who You Are"