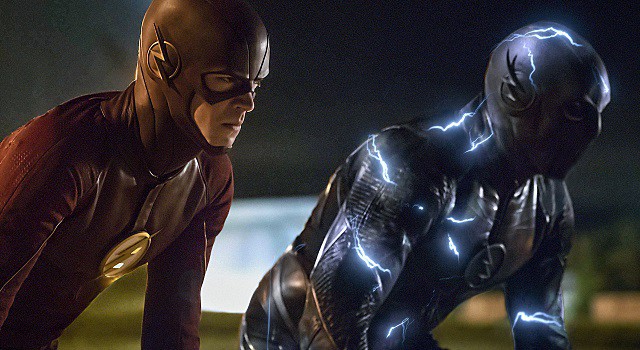 The Flash Season 2 has had a long journey with several twists and turns, both for good and bad, but tonight's season finale brought everything together as Barry Allen went up against Hunter Zolomon one last time and made a universe changing decision.
I wasn't expecting the episode to pick up right after last week's horrifying ending of The Flash with Henry being murdered by Zoom, but instead we go back to that moment and it was just as heartbreaking as the first time around. The funeral scene was a lot to take in with the strong speech from Joe about Henry. Seeing the anger in Barry throughout the episode got me worried that he would go down an Oliver Queen path and go mega-dark. I actually agreed with the team feeling concerned about Barry being this angry while doing a race with Zoom and why it would be a huge risk. Although locking him up in a crisis like this may not have been the smartest idea since they almost lost Joe, but that's the point with stories like this: for members to learn from their mistakes. It was great to actually see the team operate as well as they could without Barry because
After how they executed the takedown of Reverse-Flash last season, the show had to up the game with this final race and they didn't disappoint one bit. Seeing the visuals throughout the entire race was like reading great comic pages and going from one panel to another. I honestly thought that their fight would end up getting Hunter's plan to succeed and cause a major Crisis on Infinite Earths result. Instead we see that Barry masters the ability to make a time remnant as it becomes a key to take Zoom out. I'm not sure what the Time Wraiths did to Hunter, but I bet that he has now become Black Flash as we got a huge nod to that when his face was being disintegrated. Maybe he will come one day as Black Flash/Black Racer?
The reveal of the man in the iron mask finally arrived in this episode and it was exactly who I (and many others) thought: the real Jay Garrick who is played by none other than John Wesley Shipp, the 90's Flash. Even though I saw this coming, this was one of the coolest moments in the whole series and as someone who has seen the original series: it was nostalgic to see Shipp in a Flash suit again. I felt even more sorry though for Barry because, well, Jay looks exactly like Henry because that's not something you see every day. The surprise however was that Jesse and Harry wanted to go back to Earth-2 as well as Jay going to his Earth, known as Earth-3, although it may not matter due to the way it ended.
Barry and Iris had great moments in the finale, but that final scene between them as they declare their love for one another and shares a beautiful kiss, was powerful, but just temporary as you knew that something was about to go down. However seeing the powerful support that they have for each other, just makes me that more invested in their relationship so whatever happens in future seasons, the wait will be so worth it. However, as he is still emotionally fragile, Barry decides to go back in time and undo everything as he saves Nora from Reverse-Flash. Ladies and Gentlemen: the universe just got Flashpointed!
The comic book fan in me is all sorts of jazzed about that ending because this is a huge deal within the DC Universe and for The Flash as he plays the biggest role in that storyline. While it has yet to be confirmed, this is without doubt going to change not just the history of The Flash TV show, but also Arrow, Legends of Tomorrow and even Supergirl as this could be the way that Kara Zor-El becomes part of this universe this fall. It will be intriguing to see what the show-runners decides to do with their upcoming seasons as Flashpoint will allow them to change whatever they want and as much as they want to. Either way, I look forward to see how this kicks off all their upcoming seasons.
But to just sum up my overall thoughts on the season finale: I don't know yet if "The Race of His Life" topped last year's finale, but it was still one phenomenal hour of the series with strong performances, an epic showdown between the two speedsters, as well as a huge cliffhanger at the end. This finale also goes on to prove once again that out of all the comic book shows out there, The Flash is truly the winner as it keeps living up to those three key words that the show-runners always try to feature in every episode: heart, humor and spectacle.
The Flash has been renewed for Season 3 and will be back for its third year in October at its regular timeslot on Tuesday nights at 8/7c on The CW. What did you think of The Flash Season 2 Finale? Let us know in the comments below!
[Photo: Katie Yu/The CW]
Summary
Barry Allen and Hunter Zolomon have their final race in the exploding and game changing season two finale of CW's The Flash.