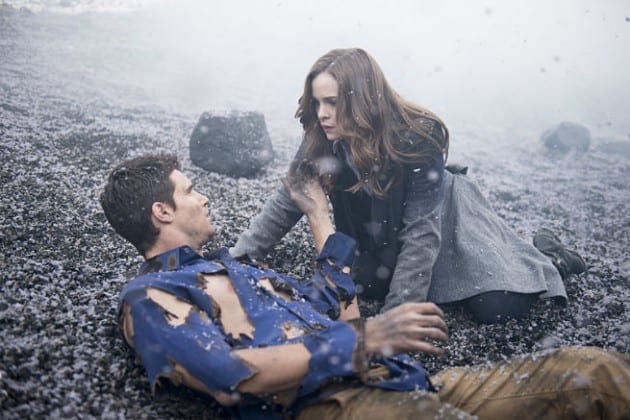 This week's episode of The Flash picks up right where the last one left off with the aftermath of the nuclear explosion that actually was the separation between the two Firestorm players: Ronnie Raymond (Robbie Amell) and Dr. Martin Stein (Victor Garber).
There were a lot of things that this episode did right and one of them was just continuing the great Firestorm arc, as it's been a blast getting to know this fantastic superhero. While I enjoyed seeing the crazy movie effects (can someone just give the special effects department an Emmy already?), the aspect I enjoyed the most was their mental and physical connection. It was hilarious that Martin's wife told Barry later in the episode that Martin was acting weird because he was craving pizza, which he used to hate, but the merge with Ronnie changed that.
Garber and Amell's chemistry is something that really worked from them bickering at the beginning till the moment they embraced each other and accepted Firestorm. While I'm still learning about the comic version of Firestorm, it feels that both visually and creatively that it's a good adaption.
Another part that was important in this story was the reunion between Caitlin and Ronnie. It's heartbreaking how Caitlin has yet to have an emotional breakdown with everything that she has gone through. For someone who has had her world changed around her and lost her fiancé before getting him back, only to lose him again, Caitlin has one of the biggest emotional shields I have ever seen. I was really expecting some tears, but no, this strong woman instead embraced the fact that the man of her life needed to take off. But overall, it made me happy to see how well she is handling this whole situation, and hopefully, it's not her bottling up her emotions because we have seen so many times in TV how nasty that can get.
While all of this took place, Barry also found out what Joe and Cisco had been up to as he learned that they discovered that there was another speedster that night of Nora Allen's murder, and that it was an older Barry. First of all, I appreciate that this series doesn't have characters (most of them anyway) keeping secrets for each for too long because it gets old really quick (sadly, looking at you Arrow). The scene where Barry talked with Stein about time-travel was neat, and he took some time in this episode to think about this new discovery. Also, how hilarious was it to see when Harrison pulled his "Doc Brown" when they were talking about time-travel movies? Barry makes a statement to Joe in the end of the episode that when he ends up traveling back in time to that night, he will change history by saving his mother. Is this the beginning of the famous Flashpoint storyline? We'll have to wait till the show returns in a few weeks.
Let's discuss the big gorilla in the room, as Harrison suited up as Reverse-Flash and took General Eiling down to the sewer, where we once again meet Gorilla Grodd. As the big Flash fanatic that I have become, it was such a kick to see AND hear Grodd speak, although I'm not sure if Grodd actually went through with killing Eiling. You don't get someone as big as Clancy Brown only to kill his character off after being in three episodes, so I'm sure we haven't seen the last of him.
Overall, "Fallout" was a terrific episode that moved the Firestorm storyline forward to a satisfying conclusion (for now) as Ronnie and Stein overcame their biggest obstacle. While not mentioned a lot in this review, I also loved seeing Iris finally getting an arc of her own as she is now, along with Mason, investigating S.T.A.R. Labs, so that will be intriguing to follow.
The Flash returns with new episodes on Tuesday, March 17, 8/7c on The CW.
[Photo via The CW]