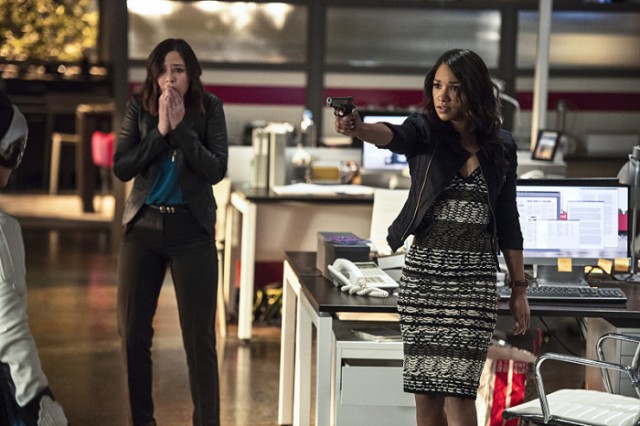 This week's episode of The Flash continued more of all the Earth-2 action that has been going on this season with the introduction of DC Comics' Doctor Light (with a twist), while also showcasing Tom Cavanagh's new Harrison 'Harry' Wells.
I don't have any attachment to the Doctor Light character in the comic books, so learning that Linda Park of Earth-2 was in fact going to be that character was something I could get behind pretty quickly. Plus, it was fun getting to see Malese Jow play a different version of herself. The costume was honestly my favorite part, more so than the powers, even though there wasn't anything wrong with the visuals or anything, because of how well-adapted the suit was from the books. Speaking of Linda, the more I see her and Iris together the better, because that's a nice friendship that we are getting. I also loved seeing Iris getting to kick some butt again and protect our Linda from the other Linda. Since this arc is a two-parter, I'm curious to see what they are planning to do next week, now that they have two Lindas on Earth-1.
But that wasn't the only Earth-2 action we had this week, as we also finally got to see what Cavanagah's new Harrison Wells was like, and let's just say that it has been a while since I fell in love with such a lovable jerk. I know Cavanagh can play a great villain, but that he could be so cold and sassy was just an epic surprise. He didn't need super-speed to make a big entrance; he just needed that mouth of his to keep talking, as he was the ultimate jerk. But as many jerky things that he did and said in this episode, he also did some good too because he outed Cisco when he was the only key to finding Dr. Light. While I totally think it was insensitive to spill Cisco's secret when he wasn't ready (thank the Lord that Harry wasn't around me when I was still in the closet and not ready), it did progress that arc a few steps forward, which I appreciated, because instead of having to wait a dozen episodes or so for Cisco to get to that place, Harrison has helped him get there quicker.
Lastly, there was one final twist with Harry that also ties in with another DC Comics character introduction: he has a daughter who happens to be Jesse Quick (played by Violett Beane) that lives on Earth-2 and is being held prisoner by Zoom. While Harry didn't bring her up, it's safe to say that she is probably the main reason why he came to Earth-1, so that he could get some help to save her. I liked that twist, although I do wonder what that means for Jesse's future as a speedster since one of her parents isn't a meta-human. Overall, this was not just an action-heavy episode, but also one of the season's funniest episodes yet with all of Harry's sassy jerkiness.
The Flash airs on Tuesday nights at 8/7c on The CW.
[Photo credit: Cate Cameron/The CW]