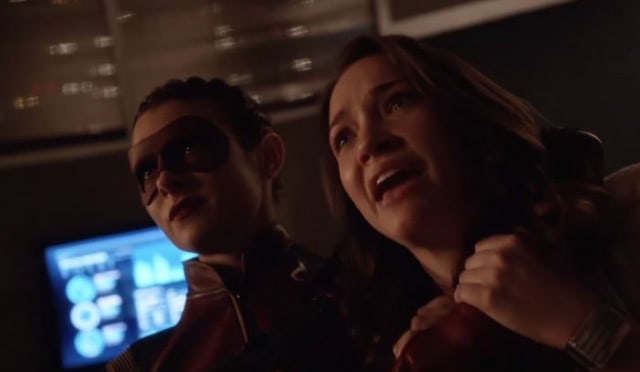 The Flash fans know that Trajectory is coming in tonight's episode of the CW series, but how much of a threat will she actually be? As shown by the clip below from this week's all-new hour, appropriately titled "Trajectory," viewers can expect her to be quite dangerous.
The sneak peek below throws us into the middle of a scene, as Trajectory quickly locks up Barry in the pipeline at S.T.A.R. Labs before dealing with the rest of Team Flash. She's on a mission to acquire Velocity 9, and the best way for her to do that is to by taking members of the team hostage , which she begins to after she runs into Joe at full force, knocking him back and stealing his gun.
While wielding Joe's pistol, Trajectory, whose real name is revealed to be Eliza even though she insists on being called by her speedster name ("Oh, why do the crazy ones always name themselves?" Cisco jokes), questions Caitlin about the Velocity 9. When Caitlin can't provide Trajectory with any helpful information about the formula, explaining how Jay almost died after taking it, the violent speedster grabs Jesse and threatens to shoot her, which forces Wells to try to come up with a plan to save his daughter.
"We'll make it for you," he promises, as Caitlin backs it up, stating how they have all the ingredients for Velocity 9.
"I'm not a patient person, so better move fast," Trajectory tells them.
The Flash returns tonight with brand new episodes and airs every Tuesday at 8 p.m. on The CW. Check out the clip from "Trajectory" below:
THERE IS A NEW SPEEDSTER IN CENTRAL CITY; WILL THE FLASH BE ABLE TO KEEP UP? – Deciding to blow off some steam, Barry (Grant Gustin) and the team head out for a night on the town only to encounter an unexpected speedster who is up to no good. Iris (Candice Patton) is challenged by an assignment from her new boss (guest star Tone Bell), and is surprised when friction turns to flirtation. Glen Winter directed the episode written by Lauren Certo and Lilah Vandenburgh.
[Photo via YouTube]