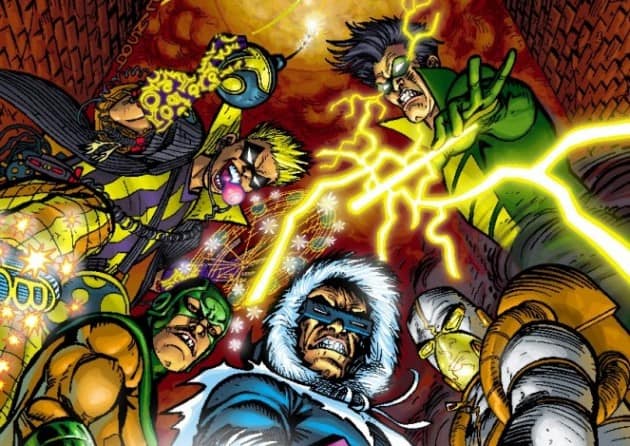 It's part four of our five-part feature of "Five Arrow and Flash Spin-Off Mini-Series That We Want To See," and after suggesting Atom/Firestorm, Booster Gold/Blue Beetle, and Birds of Prey shows, we thought we would give a few pitches for some villain spin-off mini-series. In our penultimate part, we are discuss a potential show that would bring several villains together from The Flash, both present and future ones. That's right ladies and gentlemen, we are going to discuss….the Rogues!
Pitch: What's going on in the heads of Flash's colorful and big Rogues gallery? A show that would bring members like Captain Cold (Wentworth Miller), Heat Wave (Dominic Purcell), Pied Piper (Andy Mientus) and Weather Wizard (Liam McIntyre) together and explore all these diverse members that The Flash will have to fight one day when they join forces.
Andy: The Rogues members have so far been a blast to watch on The Flash, and more members are being introduced in the next couple of weeks. As someone who is now pretty familiar with The Flash comics and this group, each of them has such a unique personality as a character which makes the group dynamic so much fun when you do see them together. While there are a number of things that a show like "The Rogues" could do, I would want to get more into the psychology of them because while they are getting their backgrounds told in doses whenever they are on The Flash, I sometimes feel that there is more to them.
While I know that the concept of "villains that act like heroes" is becoming a trend now within the media, I think people like the Rogues would benefit from having stories like that about them. I know that recently in the New 52 continuity of DC Comics, there was a big arc where several members of the Rogues had to be on the good side when a great evil was invading. I'm not sure how big they could get into that on either Arrow or The Flash because, well, it's TV, but I can see these characters having to commit heroic acts in other capacities. My interest for a Rogues show would be to just see what is behind these colorful and fascinating villains.
Blaise: The Rogues are a really fun group, and I especially love how they are portraying them on The Flash so far. They've chosen some great actors to portray the villains, and I'm excited to see them when they have their full group. I think that The Rogues could work as an amazing mini-series, similar to Agent Carter,in that it would only be eight episodes and could air when The Flash is on hiatus. I think that they could set this series in the future period when The Flash has gone missing, as we see in the newspaper that Harrison Wells has on the show. With The Flash gone missing, some external threat could be attacking the city, causing the Rogues to actually be vigilante heroes with the mentality along the lines of "nobody gets to mess with our city except us."
This could be really fun to watch by showing them in a more likable light while acting somewhat heroic. Plus, it would illustrate how much of a struggle it is for the entire group to agree and cooperate with one another. They would have the ability to make fun jests with the police asking why the Rogues became the good guys, and them angrily defending that they are not, despite helping to save the city. It would also be neat to see this future setting in The Flash universe that we are only teased with right now. I would love to see the Rogues in a mini-series because it would really give viewers more of a look at the characters and how they plan and scheme things.
Come back on Monday as we will give our fifth and final spin-off suggestion, but in the meantime, let us know in the comments below what you think. Would you like to see a show about The Rogues from The Flash?
[Photo via DC Comics]