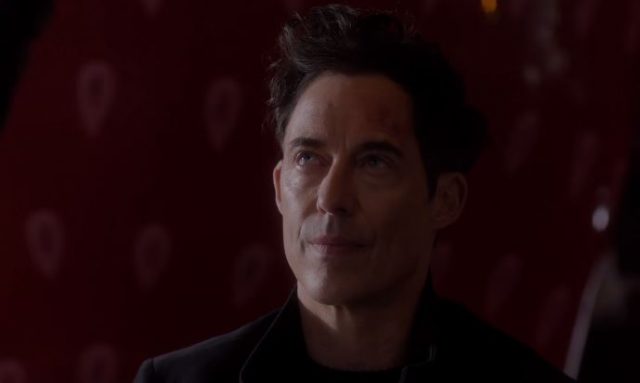 Harry Wells from Earth-2 will find himself in quite the dangerous situation in tonight's episode of The Flash after he's mistaken for Earth-1's Harrison Wells.
In the clip below from this week's all-new hour, titled "Back to Normal," Harry is kidnapped by Griffin Grey, an angry meta-human that wants Wells to help him transform back into the person he used to be before the particle accelerator explosion gave him abilities. So why doesn't Griffin want his powers? Well, while he does have super strength, a power that he could easily use to kill Wells if he wanted to, he's also aging rapidly. In fact, he fears that if he doesn't get help soon, he'll be dead within the year.
Will Wells be able to find a way out this situation? Will he help Griffin, or will he escape somehow? We'll have to see how it all unfolds in tonight's The Flash, but since Barry is without his speed for the foreseeable future, it looks like Wells and the rest of Team Flash will have to rely more on their own super powers (aka their intelligence) if they hope to defeat Central City's criminals.
The Flash airs Tuesdays at 8 p.m. on The CW. Check out the clip from "Back to Normal" below:
WELLS IS ATTACKED BY DC COMICS' CHARACTER GRIFFIN GREY — A meta-human with super strength named Griffin Grey (guest star Haig Sutherland) mistakes Harry (Tom Cavanagh) for Earth-1 Harrison Wells and kidnaps him, demanding that Wells cure him from his current condition. Realizing another brilliant Wells could help track Griffin's location, Barry asks Jesse (guest star Violett Beane) to help. Meanwhile, Wally (Keiynan Lonsdale) corners Joe (Jesse L. Martin) about The Flash. John Showalter directed the episode written by Brooke Roberts & Katherine Walczak.
[Photo via YouTube]