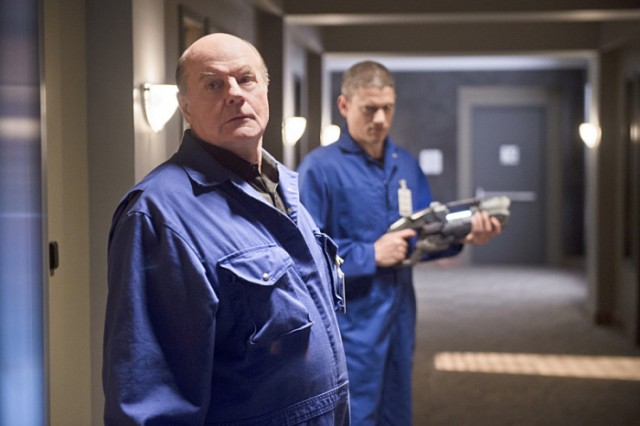 This week's episode of The Flash focused heavily on family, as we learned more about Francine West (played by Vanessa Williams) and got the return of Lisa and Leonard Snart, along with the debut of their father, Lewis Snart, played by Michael Ironside.
I genuinely enjoyed seeing Ironside as the wicked father that we had heard brief mentions of in the The Flash's first season, mostly because I have been a huge fan of Ironside since his voice acting as Darkseid in the DC animated universe. I liked that he was completely ruthless and just a horrible father, as we saw that both Cold and Lisa have some good in them and that their path of criminality was caused by child abuse from their dad. While I love seeing these two as bad guys, it was nice that we got to dig a little deeper into their humanity, especially with Lisa as she was not as well used last season in her appearances. Also, since Cold is going to be a series regular on DC's Legends of Tomorrow, it was smart that the writers took the opportunity to add a little bit of that goodness in him, because I think we are all still asking why he and Heat Wave, who are both baddies, will be part of the team consisted mostly of heroes.
The Snar family wasn't the only family focus that we had in this episode though. After making her debut last week, we get to learn much more about Francine West and her backstory. Throughout the first season, there were several question marks regarding what her status was in this universe. While a part of me did get angry at Joe for lying to Iris about her mother's whereabouts, it can't be denied that Jesse L. Martin gave a heartbreaking performance when Joe explained to his daughter why he did it. Don't get me wrong, it doesn't excuse Joe for lying to Iris because a child should know the truth about their parents, no matter what dark history they have, but the scene between Patton and Martin was one of their best moments together yet.
The thing that did bother me, though, was that The Flash cut some of the focus of this storyline. We knew there was supposed to be a big heart-to-heart scene between Barry and Iris about her mother, which I was really looking forward to. Iris has been there for Barry, both in adulthood and during childhood, as he was dealing with his mom's death and his dad's imprisonment, so it would have been so great to see Barry now getting to be there for her. Instead, that scene was cut, and we got some (quite honestly) unnecessary scenes between Barry and Patty. Don't get me wrong, I enjoy her, but it feels like the writers are trying too hard to turn her into The Flash's version of Felicity, which should be avoided, because Patty can be more than just Felicity 2.0.
Also, as great as it was to see Iris be so understanding and forgiving of Joe, I feel that Iris shouldn't have to forgiven him so quickly. It's okay to be upset and take some time to think about it, because he dropped a huge bomb in her lap. As much as I truly loved her and Joe's scene, I hope this is the last time Joe keeps a secret like this from Iris, because everything that happened in The Flash's first season should have taught him that he hurts her more when lying. Aside from those issues that I mentioned, Patton and Martin stole the show big time with their performances. Also, I hope I misunderstood what Joe said because it sounded like the episode had Iris and Francine talk things out off screen, and I hope that isn't the case because something like that needs to be featured ON screen.
This episode also had one heck of an ending: Earth-2 Harrison Wells has arrived and boy, does he look like he is bringing some trouble! It gave me all the chills as it was a great ending to a solid episode that had a few issues for me.
The Flash airs on Tuesday nights, 8/7c on The CW.
[Photo credit: Diyah Pera/The CW]