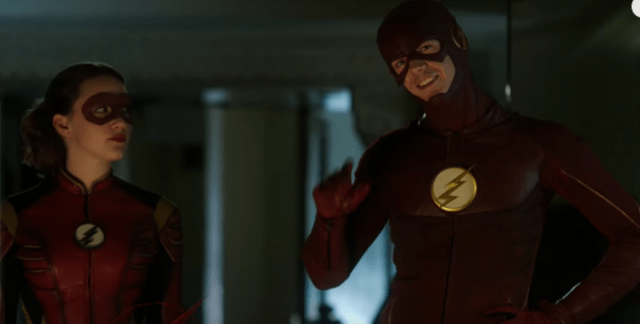 One of the best things about The Flash as a character is that he has a great gallary of villains to go up against, including the Rogues. The Rogues are a great group because their unique powers and ability to work well enough together sets up some tricky situations for The Flash, always keeping him on his toes. The show had a nice Rogues presence established, but with the inclusion of Snart and Mick on Legends of Tomorrow, Central City has been pretty Rogueless lately. "The New Rogues" helps to re-establish some of the feeling that has been lost recently, but it doesn't distract from The Flash's choice to use weird ways to fill in the rest of the plot.
"The New Rogues" is specifically talking about two classic Flash villains in The Top and Mirror Master. The show decides to make Mirror Master more interesting by adapting his New52 power style where he can constantly jump back and forth between Earth and the mirror world. Mirror Master was another awesome inclusion to this show, but hopefully when featured in the future, The Flash can give the character some more crafty schemes. This episode felt like a standard basic heist and theft story with the slight problem of having Barry stuck in the mirror world for all of about five minutes. The episode's conflict just seems so lackluster because everything is conveniently solved very quickly and there never feels like any true impact or threat from Mirror Master. Although The Flash using Caitlin to freeze Barry out feels a little cliche at first, it was, in the end, a nice choice to use that moment as the first step towards everyone figuring out Caitlin's secret. It's great to have Caitlin's character doing more, but the whole idea of her hiding her secret feels tired at this point, so it's a good sign that people will be on her trail soon.
The Flash just feels filled with mostly awkward stories in this episode; on top of a basic Rogues plot, Barry and Iris spend the episode tackling one of The Flash's most unusual and unfitting conflicts ever. There really was no need to tackle the awkward feeligns between Joe, Barry and Iris now that the two are dating. The story felt completely out of place and not like something usually found on The Flash because the show has always done a great job at presenting mature relationships. It honestly just felt like a filler story that the writers believed would come off as cute and fun, but it really just felt off. There are definitely some great lines between Joe and Barry but in the past Joe has outright told Barry to go after his daughter and (excuse me if I'm wrong) has acknowledged he knows Barry LOVES Iris. There would definitely be some awkwardness to see them together for the first time or two, but Joe isn't a dumb character and the entire story felt a little unusual.
While there were plenty of weird choices in "The New Rogues," the episode did manage to nail one aspect perfectly; Jesse and Wally. The Flash planted the seed for Jesse and Wally's romance last season and the characters have been just as close with each interaction they've shared in season three. The idea of Jesse and Wally has been really fun, but this episode finally pushes them together romantically and handles their situation pretty well. Wally is immediately restrained about being more than friends with Jesse because he is scared to have his heartbroken if she leaves and he never sees her again. It felt really appropriate to have Jesse initiate their kiss because Wally is always so timid and nervous looking, but it was surprising to see him act so mature in this episode. Boyfriend Wally is the best version of Wally that The Flash has given viewers so far. Wally finally seemed to have more emotion and sincerity in his lines this week, and the writers seem to have a grasp on communicating the character's emotions well for once.
The Flash continues to struggle to find a balance like it has in the past. The long-term story lines are in place but are moving at weird paces so far in this season. While certain things feel old like Caitlin hiding her powers, the growth of the show's characters is really awesome because a lot of good things have come out of it. "The New Rogues" is definitely a transition episode but moves the show into the next phase of the season and gives fans the hope that a full Rogues lineup might be seen together on screen sometime soon. Just getting Mirror Master and The Top onto the show means that there is a great group of villains who could give the Flash big trouble in the future. The Flash seems like it has a lot of good ideas but they sometimes get buried because of some off plot choices that feel like fan service. The show has still been strong this season, but it can be much better and organized than this.
Other Thoughts:
– NO TOUCHING
– Another Harrison Wells…… please….. while I'm sure Cavanagh has a blast playing goofy versions of his character, having to adjust to another Wells is getting old.
– It is nice that the show can add some diversity with The Rogues. This episode doesn't feature Dr. Alchemy in a major way so it's cool that The Flash can take weeks off and actually allow the show's villain to formulate a plan.