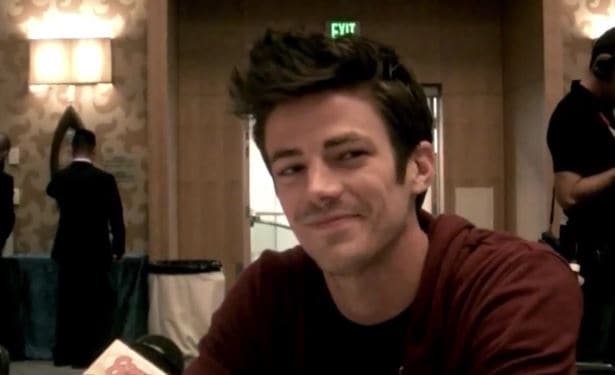 One of the biggest new shows from the past TV season is The CW's latest superhero hit The Flash, the story of Barry Allen (played by Grant Gustin) who becomes the fastest man alive. In Season 1, Barry established himself as a true hero, the guardian angel of Central City, which is filled with meta-humans and now poses new threats for him and his team to deal with in the upcoming season.
Last weekend, TVOvermind was fortunate enough to participate in The Flash Press Room with other news outlets at roundtables where stars and producers from the show discussed what is coming up in Season 2. Gustin was one of the people we got to talk to, and you can watch his entire roundtable interview in the video below. Here some of the highlights:
When asked about what he can tease about the Season 2 premiere: "I have been instructed to be incredibly vague so I apologize in ahead of time. I can say though that we see how the singularity has affected all of our characters and we will get glimpses as to what exactly happened. I won't tell you exactly where we will pick up, but we get plenty of information about how the singularity affected everybody. There are going to be brand new meta-humans that are different than all the other meta-humans that we have had that are kind of showing up for different reasons. Barry is getting a lot of acclaim and attention right now just for being the hero that I guess he has become. He is having a hard time dealing with that and accepting the fact that he is the hero because of what happened with the singularity, basically. He doesn't necessarily feel like the hero and you'll slowly figure out why that is."
What Barry and Iris's relationship is like this season: "One of the reasons why Barry is having a hard time feeling like a hero is because he knows that Eddie is the guy that stopped Wells, he was kind of the hero that day. That was kind of hard for Barry to accept and of course Iris is going through a whole slew of things with his death. He isn't exactly going to be making any moves, obviously, right now and kind of take a back seat again."
The Flash Season 2 begins on Tuesday, Oct.6, at 8 p.m. on The CW. Stay tuned for more roundtable videos of the cast and producers in the next few days right here at TVOvermind.
[Photo via The CW]