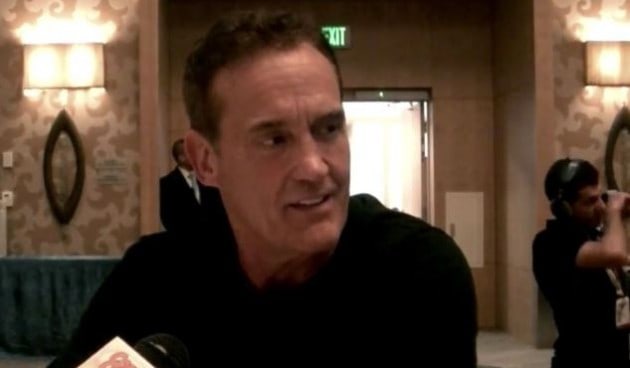 One of the biggest new shows from the past TV season is The CW's latest superhero hit The Flash, the story of Barry Allen (played by Grant Gustin) who becomes the fastest man alive. In Season 1, Barry established himself as a true hero, the guardian angel of Central City, which is filled with meta-humans and continues to offer new threats for him and his team to deal with in the upcoming season.
However, before The CW's The Flash, there was CBS' Flash series, which premiered back in 1990 with John Wesley Shipp playing the fastest man alive. While he show ended after just one season (the popularity of the superhero genre hadn't reached the heights that it has today), Shipp thankfully got to return to the world of The Flash as Barry's great father, Henry Allen in this new series. Henry has been serving a sentence for the death of his wife and Barry's mother, Nora Allen (played by Michelle Harrison), a murder he didn't commit, as Nora was actually killed by Eobard Thawne/Reverse-Flash (played by Tom Cavanagh).
TVOvermind was fortunate enough to participate in The Flash Press Room at San Diego Comic-Con with other news outlets at roundtables, where stars and producers from the show discussed what is coming up in Season 2. Shipp was one of the people we got to talk to, and you can watch his entire roundtable interview below. Here are some of the highlights:
When asked whether or not Henry will get out of jail now that Nora's killer has been revealed: "Well certainly a big part in Barry's whole life is to get his father out of jail so that certainly has to get resolved one way or another, I think, this season. Now how that is going to happen, I'm not entirely sure, for one thing, because at the beginning of last season we knew how it was going to play out, but our executives are quick on their feet. They will respond to fan reaction and they will notice chemistry so I think there are three choices: he gets out, he doesn't or he dies in, so we'll see!"
If there might be a mystery to why Henry wasn't more shocked the night Reverse-Flash broke into the Allen house: "Oh I hope you are right! It's curious, isn't it? It's something that I haven't gotten an answer to. Here is a man in a yellow suit and he doesn't ask a single question! He says [to Barry] "Move on! You got to move on, you got to let it go" He goes back [in time], "No you can't change the timeline". Barry gets back from having revisited, but Henry isn't asking any questions about it, why? I hope we explore that this season."
The Flash Season 2 begins on Tuesday, Oct.6, at 8 p.m. on The CW. Stay tuned for more roundtable videos of the cast and producers in the next few days right here at TVOvermind.
[Photo via YouTube]