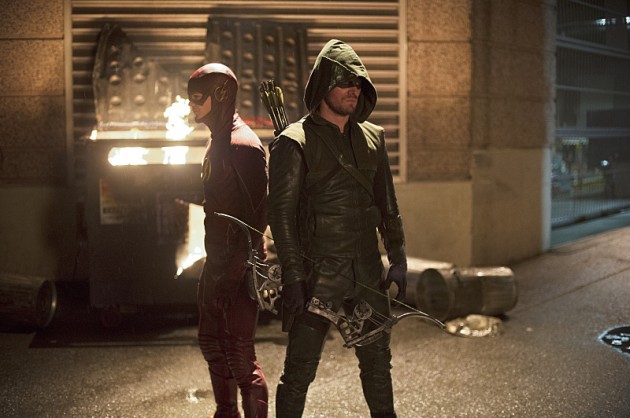 One of the most anticipated television events of this current TV season has been the two-night crossover between the two CW superhero dramas, The Flash and Arrow and last night, fans of both shows got an epic first part with the scarlet speedster and emerald archer both teaming up and going against each other.
Seeing Barry and Oliver as well as their respective teams coming together was just pure fun and great entertainment because of how different the shows are from each other. I think we can all agree that Diggle's reactions to Barry's super-speed stole the show because we always see Dig as this cool and collected person, but seeing a dude running super-fast just threw him off. David Ramsey nailed every single of those reactions and I can't remember laughing so hard about someone reacting to superpowers. I'm at this point hoping to see more meta-humans in Starling City so that we can get more reactions like that.
I have been dying to see Grant Gustin's Flash and Stephen Amell's Arrow come together ever since last year and I knew it was going to be great, but it exceeded my already high expectations. The thing that made that dynamic so much enjoyable was seeing how Oliver's serious personality actually ended up being hilarious in part one of the crossover. Even though we have only seen part one, I feel that by the end of the crossover, Oliver and Barry will have learned great things from each other to become stronger heroes.
I never thought that we would get The Flash villain Rainbow Raider in live-action because he is a very tricky villain in the comics. However, the way this show portrayed him was absolutely genius with him being able to control other people's emotions. I really hope this is someone they will bring back again because while I do love physically dangerous villains, I love the ones that can get into your head without having to be super-strong or something like that. It was compelling to see Barry get all his frustrations out with Iris being with Eddie, someone who wanted to stop The Flash while Oliver didn't seem to believe in Barry. It reminded me a lot about the first time when Clark Kent was on Red Kryptonite in Smallville.
The fight sequence between Arrow and Flash was exceptionally remarkable as it brought together both sides of those shows (with Arrow having fantastic non-effects action and The Flash with its visually stunning action) into one big fight. As a comic book fan, it was a huge moment to see some great comic book action in live-action because that couldn't have been easy to film. It was just fun also to be able to have the fan debate of who would win in a fight between The Flash and Green Arrow. I say that Barry won this one because the only way Oliver could stop him was by calling for help and the fight was called "Flash vs. Arrow", not "Flash vs. Arrow and the Star Labs Van." Therefore, round one goes to the speedster!
There had been this promised and big Arrow moment in this part and it was more than big as Oliver met the woman that he hooked up with years ago and thought had a miscarriage. This was a perfect opportunity to bring her back because it was established in that episode that she went back to Central City so it was bound to happen at some point, but making it here was perfect. I wonder how deep they will get into that specific arc this season on Arrow and who knows, it might not even happen this season because they do like to place seeds and make them grow seasons later. But seeing Amell's character get moved by seeing her again was heartbreaking.
The thing that is very admirable about "Flash vs. Arrow" was that the cast members from both shows clicked whenever they had scenes together. Whether it was Felicity and Caitlin, Oliver and Iris (her fangirling for Oliver Queen was awesome) or any other pairing, there was great chemistry all together. I have only one nitpick about this episode and that was Oliver's remark on Harrison being fishy. In interviews, it felt like they were building up to have Oliver point something very big and all we got was "there is something off with that guy." I don't have a problem with Oliver noticing something wrong with Harrison; Oliver is a smart dude, but the way that remark was written was very underwhelming.
Even though it will be a while till we will have more crossovers between the shows after tonight, they are already seeding a mini-crossover with Felicity asking Caitlin to look into some things regarding Sara's murder. It will be interesting to see how that develops later in the season. There were several great Easter Eggs and nods in this episode, but the one that I couldn't help to notice was Eddie's deal with wanting to put together a task force against The Flash. Look up the storyline "The Dastardly Death of the Rogues" and you will see what I'm hinting at.
Overall, there is nothing to complain about from this first part of the crossover. It will be easier to say what we think about the whole crossover after tonight's episode, but "Flash Vs Arrow" delivered great performances, strong writing and huge character development for many of the characters of both shows. I can easily say that I'm stoked for "The Brave and the Bold" as we will meet a certain captain with a thing for boomerangs.
The Flash airs on Tuesday nights, 8/7c on The CW and make sure to tune in tonight for part 2 of the epic crossover between The Flash and Arrow titled "The Brave and The Bold"!
Photo via The CW