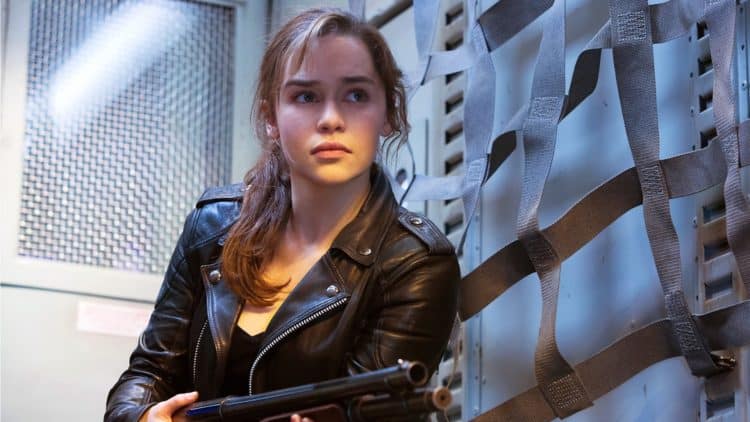 Go on and admit it, you're waiting for the final season of Game of Thrones to come back so you can see Emilia Clarke turn up the heat against the white walkers in an epic battle to see who will finally control Westeros. If not then you might at least be interested in seeing how her movie career continues to build since over the years she's been making a good case when it comes to being one of the elite actresses in Hollywood. So far she's turned in a few roles that have been nothing short of great, but in movies that have been less than well-received. One thing you can't do all the time is fault the actors for their participation in movies that aren't particularly well-written, as they tend to do what they can with what they've been given. That being said, Emilia has done a rather great job at turning some films into something that's still respectable in some regards.
Her are a few of her best movies to date.
5. Solo: A Star Wars Story
Go on and get it out of your system, Disney has really ripped the heart and soul out of a few stories since they decided to claim that the books were no longer canon and that they'd be coming up with their own stories. For the legions of fans that have read every book prior to Disney buying up Lucasfilm it was a bit of a slap in the face to think that all they'd read so far was useless when it came to the movies, especially since a lot of us knew the back story of just about every major character. But let's be honest here, they did manage to keep some elements of Han Solo's story, just not in a way that a lot of people recognized. On the plus side though this film was still fairly entertaining, but in a much different way than was expected.
4. Voice from the Stone
When a loved one dies it's hard to accept or even move on, but when Verena is brought in to check on Jakob, who hasn't spoken since his mother passed, she begins to slowly open him up and to work with his father Klaus in order to maintain what is left of their family so as to keep them both mentally as well as physically healthy. Upon taking on more and more responsibility within the house she is almost released from her service until Klaus summons her back, whereupon she grows gravely ill, just like Klaus' deceased wife. When she wakes however it is with the face of Verena but the spirit of Malvina, the former lady of the house.
3. Above Suspicion
Based upon a true story this is the tale of an FBI agent that essentially falls in love with an informant and, as you might have guessed, gets himself in a great deal of trouble as the movie rolls and and begins to pick up a little speed. For her it's a way out of her small town, but for him it's little more than a job that quickly becomes something a little too personal. By the end of the movie it's nothing but a disaster for both of them. Out of the movies she's done so far this is perhaps one of the most chilling since it had the distinction of being taken from something that happened in real life.
2. Me Before You
There's not much dignity to be had when living confined to a wheelchair, but there are moments when you can still say that you're alive and enjoy the time you have with someone that is willing to spend those same moments with you. Will is a man that just about gave up until Louisa decided to show him that he could still enjoy through his other senses what was denied to him by the one that he'd lost almost entirely. While he still plans to go through with the assisted suicide that made her try to save him in the beginning, he does a bit of good before leaving, making certain that the woman that helped him regain his dignity is well cared for.
1. Terminator: Genisys
So many people want to rail and rally against this movie that it's incredible how they've missed the point. The Terminator movies have been ripped up, redone, and pieced back together so many times now that the timeline wasn't ever gong to be kept the way it was, especially considering that Skynet is a COMPUTER program that can learn and adapt to whatever needs to be done. Also, if any future movie has taught us anything it's that the future changes the more you alter the past, so in all honesty this franchise has followed its own rules quite well throughout each movie, and if any fan has any issue with the story then it's likely because they got tripped up somewhere and forgot to pay attention.
Emilia Clarke is a great actress, she just needs a few more high profile roles.