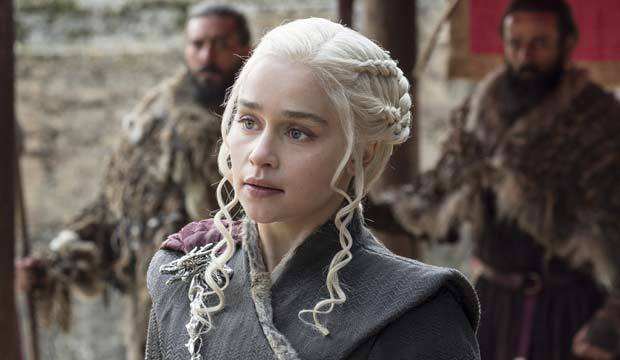 Emilia Clarke is another surprise character that seemed to come out of nowhere and simply mystified people at the same time she was enchanting them. Since her meteoric rise, and it's been just that without a doubt, she's become something of a media icon and someone that you can't help looking at whenever she shows up since she is quite lovely and in some ways very alluring. The roles she's taken on during her career thus far have been quite diverse if you really look at them since in Game of Thrones her character has taken on a startling transition from being a weak young woman to a queen that doesn't accept any nonsense from anyone. But throughout her time in the spotlight at this point she's been overwhelmingly positive in the way she's been seen and the impact she's had on the industry.
Here are a few things you might not have known about Emilia.
1. She actually replaced someone on Game of Thrones.
Tamzin Merchant was another newcomer to the acting industry and while there was no definitive reason given for her departure from what might have been a standout role for any woman, Emilia took the part of Daenerys and ran with it to the delight of many fans of the show.
2. She has very unique-looking eyes if you peer in closely.
She has what is called central heterochromia, meaning that the irises of both eyes are a different color on their rims and have another color within them, creating a ring-like effect that is hard to see from a distance but can be seen up close if one looks. Of course you might want to ask her permission to get that close otherwise it might seem kind of weird.
3. Emilia has stated that if she hadn't become an actress she would be in a very different profession at this time.
If not for acting she might have been an architect, a singer, or a graphic designer. It'd be hard thinking of anyone else filling for her right now since she's been a mainstay of GoT and other films for long enough that her presence would be missed.
4. Her love for acting came at a very young age.
Emilia knew she wanted to be a part of the scene when she was just 3 years old. From that moment on she never gave up the dream of being in movies or on TV and started studying the moment she as able to become an actress.
5. She's not the only actress from Game of Thrones to take on the role of Sarah Connor in the Terminator franchise.
Her costar and character rival in GoT, Lena Headey, actually took on the role of Sarah Connor in the TV version, the Terminator: The Sarah Connor Chronicles. Unfortunately the show didn't last that long but it did try to establish what happened between T2 and T3.
6. Emilia likes to stay active and has a very wide range of activities she enjoys.
She's not the type of person to just sit around and do nothing in her free time as she enjoys going out and being a part of the landscape she's in while engaging in very engaging hobbies and activities that get her blood pumping.
7. You might not believe it but it's hard to recognize her without the platinum-blonde hair that marks her as Daenerys Targaryen.
If you're a dedicated fan then you probably know what she looks like without the hair but some people have actually not recognized her without the long, platinum locks that define the character so well. It's kind of hard to believe but it's true.
8. She worked six regular jobs before being cast for Game of Thrones.
Emilia is not the type to sit back and expect things to be handed to her as she was a hard-working individual before she was finally cast as Daenerys Targaryen in GoT. This could be why her character seems a little extra driven in the show, she has a will that doesn't allow her to back down so easily.
9. Emilia did audition for a role in Captain America: The Winter Soldier.
Obviously she didn't get it but she was angling for the role of Sharon Carter, which might have been interesting but also might not have been the right role for her since if she was going to show up in the MCU it seems as though she'd better suited for something else.
10. She's admittedly been a big Terminator fan and starring in the movie with Arnold was a huge moment in her career.
Arnold was visibly impressed with Emilia's work ethic and the time she took to receive the training that was necessary for the picture. For Emilia it felt as though she was overreaching at the time, but she was given a lot of support by her costars.
She seems like a woman that is genuinely glad to be where she's at in life.
11. She Did the Funky Chicken Dance At Her Game of Thrones Audition
One of the most famous stories about Clarke's audition for Game of Thrones is how she winded up doing the funky chicken dance. In short, what happened was that she was very nervous because it was a big event. As a result, when the audition was at a close, she asked the show-runners whether there was anything else that she could do. David Benioff suggested that she do a dance, thus resulting in the famous funky chicken dance incident.
12. Was Approached About Anastasia Steele Role
It has been reported that Clarke was approached about doing the Anastasia Steele role. For those who are curious, Anastasia Steele would be the main female character of the Fifty Shades of Grey movies. Clarke has said some very positive things about the director Sam Taylor-Johnson, but she winded up turning down the offer.
13. Didn't Want to Get Pigeonholed
Clarke's reasoning was pretty simple and straightforward. Essentially, while she isn't absolutely opposed to doing nude scenes, she doesn't want to get pigeonholed because of them. Since the role of Anastasia Steele would have required a lot of nude scenes, well, that was the end of that.
14. Dated Seth MacFarlane
In 2012, there were reports that Clarke had started dating Seth MacFarlane, who is currently famous for The Orville. However, that relationship had come to a close in 2013.
15. Couple of Reasons for the Breakup
There were a couple of reasons for the breakup. One, there were serious stresses because of the long-distance nature of their relationship much of the time. Two, Clarke was less than pleased about the fact that complete and utter strangers decided to start offering her dating advice on their own initiative because of it.
16. Used to Be a Licensed Real Estate Agent
Like a lot of actors and actresses before they managed to get their breakthrough role, Clarke has done other jobs to support herself. In particular, it is interesting to note that she was a licensed real estate agent. Furthermore, she actually spent a couple of summers working as a real estate agent when she was going to New York University.
17. Backpacked in India When She Was Still 16
When she was still 16, Clarke backpacked throughout a fair stretch of India. Her experience started out with her flying to Delhi, where she proceeded to scatter the ashes of her grandmother, who had been born in Lucknow in northern India. After which, Clarke traveled throughout India, with the result that she came very close to Tibet before heading home.
18. Backpacked in Southeast Asia
With that said, it is clear that Clarke's interest in traveling wasn't limited to that particular experience. After all, when she was at the age of 18, she proceeded to backpack in Southeast Asia. As a result of that experience, Clarke went through various stops in Thailand, Cambodia, Laos, and Vietnam. After which, when Clarke was finished with backpacking in Southeast Asia, she headed to South Africa, where she proceeded to travel some more. Based on this, it seems pretty safe to say that Clarke was an experienced traveler even before she became a famous actress.
19. Has a Bumblebee Tattoo
It is interesting to note that Clarke has a bumblebee tattoo on one of her pinkies. In short, Clarke had a very positive experience when filming Me Before You, so much so that she decided to she wanted to remember the experience forever. As a result, she decided to get a bumblebee tattoo, which was symbolic of the end of her character's narrative journey, thus making it an excellent choice for something to remember the experience by. For what it is worth, Me Before You managed to do quite well at the box office, bringing in more than $208 million on a budge of $20 million.
20. Considered for the Role of Enchantress on Suicide Squad
Clarke was one of the actresses who were considered for the role of Enchantress on Suicide Squad. However, said role eventually went to Cara Delevingne, who had a pretty significant role seeing as how the character was the main villain of the movie.
Go on and admit it, you're waiting for the final season of Game of Thrones to come back so you can see Emilia Clarke turn up the heat against the white walkers in an epic battle to see who will finally control Westeros. If not then you might at least be interested in seeing how her movie career continues to build since over the years she's been making a good case when it comes to being one of the elite actresses in Hollywood. So far she's turned in a few roles that have been nothing short of great, but in movies that have been less than well-received. One thing you can't do all the time is fault the actors for their participation in movies that aren't particularly well-written, as they tend to do what they can with what they've been given. That being said, Emilia has done a rather great job at turning some films into something that's still respectable in some regards.
Here are a few of her best movies to date.
5. Solo: A Star Wars Story
Go on and get it out of your system, Disney has really ripped the heart and soul out of a few stories since they decided to claim that the books were no longer canon and that they'd be coming up with their own stories. For the legions of fans that have read every book prior to Disney buying up Lucasfilm it was a bit of a slap in the face to think that all they'd read so far was useless when it came to the movies, especially since a lot of us knew the back story of just about every major character. But let's be honest here, they did manage to keep some elements of Han Solo's story, just not in a way that a lot of people recognized. On the plus side though this film was still fairly entertaining, but in a much different way than was expected.
4. Voice from the Stone
When a loved one dies it's hard to accept or even move on, but when Verena is brought in to check on Jakob, who hasn't spoken since his mother passed, she begins to slowly open him up and to work with his father Klaus in order to maintain what is left of their family so as to keep them both mentally as well as physically healthy. Upon taking on more and more responsibility within the house she is almost released from her service until Klaus summons her back, whereupon she grows gravely ill, just like Klaus' deceased wife. When she wakes however it is with the face of Verena but the spirit of Malvina, the former lady of the house.
3. Above Suspicion
Based upon a true story this is the tale of an FBI agent that essentially falls in love with an informant and, as you might have guessed, gets himself in a great deal of trouble as the movie rolls and and begins to pick up a little speed. For her it's a way out of her small town, but for him it's little more than a job that quickly becomes something a little too personal. By the end of the movie it's nothing but a disaster for both of them. Out of the movies she's done so far this is perhaps one of the most chilling since it had the distinction of being taken from something that happened in real life.
2. Me Before You
There's not much dignity to be had when living confined to a wheelchair, but there are moments when you can still say that you're alive and enjoy the time you have with someone that is willing to spend those same moments with you. Will is a man that just about gave up until Louisa decided to show him that he could still enjoy through his other senses what was denied to him by the one that he'd lost almost entirely. While he still plans to go through with the assisted suicide that made her try to save him in the beginning, he does a bit of good before leaving, making certain that the woman that helped him regain his dignity is well cared for.
1. Terminator: Genisys
So many people want to rail and rally against this movie that it's incredible how they've missed the point. The Terminator movies have been ripped up, redone, and pieced back together so many times now that the timeline wasn't ever gong to be kept the way it was, especially considering that Skynet is a COMPUTER program that can learn and adapt to whatever needs to be done. Also, if any future movie has taught us anything it's that the future changes the more you alter the past, so in all honesty this franchise has followed its own rules quite well throughout each movie, and if any fan has any issue with the story then it's likely because they got tripped up somewhere and forgot to pay attention.
Emilia Clarke is a great actress, she just needs a few more high profile roles.