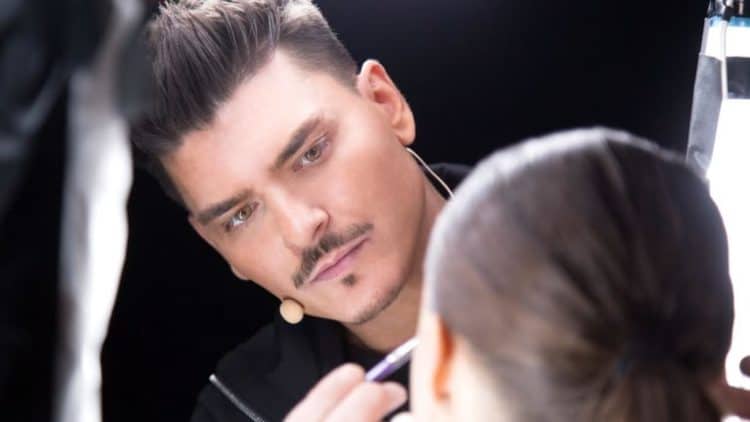 It's almost a given that when we do our '10 Things' lists they are going to cover someone in entertainment. There are exceptions to that rule, of course, but overall, movie, television, or musical celebrities are who we choose to fill you in on. But this list…this list is a bit off the beat path, but not THAT far off. While we are still going to give you the lowdown on someone who is technically a celebrity, you'll discover that this particular individual just falls into another category. They work behind the scenes rather than on the forefront. So, are you wondering who, and what, this person is yet?
It's former Sephora fragrance consultant-turned-expert makeup artist, Mario Dedivanovic. Now that you know who it is and what they do, you are likely wondering how he made one of our celebrity '10 Things' lists, right? You're wondering how he earned such a high-ranking honor when he's fairly new to the whole fame scene. Well, so were we, which is exactly why he is on the list. We need to learn more about this guy who is seemingly making a name for himself virtually overnight. If you like entertainment, and you like trivia, and you love entertainment trivia, then you're going to keep reading, and we're counting on it. After all, if you don't, someone is bound to ask you something about the life of a makeup artist named Mario Dedivanovic, so keep on reading; you won't be sorry. If you're already pretty familiar with Mario, you should keep reading anyway, because you might learn something new.
1. Birth and Early Life
Born Mario Dedivanovic in New York, New York on October 1, 1983, he is of Albanian descent. Mario is a Libra. His parents, Albanian immigrants, raised him and his sister, Marina, in the Bronx. His family is very close, to the point that his sister aided him in arranging and organizing his classes for 'The Master Class'.
2. Education
Mario attended primary and secondary school in New York where he grew up while nurturing the dream of becoming a teacher. Further education for him remains basically unknown. While he is officially a celebrity makeup artist, he does successfully teach…makeup and beauty, that is, in The Master Class, a training ground that was founded by him.
3. Starting Out
While Mario a few different jobs before finding his niche, he got his starting in makeup while working as a fragrance consultant at Sephora. While greeting customers at the door with fragrances that suited them, he ended up helping one of them find a lipstick, and she loved it. He says he knew right away that makeup was what he wanted to do for a living, though it took him some time to build his portfolio. Mario says that in order to do that particular task he had to take pretty much any makeup job he could get. It's a good thing he had a natural talent for it, and an eye for suiting color to individuals. There was quite a bit of climbing the ladder for him, but as we have learned, the rest is history.
4. Net Worth
Well, has it been worth it for him? According to Mario, it has been a fulfilling dream come true, particularly when it comes to The Master Class, which gives him an opportunity to teach, which was his first passion. But what about financially? Has makeup managed to meet his needs? We'd say it has been sufficient. According to Verge Wiki as of 2019, between doing makeup for the stars, running and teaching classes for The Master Class program, his YouTube instructional videos, and his other ventures, Mario has an average salary of approximately $124,000. We are not sure if that is per session, by the hour, or by the day. His net worth gives us a clue, however. As of this year Mario Dedivanovic is worth approximately $15 million, which is up $6 million from last year, and $8 million from the year before. We'd have to say he's doing well for himself.
5. On His BFF, Kim Kardashian
Mario has done a lot of sharing when it comes to Kim, especially in regard to the makeup styles he has done for her. But theirs is much more than a business relationship; the two are very close. Not only do they buddy and confide in each other, but they also have plenty of fun memories that Mario doesn't mind sharing now and again. He has also been more than happy to give her his advice and opinions in regard to her new cosmetics line. We think it would be safe to say that Mario and Kim are each other's 'go-to pal' for just about everything.
6. His Marital/Relationship Status
At the current time Mario is not married, nor is he in a civil union of any kind. As for his sexual orientation, well, let's just say that just because a man is good with makeup doesn't mean that he is gay. As a matter of fact, according to Hollywood Mask, the fact that he liked to spritz himself with fragrances as a boy means nothing except that he loved to smell good. Mario is not in the least bit gay, so all of those men fawning over his handsome face should likely get used to the idea, and the women can sigh with relief. The fact is that he is just too busy with his career to focus on a relationship at the current time.
7. His Clientele
In the beginning of his career Mario got hired to do makeup for Julie Banderas, who loved his work so much she wound up hiring him on a weekly basis. Kim Kardashian is a given, as we know, but he has also done makeup work for the Miss Universe and Miss America pageant winners, Ariana Grande, Chrissy Teigen, Kate Bosworth, Demi Lovato, and many more. His work earned him the 2017 Best Celebrity Makeup Artist Award for the American Influencer Awards, and he also was a judge for 'The Glam Factor'. He is also doing representative work with Clarisonic, and while he is not officially part of Kim Kardashian's 'KKW' cosmetics line, they have gotten together in collaboration and are working on a line called 'KKW +Mario. For someone who got his start with no formal training outside of his job, his skills have certainly been excellent enough to take him anywhere he chooses to go.
8. The Master Class
The Master Class is a class in makeup artistry which is conducted by Mario and is only available through the exclusive purchase of tickets from The Master Class site. The classes are held in various cities all over the United States for specific scheduled times. Mario has conducted these classes for more than ten years, and in them covers a variety of makeup education, artistry, and technique, as well as sharing other trade secrets that he possesses or has created himself. Mario also makes videos and posts on Instagram, Twitter, and Snapchat that cover some of his information for those interested in viewing them and/or following him.
9. Mario Worked for Fox News
In his early years as an artist Mario did a lot of freelance work, including a jaunt with Fox News in 2008. It was his responsibility to get the anchorpersons ready to go before the camera. It was there that he met Julie Banderas, as well as Megyn Kelly. Because he was a male in the business, many women didn't trust him to take care of their look, so it took much dedication and determination to prove himself and build a worthwhile client base, but he got the job done. Julie Banderas helped him break the ice when he blew her mind with makeup.
10. What Does He Think Is His Best Work?
According to Mario in his interview with People Magazine from 2017, the best look he's created was for Kim for her marriage to Kanye West. He states in the interview that he created the look with love and care, and that when he is that devoted to his client, a lot of emotion goes into his creation. In this way Mario is able to use his work to contribute to women feeling and looking as beautiful as they want, and that makes him feel like his work is actually productive and giving. We think this gifted artist has an incredible attitude, and he deserves all that he has earned.
To us, Mario Dedivanovic is more than just a male makeup artist in a female's world; he is truly gifted and has an inner desire to share that gift with those around him for their well-being. Isn't that what our careers are supposed to be about? No wonder he is so passionate about what he does and has such a desire to share it by creating beautiful looks and teaching others to do the same. What an incredible man…we hope he continues to not only shoot for the stars, but to reach them one at a time!