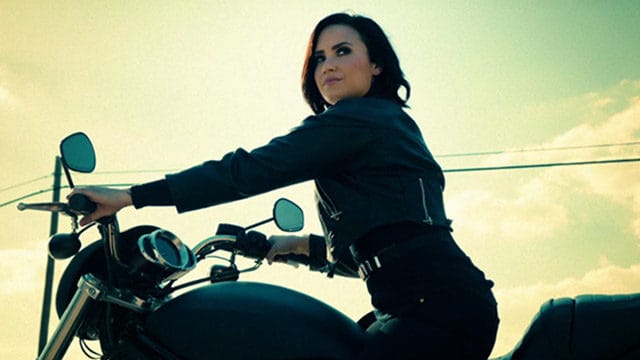 Demi Lovato is someone that a lot of people look up to which is why it's hard to imagine why she suffers with depression. Unfortunately you could be the most praised individual in the world and it wouldn't stave off something that has to do with the chemical processes in your body, primarily your brain. After her most recent relapse she seems to be recovering thankfully as her fans have been told and is looking for redemption in some ways after the manner in which she nearly OD'd. It's hard to watch a talented performer like this struggle in such a way but it's also harder to think that they don't take advantage of the many different methods that they can easily afford to help out. Sometimes there's not a lot of help for depression, it's something that the individual has to want to get better.
Thankfully she's still around since her music has inspired a great many people, and it's been widely used in films and TV.
5. Tinkerbell and the Lost Treasure – Gift of a Friend
For those with kids, usually daughters in particular, it's pretty common that one will know every Tinkerbell movie by heart after a certain time if this little fairy happens to be a favorite in the household. Some adults happen to like Tinkerbell too since she's been around for quite some time and has been a common figure with Disney for a while. Demi isn't the only famous artist that's managed to get a song in on one of Tinkerbell's movies, as the industrious little fairy has managed to draw a few others with subsequent movies. Like those, this movie sees Tinkerbell dealing with a dilemma that tests every last bit of her Tinker spirit and teaches her to rely on her friends.
4. Grey's Anatomy – Wouldn't Change a Thing
Ever been in a hospital where someone is blaring music in their room? Probably not, but it can happen apparently. Of course this doctor is quick to tell the young girl that is enjoying some Demi Lovato to turn it down or plug the headphones in since the rest of the ward doesn't need to hear it, no matter how nice it sounds. That's the one thing about a hospital, there's typically enough people in each ward that have different needs and a lot of them are there relaxing before or after surgeries and don't really need to hear any loud music. It might sound nice but it's definitely not for a hospital setting in full volume.
3. American Idol – Give Your Heart A Break
American Idol wasn't shy about bringing established singers onto the show to spice it up a bit and perhaps show the contestants what could happen if they won and their careers took off. But unless you watched the show the idea that many people came to know anyone other than Kelly Clarkson when it came to the winners is slim since the show became a niche for a lot of viewers that were glued to the TV when it came on until the day it finally left the air. A lot of young up and coming singers found their way onto the show and managed to do pretty good, and it wasn't always just the winners that managed to get the attention of record labels.
2. The Angry Birds Movie – I Will Survive
Surprisingly a lot of people had an issue with this movie, but it would almost seem that they didn't understand the dynamics of the game or were expecting it to be more LIKE the game. Unfortunately that seems like it would have either been a short or extremely repetitive movie. In truth this film wasn't that bad except for the fact that it did kind of drag in some spots. The comedy was more for adults than kids really, and the subject matter got a little adult-ish at times as well. But overall it was highly enjoyable and managed to capture the essence of the game through the characters fairly well. It would've been nice to see the bubble bird actually blow a few bubbles though.
1. Bad Moms – Confident
This needs to be a recommended movie for all moms that feel as though they're not appreciated enough or that bust their butts to make sure their families are taken care of on a daily basis. Moms are allowed to be fun-loving free spirits too and it's high time someone told them that. Some moms don't have this issue as they know when to kick back and relax and let the family take care of themselves, but others seem to need this message in a big way. The confidence that a mom needs to have in herself is an absolute must since eventually it's their turn to just kick back and have a good time.
There's nothing wrong with being confident.