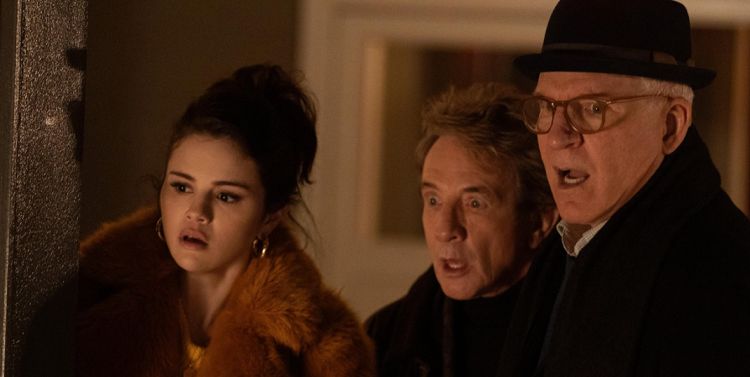 One of the biggest surprises of 2021 was the Steve Martin, Martin Short, and Selena Gomez vehicle about three strangers, who are obsessed with a true-crime podcast, are suddenly involved in one as their neighbor is found dead in his apartment. The first season was filled with plenty of twists, turns, and laughs, and it made an unforgettable impression. This article will highlight the top five characters from the first season of Only Murders in the Building. This list will contain spoilers so if you've managed to live your life without checking out the series then I strongly suggest binge-watching the show on Hulu first. Let's get started with the first name.
Tim Kono
We don't know much about Tim Kono. When we first meet him, he's just some guy on a phone on the elevator, but once the murder kicks in, we get to finally understand who the man is. The writers did an excellent job of balancing Kono's character; On the offset, he comes across as a despicable human being, based on the fact that all the tenants hate him and he falsely accused Oscar of a murder he didn't commit; however, each episode added nice layers to his character, and you come to understand the man who was unjustly murdered by the time the tenth episode ends. He's arguably the most layered character of the series, which helped produce some great and surprising moments.
Jan
The handling of Jan's character was well done. Her little meet-cutes with Charles were sweet and their building romantic relationship brought some fun moments involving Oliver and Mabel. However, once we started to understand who she is a bit more then that's when Jan truly shines. While the sudden craze felt a bit random because there weren't enough subtle hints prior to the revelation that Jan was sexually involved with Tim, the writers did a good job of not focusing on that one trait that could've easily ventured into mustache twirling villain territory. The discovery that Jan was not a first bassoonist player was nicely done and helped paved the way for Amy Ryan's devilish and fun turn in the final episode. The twist of Jan poisoning the handkerchief was a nice touch, as was Jan stabbing herself to make it seem that's she an innocent victim.
Theo Dimas
The wealth and diversity of characters in Only Murders in the Building makes the world such a rich and colorful environment; however, the most interesting aspect was Theo Dimas. The Boy from 6B did an amazing job of focusing on Theo Dimas's story and the element of the episode going silent whenever we were watching any situation from his perspective was brilliant. The shock of him accidentally being responsible for Zoey's murder was nicely done, and the fact that the show doesn't pull the sympathy card just because he's deaf makes his journey feel honest and raw. James Caverly was amazing in his role that allowed him to show off his great acting range. It would be shocking if we don't see him in more roles following this star-making performance.
Teddy Dimas
Theo's father is also another interesting aspect of Only Murders in the Building. His shame for having a deaf son could've made for an interesting series that solely focused on Teddy Dimas and his young son. The added wrinkle of his marriage also spiraling out of control because of whores could've been a fun comedic take on the subject. What the writers do so well is to make sure that the villains aren't one-note characters. The show could've easily introduced Teddy as the tyrant and douchebag of the series; however, they wisely made him a charming thief by making him appear as the good guy in the early episodes until it's revealed that he's Angel. Even then, Teddy doesn't flip a switch and turn into a villainous bastard; He remains the same charming and smooth-talking guy that we've gotten to know in the earlier episodes, even though he's threatening Mabel and Oliver.
Oliver Putnam
Out of the three main characters, Oliver stands out as the eccentric and colorful former director down on life. Martin Short has the best zingers of the group and his personality helps balance out Charles and Mabel. Oliver isn't as detailed as Tim Kono or even Theo, but the parts we do know about his character created a nice layer that could've been a one-note side character. The series wisely doesn't rely on Oliver's eccentric behavior, and though he's not the most compelling guy on the list, Oliver's simply a fun character and there's nothing wrong with that.
Tell us what's wrong with this post? How could we improve it? :)
Let us improve this post!