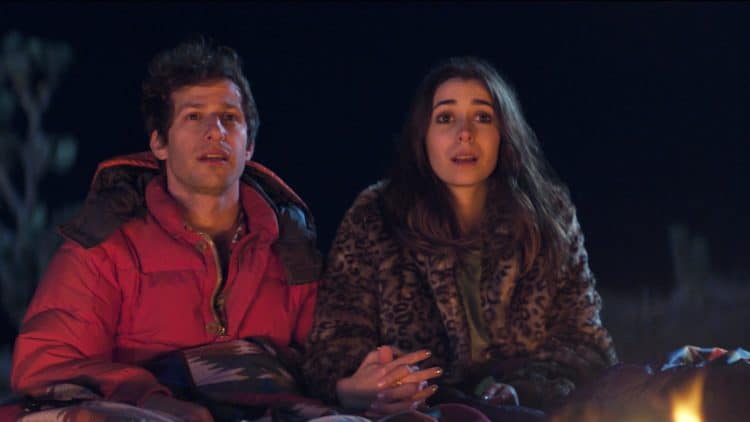 Time travel movies are nothing new in the film landscape. Back to the Future and Groundhog Day helped popularize the genre and throughout the years movies have had different ways to explore the gimmicky concept. Hulu released two exclusive films that expanded the time-loop genre. Boss Level is a sci-fi/action flick that sees former special forces agent Roy Pulver uncover the truth about a secret government project that results in his death. In a race against time, Pulver must dodge a ruthless group of assassins that's hired by a powerful head of the government program. The year after prior the Adam Sandberg and Cristin Milioti vehicle, Palm Springs, which develops a romance between the two wedding guests who are stuck in a time loop. The 2020 feature was actually nominated for a Golden Globe for Best Musical or Comedy. However, does that make Palm Springs the better movie? Let's dig deeper into both films in question.
Boss Level
Boss Level starts off fast and the film rarely lets up throughout its 1 hour and 34-minute runtime. The time-loop concept is really tricky. The movie has to find a way to balance the time-loop gimmick without getting repetitive. While it's not necessarily an easy feat, Boss Level smartly develops Roy each time the film loops back. However, the biggest surprise is the heart that the film displays. The plot of Roy wanting to be a better father is endearing and Frank Grillo effortlessly plays badass with a softer side. The supporting cast of characters helps flesh out this colorful world. The different groups of assassins are fun, especially the running gag of Selina Lo's Guan Yin saying, "I am Guan Yin, and Guan Yin has done this". Because the group of assassins are so entertaining, they do steal the spotlight from Mel Gibson's Colonel Clive Ventor. There's nothing wrong with Gibson's performance; however, he doesn't possess any of the fun traits that his associates have. Since Gibson ends up being a generic action film bad guy, his scenes don't necessarily have the spark that many of the other sequences do, though Colonel Clive Ventor never detracts from the film altogether. There are some nice cameos sprinkled throughout the film, namely Michelle Yeoh's Dai Feng. This is definitely a guy film; however, Boss Level never beats you in the head with its masculinity. There are several great female characters throughout, and women are treated with respect. The only role that's a bit underwhelming is Jemma Wells. Naomi Watts is fine here, but she really isn't given much to do. Had the film actually established her relationship with Roy better than their love storyline wouldn't come across as forced. The action is smooth and top-notch, and so are the special effects. Boss Level manages to add a fun new layer to the time loop story that actually has some heart throughout its violent journey.
Palm Springs
Not only does Palm Springs manage to inject some life into the time loop genre, but to romantic comedies as well. The film is more so about human connection than the time-loop gimmick itself, though that only adds to the fun of the movie overall. Consistently funny and sweet throughout, the only setback is that the constant time-loop itself starts to wear a bit thin. However, the movie never lingers on that concept too long and watching Nyles and Sarah organically grow is a joyful experience. Despite the small budget and limited locations, Palm Springs is never held back due to these restrictions, and it helps that Adam Sandberg and Cristin Milioti have incredible chemistry. It would've been great to go deeper into Nyles's clearly toxic relationship with Misty, and a little subtlety about her clear disdain for her boyfriend. Nevertheless, there are still fun moments between the two especially the juxtaposition in their personalities. J.K. Simmons is also a great addition (which shouldn't be surprise) and his somewhat demented character provides several hilarious gags including all the flashbacks to the times he's tried to kill Nyles. However, his tender moment with Nyles at his home stands out the best. Their conversation helps underscore the true value for life and the importance of time. Palm Springs is definitely one of the best romantic comedies released in a long time that manages to be funny, thoughtful, and sweet all at the same time.
So, which film is better? Boss Level. The 2021 feature manages to provide thrilling action, fun violence, and a solid story that crackles because of the colorful cast of characters.
Tell us what's wrong with this post? How could we improve it? :)
Let us improve this post!