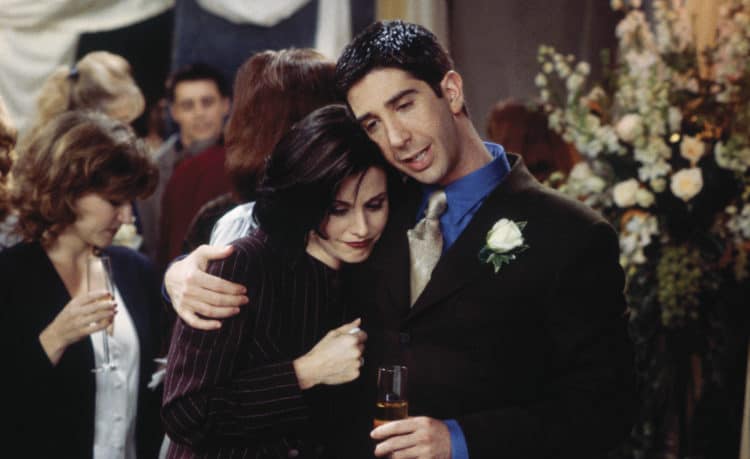 Ross Geller ( David Schwimmer) had a rollercoaster of a relationship life on Friends. He was a hopeless romantic who had a tendency to fall fast. One too many times, Ross landed himself in trouble because he couldn't keep his feelings to himself. In spite of his longstanding on-again-off-again relationship with Rachel, Ross had several other love interests. Here's a complete timeline of his dating life:
1. Ross And Carol Got A Divorce
When we were first introduced to the love life of Ross Geller, he and his then-wife Carol had just gotten a divorce. Ross was bummed that his marriage had ended, and it wasn't entirely his fault that Carol had declared she was lesbian. Later, Ross learned that Carol ( Anita Barone) was pregnant, and both of them would have to find a way to co-parent.
2. Julie Stood In The Way Of Rachel And Ross
Ross had spent the better part of his teenage years obsessed with Rachel ( Jennifer Aniston), and just when she learned of his feelings, Julie ( Lauren Tom) came into the picture. The pair had met in grad school and decided to kick things off. Rachel had gone to meet Ross at the airport when she saw them together. Julie seemed to be a favorite amongst the Gellers since she also went shopping with Monica.
3. Ross And Rachel Finally Became A Thing
After years of longing for Rachel, Ross finally landed his dream girl. He was over the moon, but that happiness would only last for a while. Rachel felt overwhelmed that Ross was needy and decided that they take a break. At that point, the only reasonable thing to her was to take a back seat in her relationship for the sake of her career.
4. Chloe Came In When 'They Were On A Break'
Only hours after Rachel and Ross had decided to take a break, a drunken Ross thought it'd be a good idea to hook up with Chloe ( Angela Featherstone), the girl from the Xerox store. In his defense, he and Rachel had taken a break, and he had every right to do what he wanted. Rachel, unfortunately, did not see it that way. The pair had a night-long fight that ended in a break-up.
5. Rachel Tricked Bonnie Into Going Bald
Although Rachel and Ross had broken up, she began catching feelings when he started seeing Phoebe's friend, Bonnie ( Christine Taylor). Phoebe had alluded to the fact that Bonnie had been bald, but it turned out that, by the time she was meeting Ross, she had grown her hair. Rachel tricked her into going back to her bald self and eventually contributed to her and Ross's breakup.
6. Rachel And Ross Tried To Date Again
After sabotaging Ross and Bonnie's relationship, Rachel wrote Ross an eighteen-page love letter. In it, she wanted Ross to take the blame for their initial fallout. Ross was livid when he found out what he had agreed to. He had barely read the eighteen pages, and 'they were on a break!' Another fight broke out, and just like that, Rachel and Ross were no more.
7. Ross Went Out With Cheryl 'The Pig'
All of Ross's friends were envious when they saw him kissing the hottest girl he'd ever been with. Ross himself could not believe it. Cheryl ( Rebecca Romijn) was way above his league. All was well until Ross visited Cheryl's apartment which was unbearable, to say the least. Cheryl's clothes were all over the place, so were her dishes, leftovers, and pet hamster. After the pair broke up, Monica popped by Cheryl's apartment to clean.
8. He Was Worn Out From Dating Two Girls
Ross got himself into yet another tricky situation when he met a girl from Poughkeepsie on a train. She was the total package, except distance was an issue. At around the same time, he was eyeing a different girl who was within reach, but not as smart as the girl from Poughkeepsie. Juggling between the two girls became a challenge, and Ross fell asleep on the train, only to be woken up by a beautiful girl from Nova Scotia.
9. In Came Emily, Ross's Second Wife
When Rachel's boss suggested that she take his niece Emily ( Helen Baxendale) to an Opera, she asked Ross to go instead. One thing led to another, and before we knew it, Ross was getting married again. Even though he had every intention to please Emily, he said the wrong name at the altar, and that led to a lot more drama. Finally, they decided it was best to let go.
10. Janice Found A Way Date Ross
Janice ( Maggie Wheeler) always found her way back into Chandler's life, even if that meant seeing one of his friends. Ross had 'hooked up' and when everyone else was pressing him to reveal the girl's identity, it turned out that Janice was the one. Ross whined so much during the relationship that Janice decided to break up with him altogether. She was keeping score, and Ross made it two out of three. Joey was to be on the lookout.
11. Rachel And Ross Got Married
A lot of things can happen in Vegas, especially when people are drunk. In the case of Ross and Rachel, the former got married for the third time. He was meant to annul the marriage, but all he could hear was 'Three divorces! Three divorces!' Ross chickened out, and Rachel eventually learned that they were still married.
12. Ross Whitened His Teeth For Hillary
Ross did many things to impress women. In the case of Hillary ( Missi Pyle), who worked with Monica ( Courteney Cox) at the restaurant, he whitened his teeth to prepare for the date, but they got so white. During the date, Hillary assumed Ross was a very quiet person and a great listener, but in the real sense, he was simply hiding his teeth. The blacklight didn't make it any better.
13. Jill Used Ross To Get Back At Rachel
In a proper display of sibling rivalry, Rachel's sister, Jill ( Reese Witherspoon) chose to get back at her through the person she loved the most, Ross. Throw herself as she would, Ross didn't want to go down that road, because it meant there was no chance in the world that Rachel would let anything happen between them if she knew he'd hooked up with Jill.
14. Ross's Student Thought He Was 'A Hottie'
Elizabeth ( Alexandra Holden) was Ross's student who declared he was a 'hottie' in an evaluation. After Ross discovered she was one, the pair started going out. Their relationship inspired a lot of parent-teacher jokes from Chandler ( Matthew Perry) and the squad. Eventually, Ross himself saw the age difference as a barrier.
15. Mona Was Yet Another Love Interest From Monica's Workplace
Mona ( Bonnie Sommerville) and Ross met at Chandler and Monica's wedding. As their lives unfolded, Ross was conflicted. For one, he gave Mona the key to his apartment, only to change his locks. Mona was caught in between Rachel and Ross's relationship. Learning that Rachel was moving in was the last straw she needed to end her relationship with Ross.
16. Ross And Joey Had Feelings For The Same Girl
When Ross met Charlie, it was clear that she and he were a perfect match. Joey swooped in and went out with Charlie instead. Time proved that Joey and Charlie weren't compatible. While Joey avoided starting something with Rachel out of respect for Ross, Ross didn't do the same when it came to Charlie. In the end, Charlie ( Aisha Tyler) left him for someone else. This wasn't the first time Joey ( Matt LeBlanc) and Ross had feelings for the same girl. Kristen Leigh ( Gabrielle Union), had also come between them earlier.
17. Ross Finally Ended Up With Rachel
When Rachel was set to leave for Paris, Ross realized that he did not want her to go away. Rachel was supposed to pursue her goals in fashion. Working for Louis Vuitton was a dream come true, but that meant leaving everything she had known behind. Rachel got on the plane anyway but changed her mind before the flight took off. At the very end of it all, she was the last woman standing.
Tell us what's wrong with this post? How could we improve it? :)
Let us improve this post!