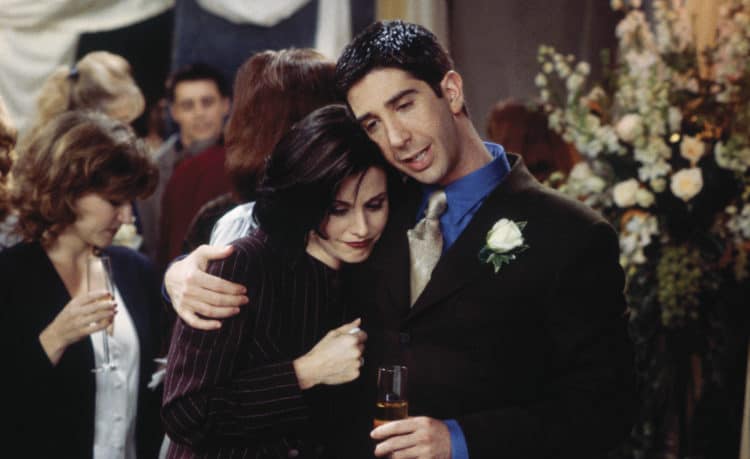 Although the core group of Friends got to hang out every other day, their families stole the show once in a while. Sometimes Phoebe ( Lisa Kudrow) was being a surrogate for her brother or referencing her mom's suicide, other times Rachel's sisters were looking for ways to make a living. They'd try a number of things, including being baby stylists. When Chandler ( Matthew Perry) wasn't coming to terms with his dad's sexuality, Joey was dealing with the news of his sister's pregnancy. The Gellers were quite the treat. What stood out amongst them was their love for Ross, whose career they kept referencing. Almost always, the Geller parents were indifferent towards Monica, who struggled so much to be the perfect child. In Jack and Judy's eyes, Monica was the lesser of the two. Regardless of how their parents felt, Ross and Monica had a great love-hate sibling relationship. Once in a while, they'd let us in on some of their family traditions. Here's a round-up of the most popular ones:
1. Every Thanksgiving, The Gellers Played The Geller Bowl
In another life, Monica ( Courteney Cox) and Ross would have continued to compete for the Geller Cup, had they not brought the family tradition to an end. Every thanksgiving, the Gellers had a touch football game dubbed 'The Geller Bowl'. Ross and Monica were always captains. As was with anything to do with the siblings, things got competitive. One year, during the sixth tournament, Monica accidentally broke Ross's nose. While Monica maintained that what happened was an accident, Ross did not seem to think the same. " It was so not an accident. She saw I was about to tag her so she threw a big fat grandma-arm elbow in my face. Just…kept running," he said. That year, there was no winner, and their dad threw the prestigious prize, the Geller Cup, in the lake. The pair got into a fight, prompting their mom to ban them from ever playing football.
2. Ross Contributed To 'The Geller Yeller', A Family Newsletter
As if having a cup was not weird enough, we would soon learn that the Gellers had a family newsletter, and Ross was a writer in it. For someone who was bored to death and couldn't read all of Rachel's ( Jennifer Aniston) eighteen pages worth of feelings, it came as a surprise that he was quite the writer in his own right. We never got to hear about The Geller Yeller, except for one time. Ross was having a hard time getting to more classes. He was excited but equally overwhelmed. Ross had gotten so elated, he had included his new classes in The Geller Yeller. While he didn't diverge who else wrote on the family newsletter, Rachel was just as surprised as the rest of us when she learned of it.
3. Dick Clark's New Year's Rockin' Eve Made Every Year Count
When Janine ( Elle Macpherson) walked into Central Perk to announce that she had been invited to some New Year's show whose name she couldn't pronounce, Ross ( David Schwimmer) and Monica could not believe that it was Dick Clark's New Year's Rockin' Eve. The Gellers had been watching the show for as long as they could remember. Lucky for them, Monica and Ross got to participate in the show. They were however disappointed when the camera kept avoiding them. The pair tried to get the attention of the showrunner, and, in a bid to have him on their side, performed a routine from their childhood. They did get the guy's attention, but he only wanted their footage for the bloopers show.
4. There Was Never A Wrong Time For A Monicuddle
Jack (Elliot Gould) introduced us to yet another Geller affair when Monica broke up with Richard ( Tom Selleck). At first, Monica and Richard kept their relationship a secret. It was a matter of time before Jack and Judy ( Christina Pickles) discovered that Richard had a 'twinkie in the city.' Jack confessed that he had never seen Richard that happy before. On his birthday, Jack discovered that Richard's little flame in the city was his own daughter. He and Judy didn't obviously approve of the relationship, but they let them be. Richard was true love to Monica. It goes without saying that she was devasted when she and Richard broke up. Monica was down and out. However much she tried, she struggled to get over Richard. When Jack heard of Monica's state, he showed up at Monica's apartment unannounced to give her a dose of a 'Monicuddle'.
5. Judy And Jack Paid For Their Children's Weddings
A Geller wedding was always one for the books since Judy and Jack chimed in. We however only got to see them funding Ross's wedding. Ross was no stranger to marriage. His first marriage had ended because his wife was a lesbian, and when he met Emily ( Helen Victoria Baxendale), Ross made the impulsive decision to get married again. Judy and Jack were ready to pay their part, but they soon discovered that Emily's parents were trying to extort them. In the case of Monica, the Gellers had a little bit of bias. The pair never thought that Monica would get married so soon. As a result, they spent the money meant for Monica's wedding. Buying a beach house and redoing the kitchen seemed better than the idea of a Monica wedding at the time. It was however no secret that Ross was a favorite. Lucky for Monica, Chandler had enough money to help her pull off a dream wedding.
6. Monica Didn't Let Anyone Else Decorate Her Christmas Tree
It's common knowledge that Monica was obsessed with hosting, cleaning, and organization. Her obsession with making the tree during Christmas was therefore not a surprise. Ross walked into Monica's apartment surprised to find that the rest of the friends were helping her decorate a Christmas tree. " Wow, Monica is letting other people help decorate her tree? Did someone get her drunk again or …?" Ross asked. Monica tried to let Ross know that having a perfect tree wasn't really what Christmas was about. " It's about being with the people that you love," Monica affirmed. When the rest were done with the tree, however, something about it didn't feel like Christmas. It's only after Monica turned her side of the tree around that Chandler felt the Christmas spirit take over.