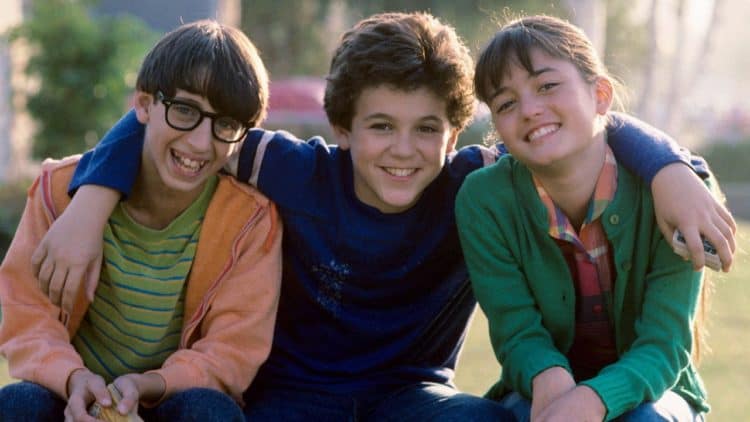 The Wonder Years has been off the air for almost 30 years, but its legacy continues to permeate popular culture, so much so that it has spawned a reboot in 2021 that's being executive-produced by none other than the show's original star, Fred Savage. Den Of Geek says that many popular shows owe a debt to The Wonder Years' legacy, including Freaks and Geeks, Malcolm in the Middle, and The Simpsons. The Wonder Years was one of the most popular TV shows during its time. Here's what has happened to its original cast, decades after its finale.
Fred Savage
Fred Savage played Kevin Arnold in The Wonder Years, the main protagonist. In an interview with The Hollywood Reporter, he explained how he landed the role: "We stayed at the Century Park Hotel in Century City. They told me that's where President Reagan stayed when he came to Los Angeles. I was very excited about that. I remember standing in this stone and marble conference room doing my scenes in front of a conference table that was a mile long." After his stint in the show, he went on to appear in several blockbuster projects. He appeared in films like The Rules of Attraction and Austin Powers in Goldmember. He also played roles in The Last Run, Welcome to Mooseport, and Daddy Day Camp. After 2007, Savage took a lengthy break from any on-screen work to focus on his directing. He's directed several episodes of very popular sitcoms and shows, most notably Modern Family, for which he directed 14 episodes including "Good Cop Bad Dog," "After The Fire," "Party Crasher," "ClosetCon '13," "Marco Polo," "Strangers in the Night," "Catch of the Day," and "Ten Years Later." He also directed 19 episodes of It's Always Sunny In Philadelphia, Party Down, Best Friends Forever, 2 Broke Girls, and Garfunkel and Oates. In 2015, he ended his acting hiatus to star in his own sitcom titled The Grinder. He has then subsequently appeared in The Conners, What Just Happened??! with Fred Savage, and Friends From College. Currently, he is executive producing a reboot of The Wonder Years, starring EJ Williams, Dule Hill, and Saycon Sengbloh.
Dan Lauria
Veteran TV actor Dan Lauria played the Arnolds' patriarch, Jack Arnold, in The Wonder Years. After leaving the show, Lauria dedicated much of his career working on Broadway, most prominently starring in the Broadway production Lombardi as the titular character, football legend Vincent Lombardi. In 2010, Lauria starred in Sullivan & Son, but the show was quickly cancelled. Lauria has appeared in several films and sitcoms over the past years, usually playing guest or recurring characters. His most recent acting credits include a role in Holidate, starring Emma Roberts, and Ben Affleck's The Way Back. On TV he's played roles in Shameless, This is Us, The Resident, MacGyver, and The Goldbergs.
Alley Mills
Alley Mills played the friendly matriarch Norma Arnold in The Wonder Years. A prolific TV actress, Mills has appeared in multiple shows over the past few years, most notably as Pam Douglas in the long-running soap opera The Bold And The Beautiful. It's a role she's played since 2006, only taking a break in 2020. In an interview with Yahoo! in 2018, Mills revealed a bombshell that cost The Wonder Years its seventh season. "When we shot the series finale … nobody knew whether or not 'The Wonder Years' was going to be renewed," Mills said. "And that's because of a completely ridiculous sexual harassment suit that was going on against Fred Savage — who is, like, the least offensive, most wonderful, sweet human being that ever walked the face of the Earth."
Olivia d'Abo
Olivia d'Abo played Kevin's older sister, Karen Arnold, in The Wonder Years. After her role in the show, she's been highly active on TV and film, appearing in projects like Star Wars: The Rise of Skywalker, Elementary, Psych, Code Black, and Jane the Virgin. Perhaps Olivia's most popular post-Wonder Years role is as serial killer Nicole Wallace in Law & Order: Criminal Intent.
Jason Hervey
Jason Hervey played Kevin's annoying older brother, Wayne Arnold, in The Wonder Years. Like Fred Savage, Jason Hervey has preferred to take a step back from acting and work behind the scenes, executive-producing dozens of projects over the past few years. He has worked on The Catalina, See Dad Run, and Hardcore Pawn: Chicago. In an interview with HuffPost Live, via Us Weekly, Hervey revealed that he was once assaulted at a bar for the role he played in The Wonder Years. "One, they [the attacker] had a little too much to drink, that's first and foremost," he said, "and secondly, because this guy who attacked me had a big brother that was just like the character, and he told me how much he hates his brother, and how much he hates me."
Josh Saviano
Josh Saviano played Paul Pfeiffer, Kevin's best friend, on The Wonder Years. In the show, Paul would eventually go to Harvard and become a lawyer. Saviano would have a similar fate, leaving acting after The Wonder Years to study in Yale University, earning a degree in political science. He would return to school years later to pursue a law degree at Yeshiva University. Saviano would briefly return to acting in 2016, playing a recurring role as a lawyer in Law and Order: Special Victims Unit.
Danica McKellar
Danica McKellar played Kevin's love interest, Winnie, in The Wonder Years. While McKellar has pretty much remained active with her acting career, she found a new passion in mathematics, having finished a a mathematics degree at the University of California, Los Angeles, graduating summa cum laude. She has spent a significant chunk of her career in mathematics education, writing books such as Math Doesn't Suck, Kiss My Math, Hot X: Algebra Exposed, Girls Get Curves: Geometry Takes Shape, Goodnight Numbers, and Do Not Open This Math Book. As far as her acting career, she's voiced Miss Martian in Young Justice and Judy Jetson in The Jetsons. She's also frequently appeared in several Hallmark movies; her prominence in them has even been spoofed in the hit movie Knives Out.
Tell us what's wrong with this post? How could we improve it? :)
Let us improve this post!