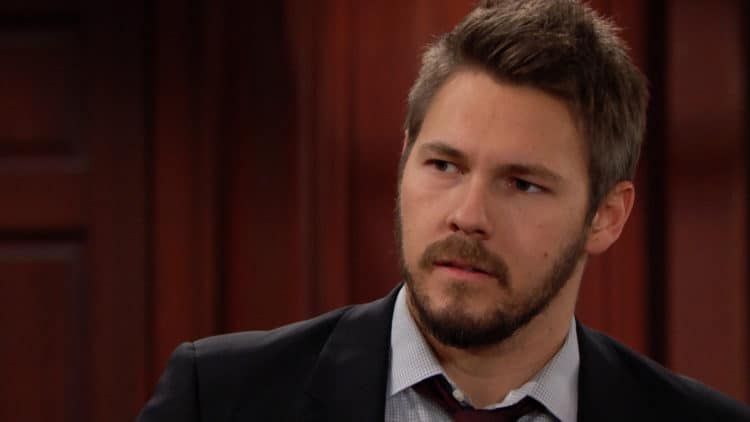 The Bold and the Beautiful fans are still a bit thrown from the pre-emptions that came out of nowhere last week. We might have seen them coming if we put forth the effort to think about it, but we did not. We didn't see it coming, and now we have to focus on the days being a little bit jumbled as the show goes on. This is a new week, though. Ridge has decided to change the game a bit. Brooke gave him some options about their marriage a few weeks ago. She basically told him that he has to turn his back on his own son and daughter and their lives in favor of being on her side with her and her own daughter, Hope. She wants him to focus on them and to leave behind the man that is his own son because he needs help and they don't want to be around him.
He said no. Now, he's changing the game a bit. He's asking Brooke to make some changes of her own if she would like to see things work for them. He is not the only one who can make some demands and change the game a bit, and he's done just that. But, we don't know that she will bother to make the changes. She's not one much for change given she likes the world to do what she wants them to do versus what they should do or what they want to do. But, she's also distracted with her daughter and her sudden desire to spend time with Thomas now that he has feelings for another woman. His plan is working well, and we've been seeing Hope spend more time with him while neglecting her old life almost completely. It's a story that never ends.
What's Happening on Bold and the Beautiful
https://twitter.com/BandB_CBS/status/1208205447460618240?ref_src=twsrc%5Etfw
All the holiday cheer.
What's Next on Bold and the Beautiful
https://twitter.com/BandB_CBS/status/1208764127444963329?ref_src=twsrc%5Etfw
There's a lot happening here on the day before Christmas. Just when you think that everyone should be off celebrating the holiday and spending time with their loved ones, they are doing anything but. For one, we will see that Thomas wants to call a meeting. What kind of family has time on the day before Christmas to have a meeting at the business? Well, we have no idea. But, we do know that there is going to be a meeting between this family at the Forrester Creations offices, and Thomas is the one making the call around here. He's got things to do, and that's what he is looking forward to. He wants to be sure he has a chance to get things done, so this is him making the time to actually get things done.
On the other side of things. Brooke will come to Steffy with some anger and upset that she allowed Zoe to come back to work at the family business. She forgets she's only married into the family and not an actually family member, and that is one of her downfalls. But, she's going to be surprised when Steffy is honest with her and shares with her the reason she allowed this young woman to come back to work. There is nothing else we love more than the fact that Brooke was ready for a fight and she's not getting it. This makes us feel so good about things. It's a good day around here, even if we don't get it.
Stay tuned for more The Bold and the Beautiful and be sure to check out TVOvermind daily for the latest The Bold and the Beautiful spoilers, news, and updates.