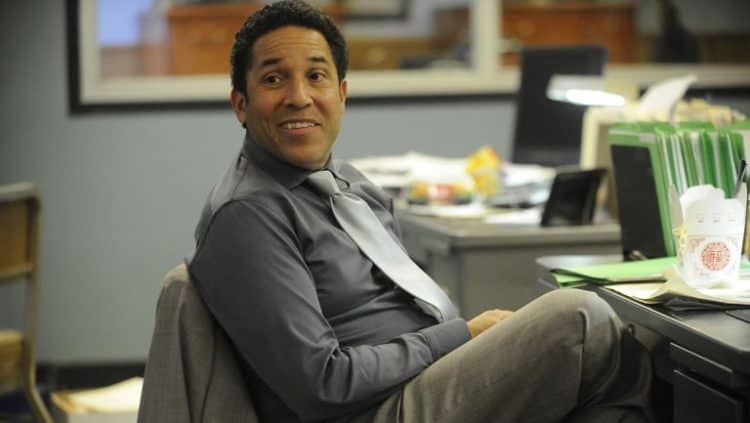 Outside of The Office Oscar Nunez is an extremely funny guy but as it's shown on the show he can act as well as be hilarious. He's the kind of guy that can be in the forefront along with the leads or he can settle back and offer support as it's needed so as to make the movie that much more complete. In effect he's kind of like a handyman for movies in that he can serve a purpose pretty much anywhere so long as he's not too encumbered by a role to let his natural talent come out. Honestly it seems as though he might be able to take a stronger role in movies but it's also been great to see him develop throughout the years into the actor he's become and the personality that people know him as. A lot of actors had a chance to either rekindle or affirm their popularity on The Office, but Oscar kind of hit his stride and kept on going.
Here are some of the performances he gave outside the show that are pretty memorable.
5. The 33 – Yonnie Barrios
Mining is and always has been known as a dangerous profession as it involves delving into the earth for resources and at the same time weakening the earth around a person no matter what safety measures are taken. There's no doubt that a great deal of natural resources found within the earth have made life easier, but the risk to those that go down there is immense and there's always the possibility that they might not be coming back. For this group of men there was little chance of survival and a lot of belief that they'd met their end in a way that seemed horribly tragic despite the fact that no amount of planning could have foreseen such a disaster.
4. Reno 911!: Miami – Jose Jose Jose
If you followed the show then you'd know that Reno 911! was an outrageous and quite unique program that didn't put a lot of stock in the normal, boring routine that went into police procedural movies. Of course giving them a chance to go to Miami and show what they could, or couldn't, do was just a recipe for disaster that was bound to end in some seriously funny hijinks that people would either find hilarious or somewhat disturbing. In fact it seems that people found both since it was the kind of movie that was expected to do at least a little something but in truth didn't do much but flop.
3. Without Men – Priest Rafael
One might think that being in a town with all women and no men would be a picnic for many men since they would by default become the most desired person in the entire place. But then again, when there's too many women and not enough men strange things do happen. And when women are in the same area around the same time you can guess what's going to happen, and syncing up for their time of the month is only one of the drawbacks since it's a very well known fact that if women get attached they're just as bad if not worse than men when it comes to sharing anyone they want to get romantic with.
2. Baywatch – Councilman Rodriguez
Unfortunately the councilman is just another weak politician that shows just how easily some people can be bought and how corrupt some councils are in various cities. Granted, this is a big play on that stereotype but it's still one that shows how much a problem there might actually be in some areas of the world. If a woman, determined and ambitious no doubt, can smile and get her way then it's bad enough, but the female villain in this film is determined enough that she's willing to snuff out the obstacles in her path without so much as a moment of hesitation as she nixes the councilman and anyone that's not fiercely loyal to her.
1. The Proposal – Ramone
You know you live in a small town when the guy that works in the local grocery store is also the guy that gets hired out as a male dancer whenever the need arises. Ramone has no shortage of confidence at least as he takes to the stage and struts his stuff in a way that might make some men blush since there's really no shame in his act. But the fact that he pushes up on Sandra Bullock's character after this could be classified as creepy if it didn't already come off as insanely hilarious. All the while Bullock's character is just trying not to vomit since she's a big-city girl that's seen men with trimmed waistlines and superior figures that would make Ramone feel lucky to be a shopkeeper.
He is insanely funny in many roles, but he's also got the acting chops to do serious roles as well.
Tell us what's wrong with this post? How could we improve it? :)
Let us improve this post!