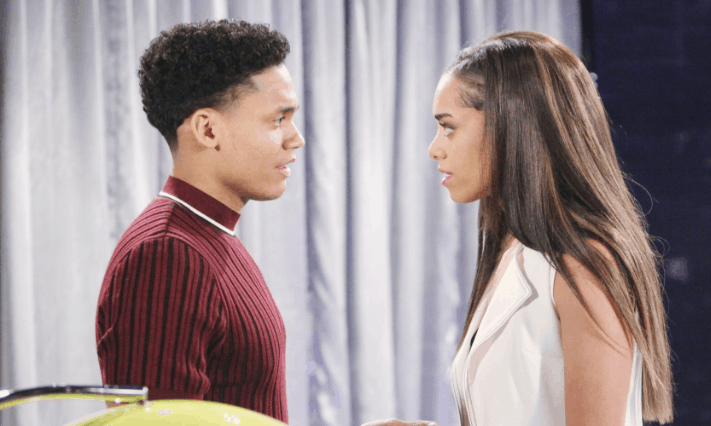 The Bold and the Beautiful fans wonder how much longer things like this can be dragged out and played out and made crazier than they already are. Thomas already did a few horrible things to Hope in the past few weeks, but deleting some of the photos from her phone ended up being one of the worst things he's done to her. One of the photos he deleted was so important to her that she could not bear to live without it, yet here she is without it. It's a photo that meant a lot to her, and we cannot figure out why he would bother with that. Why would he make it his mission to get this situation to work in his favor? Why would he do this to someone he loves so much? Why would he make her miserable as a sport? We don't get it, but we know that he is a man who likes to manipulate the people in his life to the point that they can't figure out how to live.
Then there is the fact that we know Brooke is not happy with Thomas. She cannot keep that feeling to herself, and she's not afraid to make sure he knows that she's unhappy. She's also unhappy with her husband and his continued support of his own son, but there is little she can do about that one. What will she gain by telling him that she's unable to focus on anything other than his son and his own treatment of her daughter? Hope and Thomas have their own lives to lead, and Brooke needs to let her daughter live her own life without involving herself in the middle of things that aren't really much of her own business. She's not making much sense.
What's Happening on the Bold and the Beautiful
Our #BoldandBeautiful stars have arrived at the #MonteCarloTVFestival and found some of the @CBSDaytime family! Stay tuned throughout the week for more from Monaco. ✨ pic.twitter.com/NIH2fL0jF0

— Bold & The Beautiful (@BandB_CBS) June 16, 2019
If that's not a gorgeous picture, we don't know what is.
What's Next on the Bold and the Beautiful
Obsession turns deadly this week on #BoldandBeautiful, and someone's going down. 💥 Don't miss what happens! pic.twitter.com/mmGhbWkZIF

— Bold & The Beautiful (@BandB_CBS) June 16, 2019
Things are taking a turn for Thomas, who continues to ignore what Hope has asked of him. He is going to present her with an original gown from Forrester, and then he is going to kiss her. He is making every possible move to make her his, but she's been telling him under no uncertain terms that she's not down for it. She's not there to see things work like this for them. She is here to ensure that things work in their favor, not so that things work in someone else's favor. She wants to see her life take a little bit of a slow-down, but he is there to see things in another manner. How will she react when he kisses her this time? Will it work for her, or will she find herself repulsed by his behavior?
Wyatt and Liam are both living good lives right now, and they want to plan a get-together. On the other side of things, though, are Steffy and Flo, who both agree that it's a bad idea. They are both in weird places in their lives, and the men do not seem to understand that. They don't get it, and they aren't really sure why the ladies aren't happy with their decisions. There should be more to it than that, but we don't know how they will feel about getting things handled. Will they find a way to make it work, or will they find a way to put a stop to what is going on in their lives?
Stay tuned for more The Bold and the Beautiful and be sure to check out TVOvermind daily for the latest The Bold and the Beautiful spoilers, news, and updates.