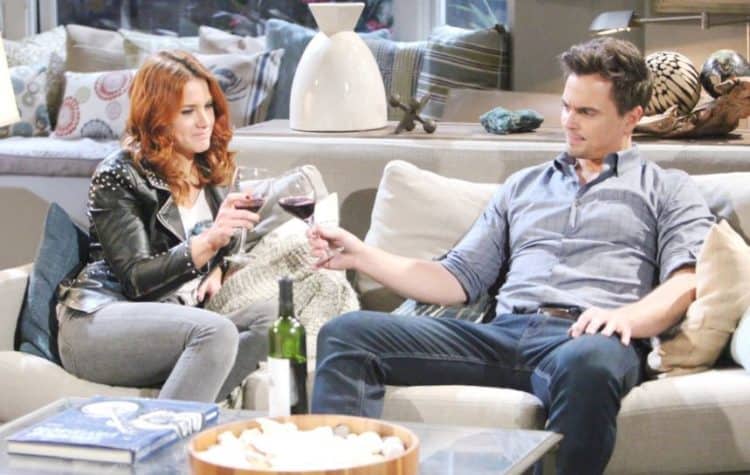 The Bold and the Beautiful fans watched as Liam asked Steffy to marry her again, and it's been one of the best moments of the show. Things have been very simple and very wonderful for them since the birth of their new baby, Kelly. Now they are getting married — again — and we can't hep but wonder if perhaps the fourth time will be their very lucky charm in terms of what is to come for them. Things were so sad for them for so long, and it makes us very happy that they seem to have taken a turn for the better to get this situation under control. There's a lot we can't wait to see, and that's one of those things. If they can get married, that will be a good thing for them before Bill has a chance to do what he does best and try and ruin things for them.
We also saw the moment when Wyatt ran into a very familiar face. Sally Spectra is back in town, and everyone is happy to see her. By everyone, we obviously mean her fans, because there are plenty of faces in the area who are not happy to see her. She didn't exactly make a lot of friends when she was here last, but that's not really anything to worry about at the moment. She's got a lot on her mind, and that means there is a lot they can handle as far as this is going to go down. She and Wyatt had a very interesting evening together, and we do wonder if that means they can have another interesting moment together in the long run. They might be a good couple, and seeing them together was a lot of fun. It makes us more excited about what is to come this week.
What is Happen on the Bold and the Beautiful
PHOTOS: Sneak Peek at Next Week. Sally and Wyatt bond over their similar situations. Emma impresses Hope with her dance moves. Dollar Bill makes another meddling move to keep Steffy apart from Liam. Taylor makes a surprise visit to Steffy. #BoldandBeautiful pic.twitter.com/r3ihoB1YJN

— Bold & The Beautiful (@BandB_CBS) June 15, 2018
We know that Sally Spectra is back in town, and she's got a lot going on. She left town after the entire thing with Liam and Steffy worked out and he didn't want to be with her. And then she went back to Thomas after he chose to be with his lying ex over her, and now she's back. She's also doing some serious bonding with the newly single Wyatt, and we have this fun sneak peek picture to share with fans. The show shared it to their Twitter page to give fans a little something to look forward to. They also shared the rest of these, too, so fans can see a little bit of what's to come this week.
What's Next on the Bold and the Beautiful
There are NO rules on #BoldandBeautiful! Don't miss what happens this week. pic.twitter.com/Ui8dCXS5p6

— Bold & The Beautiful (@BandB_CBS) June 16, 2018
We know that with Sally comes some more drama for Bill. He's caused a lot of issues in her life, and she might just be back in town to make sure that he can't get his way with her. We think that will totally happen, of course, and that's what we want to see. But there is more. There is a good chance that they have a lot more to offer in terms of their own lives. She's back with a vengeance, and it's all aimed at him. Perhaps she will enlist the help of Wyatt since he's currently in her same boat in terms of everything that's gone wrong in his life is basically his father's fault, too. And that might be something they bond further over.
The other exciting thing is that we can't wait to see them get their lives together in another manner, too. We cannot wait to see Bill tell Liam and Steffy they cannot get married. Although, we don't know that he will tell Liam. We think he will tell Steffy. He's not over her, yet. But that's really only because he can't have her. You know how he is. He can't stand to let someone else have something that he can't have. That's not what he does, how he works, or what he's up to in terms of what his life is all about. He's not that kind of man. But that might be something we see happen shortly this week as news of their engagement is out.
Stay tuned for more The Bold and the Beautiful and be sure to check out TVOvermind daily for the latest The Bold and the Beautiful spoilers, news, and updates.